Benzinga Market Primer: Monday, April 15: Tax Day Edition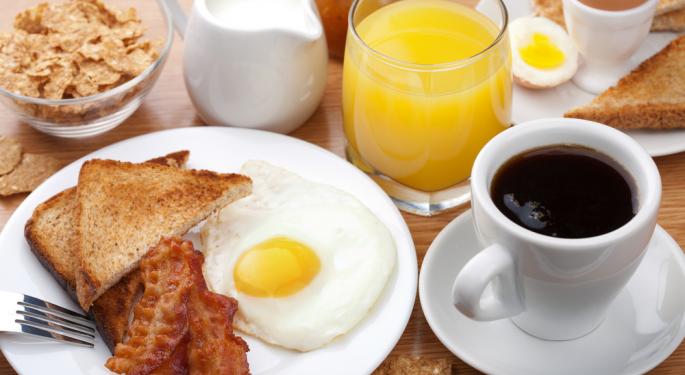 Futures Lower on Weak Chinese Economic Data
U.S. equity futures traded sharply lower in the pre-market following Friday's sell off on weaker than expected economic data from China. China reported that first quarter GDP grew at a 7.7 percent annualized rate vs. 8.0 percent expected, while industrial production only grew 8.9 percent vs. 10.1 percent expected. Also, retail sales for March grew 12.4 percent vs. the same period a year ago, less than forecasts of 12.6 percent growth, and fixed asset investment excluding rural investment grew only 20.9 percent vs. 21.3 percent expected.
Top News
In other news around the markets:


The eurozone's trade balance for February grew to 10.4 billion euros from a downwardly revised 4.7 billion euro deficit in January, better than forecasts of a 3 billion euro surplus.

Greece's finance minister Stournaras has reached a deal with a Troika over the nation's bail-out review, paving the way for the lenders to release the next 2.8 billion bailout tranche to the country.

Venezuelans elected Nicolas Maduro, the former Vice-President under the regime of Hugo Chavez, President in a narrow victory, restoring the previous regime to power. Maduro is expected to keep similar policies in place as his predecessor representing little change for multinationals operating in the country.

S&P 500 futures dropped 6.1 points to 1,575.30.

The EUR/USD was lower at 1.3074.

Spanish 10-year government bond yields rose to 4.7 percent from 4.69 percent.

Italian 10-year government bond yields rose to 4.34 percent from 4.33 percent.

Gold continued its sharp decline to $1,394.70 per ounce, losing an additional 7.1 percent.
Asian Markets
Asian shares traded sharply lower overnight following the weaker than expected Chinese data as well as comments from a former Japan advisor to George Soros, Takeshi Fujimaki, who said that Japan's new policies will fail and the market will ultimately crash as the government defaults. The Japanese Nikkei Index declined 1.55 percent and the Shanghai Composite Index fell 1.12 percent while the Hang Seng Index fell 1.43 percent. Also, the Korean Kospi declined 0.2 percent while Australian shares lost 0.91 percent.
European Markets
European shares also traded lower following the Asian weakness creating global growth fears. The Spanish Ibex Index fell 0.84 percent and the Italian FTSE MIB Index declined 0.92 percent. Meanwhile, the German DAX fell 0.66 percent and the French CAC fell 0.82 percent ahead of a 7.7 billion euro bill auction in France while U.K. shares lost 0.94 percent.
Commodities
Commodities were taking it on the proverbial chin overnight in what can only be described as continued margin selling weighing on prices in a clear risk-off environment. WTI Crude futures plummeted 2.87 percent to $88.98 per barrel and Brent Crude futures fell in tandem by 2.14 percent to $101.05 per barrel. Copper futures dropped 2.27 percent to $328.75 per pound on continued excess supply fears and now also demand fears from China. Gold was sharply lower and silver futures dropped an astonishing 10.05 percent to $23.74 per ounce.
Currencies
Currency markets echoed the risk-off mood from commodities overnight as the yen and dollar gained and the euro dropped. The EUR/USD was lower at 1.3074 and the dollar fell against the yen to 98.03. Overall, the Dollar Index gained 0.02 percent on strength against the euro, the pound, the Canadian dollar, and the Swiss franc. Notably, the euro lost 0.69 percent against the yen and the Aussie dollar weakened across the board on Chinese fears.
Earnings Reported Yesterday
Key companies that reported earnings Friday include:


J.P. Morgan Chase (NYSE: JPM) reported first quarter EPS of $1.59 vs. $1.39 expected on revenue of $25.12 billion, which was weaker than forecasts of $25.94 billion.

Wells Fargo (NYSE: WFC) reported first quarter EPS of $0.92 vs. $0.88 expected on revenue of $21.26 billion vs. $21.6 billion expected.
Pre-Market Movers
Stocks moving in the pre-market included:


Life Technologies (NASDAQ: LIFE) shares gained 5.93 percent pre-market after the Wall Street Journal reported that Thermo Fisher Scientific (NYSE: TMO) was close to purchasing Life for close to $13 billion, or about $76.30 per share.

Goldcorp (NYSE: GG) shares fell 6.00 percent pre-market as gold prices slid below $1,400.00 per ounce.

Silver Wheaton (NYSE: SLW) shares fell 8.54 percent pre-market as silver prices skidded more than 10 percent overnight.

Freeport-McMoRan Copper and Gold (NYSE: FCX) shares fell 4.45 percent pre-market as copper prices fell and also on fears that Chinese copper demand is slowing as growth missed expectations.
Earnings
Notable companies expected to report earnings Monday include:


Citigroup (NYSE: C) is expected to report first quarter EPS of $1.19 vs. $1.11 a year ago.

American Electric Power (NYSE: AEP) is expected to report first quarter EPS of $0.81 vs. $0.80 a year ago.

Charles Schwab (NYSE: SCHW) is expected to report first quarter EPS of $0.16 vs. $0.15 a year ago.

Heartland Express (NASDAQ: HTLD) is expected to report first quarter EPS of $0.19 vs. $0.19 a year ago.

M&T Bank (NYSE: MTB) is expected to report first quarter EPS of $1.96 vs. $1.50 a year ago.
Economics
On the economics calendar Monday, the Empire State Manufacturing Index is expected to be released as well as TIC flows and the NAHB Housing Market Index. Also, the Treasury is set to auction 3- and 6-month bills. Overnight, the German ZEW Economic Sentiment Index and Spanish bill auctions could move markets.
Good luck and good trading.
View Comments and Join the Discussion!
Posted-In: Earnings M&A News Bonds Guidance Dividends Rumors Futures Best of Benzinga