Bond ETFs Mixed Ahead of Venezuela Election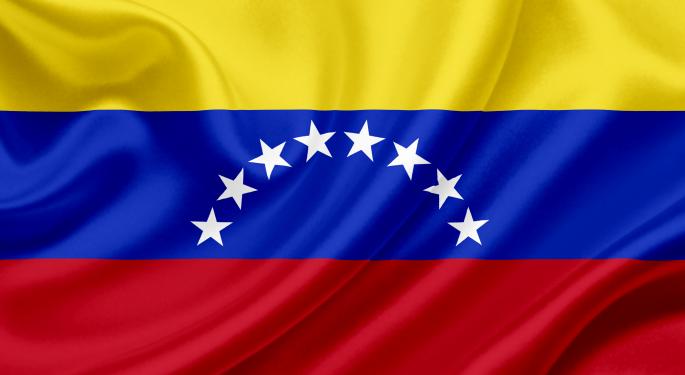 Just about five weeks removed from the death of former Venezuelan President Hugo Chavez, the South American country holds its first election on Sunday since Chavez's passing.
While the South American nation is a member of the Organization of Petroleum Exporting Countries and home to perhaps the largest oil reserves in the world, those oil riches have not translated to a thriving economy.
Still, a heavily impoverished nation, Venezuela is not classified as an emerging market. In fact, index provider MSCI stripped the country of that status in 2006, demoting Venezuela to "standalone," a status that appears more ominous than the frontier markets designation.
As such, accessing Venezuelan equities via U.S.-listed ETFs is impossible. Accessing Venezuelan bonds, however, is not. Adventurous investors have several options for getting exposure to Venezuelan bonds with ETFs and those funds are basically steady ahead of Sunday's election.
The Market Vectors LatAm Aggregate Bond ETF (NYSE: BONO), which holds a 7.57 percent weight to Venezuela, is trading modestly lower today. In the case of BONO it is not surprising that Venezuela does not really move this ETF. The fund's real utility is as a strong play on Mexican bonds as that country and Brazil combine for over 63 percent of the ETF's weight.
BONO has a 30-day SEC yield of 4.52 percent and a yield to worst of 5.01 percent. The fund's average effective duration is 6.32 years.
The Market Vectors Emerging Markets High Yield Bond ETF (NYSE: HYEM) is also trading lower, though only modestly so. That ETF features a 7.25 percent weight to Venezuela, making it that ETF's fifth-largest country weight behind China, Russia, Mexico and Indonesia. Interestingly, HYEM's largest and fifth-largest holdings are issued by Petroleos de Venezuela, that country's state-run oil producer, but even that fact has not been enough to move HYEM ahead of Sunday's election.
More impressive about HYEM is its stunning asset growth that hardly anyone has noticed. On December 20, this ETF had less than $27 million in assets. As of April 11, that number surged to $237.1 million. HYEM has an average effective duration of 4.12 years and an average yield to worst of 6.08 percent.
The iShares Emerging Markets High Yield Bond Fund (NYSE: EMHY) is the one ETF that could potentially be vulnerable following Venezuela's election results because this fund features an almost 17 percent weight to the country.
EMHY's potential vulnerability comes by virtue of the fact that Chavez's heir apparent, Nicolas Maduro, is likely to win the election by double-digits. Perhaps the bond market has started to price that result in. Even if that is the case, it deals a blow to bond traders and foreign investors that have been hoping a change in regime would open Venezuela to more foreign investment and economic advancement.
Turkey is EMHY's largest country weight while the Philippines trails Venezuela. EMHY is down half a percent today, but has gained 10.5 percent over the past year. The fund has an effective duration of 5.97 years and a 30-day SEC yield of 5.36 percent.
For more on bond ETFs, click here.
View Comments and Join the Discussion!
Posted-In: Long Ideas News Bonds Short Ideas Specialty ETFs Emerging Market ETFs Currency ETFs Intraday Update Best of Benzinga