Got Pesos? Use These ETFs For Attractive Mexican Bonds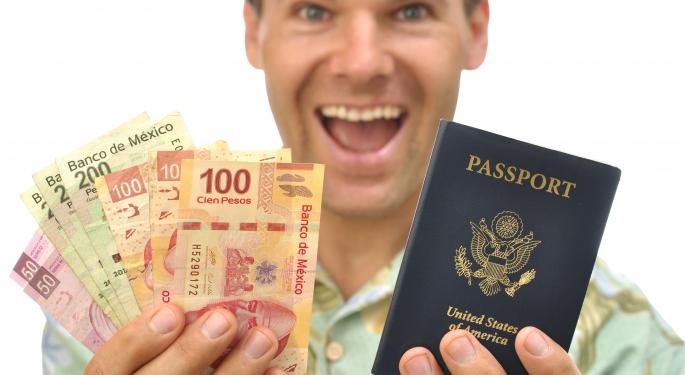 Mexico, Latin America's second-largest economy behind Brazil, has a sovereign credit rating of BBB on the Standard & Poor's scale. That is barely investment grade, but with little chance that rating will be altered for the worse, investors have been embracing Mexican bonds.
When yields on peso-denominated bonds due in 2022 closed at 5.09 percent on Monday, it was the lowest closing yield since July 23, according to Bloomberg. Falling yields mean rising prices, indicating that Mexican bonds have perhaps morphed from yield play to capital appreciation play.
Home to benign inflation, the lowest tax rate in the OECD and a record-low benchmark interest rate of 4.5 percent, Mexico's borrowing costs are low. Earlier this month, the country sold $1.5 billion worth of 30-year dollar-denominated bonds at just 4.19 percent. Demand was for twice of that amount with most of that demand coming from the U.S..
For those that need more convincing that Mexican bonds merit consideration, remember that PIMCO's Bill Gross has spoken glowingly about Mexican debt. Last year, Gross named Mexico among the "clean dirty shirt" sovereigns along with the U.S. and Brazil.
PIMCO is biggest holder of Mexican fixed-rate bonds due in 2021, 2022 and 2024, according to Bloomberg.
Investors looking to tap into the attractiveness of Mexican debt can do with the following ETFs.
Market Vectors LatAm Aggregate Bond ETF (NYSE: BONO) BONO has just $26.1 million in assets under management, a low enough number to keep devotees of superficial ETF metrics away. However, focusing on that number ignores some other crucial statistics such as the fact that BONO's AUM total has more than tripled since October 2012.
Another important statistic, in addition to BONO's trailing 12-mont yield of 4.79 percent, is that peso-denominated issues account for 14.5 percent of the ETF's weight. Overall, Mexico represents nearly 29 percent of BONO's weight.
Bottom line: BONO has one of the largest allocations to Mexican sovereigns of any ETF on the market today. The ETF's average modified duration is 6.1 years.
SPDR Barclays Emerging Markets Local Bond ETF (NYSE: EBND) The SPDR Barclays Emerging Markets Local Bond ETF is a somewhat unheralded option in the booming sub-segment that is local currency emerging markets bond ETFs. However, that has not stopped EBND from returning over five percent in the past year.
EBND features a current yield, the market value weighted average current coupon of the bonds in the portfolio divided by current market price of the bonds in the portfolio, of 5.65 percent and a modified adjusted duration of 4.98 years. Forty-two percent of EBND's portfolio is rated AA or A, so this fund does present significant credit risk to investors.
Mexico is the ETF's third-largest country weight at 8.63 percent, trailing only South Korea and Brazil. Other top-10 country exposures include Poland, Thailand and Russia.
Market Vectors Emerging Markets Local Currency Bond ETF (NYSE: EMLC) The Market Vectors Emerging Markets Local Currency Bond ETF is one of the kings of the emerging markets local currency bond ETF arena. That dominance is solidified not only be a 6.5 percent jump over the past year, but a rapid accumulation assets that has seen the ETF's AUM total jump to almost $1.3 billion.
Without a Mexico-specific bond ETF trading in the U.S., EMLC is a credible option for investors looking to get exposure to the country's bonds because the ETF allocates 10 percent of its weight to the country. That puts Mexico in a tie with Brazil, Poland and South Africa as the largest weights in the ETF.
Importantly, EMLC is useful beyond its exposure to Mexico. The ETF is a legitimate capital appreciation play in 2013 on the potential for higher credit ratings for Turkey and the Philippines, two countries that combine for over 11 percent of the fund's weight.
Nearly 60 percent of EMLC's holdings are rated investment grade and the fund's average modified duration is five years.
For more on ETFs, click here.
View Comments and Join the Discussion!
Posted-In: Long Ideas News Bonds Short Ideas Emerging Market ETFs Currency ETFs Forex Events Best of Benzinga