Benzinga Market Primer: Thursday, January 17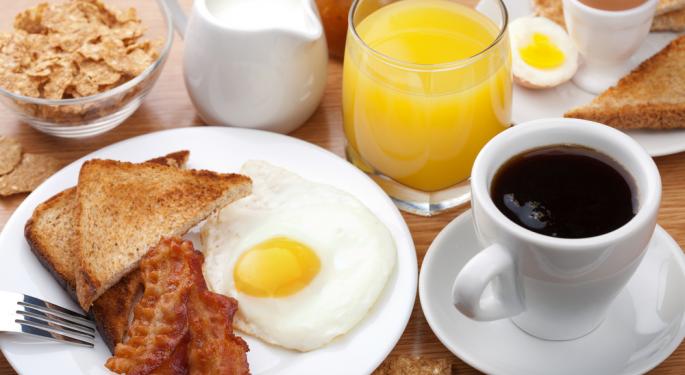 Futures Flat Ahead of Jobless Claims, Earnings
U.S. equity futures were flat in early Thursday trade ahead of lots of economic data, including Initial Jobless Claims, and lots of earnings. The earnings data will truly set the tone before the open with many big banks set to report fourth quarter earnings following the positive reports from J.P. Morgan Chase (NYSE: JPM) and Goldman Sachs (NYSE: GS).
Top News
In other news around the markets:


The FAA has grounded all Boeing (NYSE: BA) 787 Dreamliners, following moves from regulators in Japan and alongside those in Europe, until the battery issue is resolved.

The latest tranche of the Greek bailout, some 3.25 billion euros, was finally disbursed to Greece.

Analysts at Societe Generale have raised their forecasts fro Chinese growth in 2012 and 2013. Ahead of the fourth quarter GDP report, Soc Gen raised its forecast for fourth quarter GDP to 7.9 percent annualized growth vs. 7.8 percent before and also raised its full-year 2013 forecast to 7.8 percent from 7.4 percent annualized growth.

S&P 500 futures were flat at 1,465.50.

The EUR/USD was higher at 1.3362.

Spanish 10-year government bond yields fell to 5.02 percent following a strong debt auction.

Italian 10-year government bond yields fell to 4.14 percent.

Gold futures fell 0.03 percent to $1,682.20 per ounce.
Asian Markets
Asian shares were mixed overnight with Australian shares leading and Chinese shares lagging ahead of the GDP report late Thursday. The Japanese Nikkei Index rose 0.09 percent and the Shanghai Composite Index fell 1.06 percent while the Hang Seng Index declined 0.07 percent. Also, the Korean Kospi fell 0.16 percent and Australian shares rose 0.38 percent.
European Markets
European shares were mixed overnight as peripheral shares led on the back of the strong debt auction in Spain and weakness was seen in the core. The Spanish Ibex Index rose 0.35 percent and the Italian MIB Index rose 0.4 percent. Meanwhile, the German DAX fell 0.34 percent and the French CAC rose 0.41 percent while U.K. shares fell 0.1 percent.
Commodities
Commodities were mixed overnight with oil leading and natural gas futures lagging. WTI Crude futures rose 0.17 percent to $94.40 per barrel and Brent Crude futures rose 0.33 percent to $110.61 per barrel as Natural Gas futures declined 0.82 percent to $3.41 per million BTU. Copper futures rose 0.26 percent to $361.60 per pound despite the weakness seen in China. Gold was lower and silver futures fell 0.16 percent to $31.49 per ounce.
Currencies
Currency markets were back to their old ways with the euro gaining and the yen declining, the combination sending the EUR/JPY cross higher by a massive 1.7 percent to 119.45. The EUR/USD was 0.55 percent higher at 1.3362 and the dollar rose against the yen by 1.12 percent to 89.37. Overall, the Dollar Index fell 0.18 percent as the strength against the yen was off-set against weakness euro, the pound and the Swiss franc. In addition, the EUR/CHF gained 0.6 percent to 1.2446, the highest since March 2011, and the Aussie dollar weakened against the greenback following weak employment data in Australia.
Pre-Market Movers
Stocks moving in the pre-market included:


Boeing (NYSE: BA) shares fell 3.15 percent pre-market as the 787 Dreamliner has been grounded by regulators globally.

Bank of America (NYSE: BAC) shares rose 2.46 percent pre-market ahead of its earnings report this morning.

Intel (NASDAQ: INTC) shares rose 0.54 percent pre-market ahead of its earnings report and also after disclosing a new agreement with Facebook (NASDAQ: FB) to collaborate on a new data center.

Goldman Sachs (NYSE: GS) shares fell 0.12 percent pre-market after rising over 4 percent Wednesday on a strong earnings release.
Earnings
Notable companies expected to report earnings Thursday include:


Bank of America (NYSE: BAC) is expected to report fourth quarter EPS of $0.02 vs. $0.15 a year ago.


Citigroup (NYSE: C) is expected to report fourth quarter EPS of $0.96 vs. $0.31 a year ago.

UnitedHealth Group (NYSE: UNH) is expected to report fourth quarter EPS of $1.19 vs. $1.17 a year ago.

Intel (NASDAQ: INTC) is expected to report fourth quarter EPS of $0.45 vs. $0.64 a year ago.

Blackrock (NYSE: BLK) is expected to report fourth quarter EPS of $3.69 vs. $3.06 a year ago.
Economics
On the economics calendar Thursday, the calendar is rather full beginning with housing starts and jobless claims at 8:30 am eastern. Later, the Philly Fed survey is due out and the EIA Natural Gas report is set to be released. Lastly, Dennis Lockhart of the Atlanta Fed is set to speak.
Overnight, the big data comes from China in its fourth quarter GDP release. The National Bureau of Statistics is expected to report that the economy grew at an annual rate of 7.8 percent in the fourth quarter vs. a 7.4 percent rate in the third quarter. Also, they are set to release fixed asset investment data, retail sales data, and industrial production data. Also, Spanish and Italian industrial new orders data are expected.
Good luck and good trading.
Posted-In: Earnings News Bonds Guidance Futures Commodities Previews Forex Best of Benzinga
View Comments and Join the Discussion!