These ETFs Have Seen Jaw-Dropping AUM Growth in December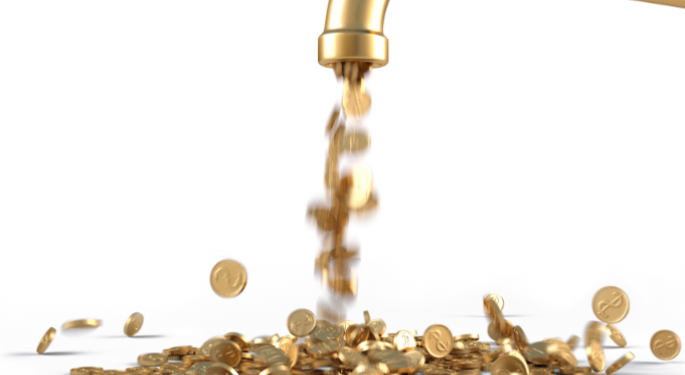 With 2012 winding to a close, various data services and research firms have noted this year has been another banner one for ETF inflows. As Morningstar highlighted earlier this month, ETFs have attracted $154 billion in new assets.
That was as of December 10 and that number puts the exchange-traded products industry in position to top the previous annual inflows record of $168.3 billion set in 2008. Obviously, the annual inflow number applies to the U.S. ETF industry at large. Not all ETFs and ETNs are raking in assets at breakneck speed.
However, some funds are doing just that and they are hauling in assets at a prodigious pace leading up to the Christmas and New Year's holidays, a time of the year that is often believed to be sluggish in the equity markets. The following ETFs have defied that conventional wisdom:
WisdomTree Japan Hedged Equity Fund (NYSE: DXJ) The WisdomTree Japan Hedged Equity Fund is one of several Japan-focused ETFs that benefited from traders rapidly pricing in victory for Shinzo Abe in last Sunday's Japanese elections. Indeed, Abe cruised to victory and will become Japan's next prime minister. His Liberal Democratic Party also took a hefty majority in Japan's lower house of parliament, boosting hopes that Abe will be able to keep pressure on the Bank of Japan to weaken the yen.
The results for DXJ have been palpable. Not only has the ETF surged 13.5 percent in the past 90 days, but the inflows have been just as impressive. Early this month, DXG had $648 million in AUM, but that number swelled to over $845 million at the start of trading Wednesday. At the start of trading on Thursday December 20, DXJ had almost $898 million in assets, according to WisdomTree.
Market Vectors Emerging Markets Local Currency Bond ETF (NYSE: EMLC) On the surface, it might appear that once an ETF crosses the $1 billion AUM threshold, continuing to make solid asset gains becomes more difficult. That has not been the case for the Market Vectors Emerging Markets Local Currency Bond ETF, which started December with about $1.1 billion in AUM after crossing the $1 billion level in late November.
EMLC has kept a solid asset-gathering pace as its AUM total is now north of $1.2 billion, indicating that investors are still embracing emerging markets debt despite talk of a bubble in that asset class.
Even more impressive, at least on a percentage basis, is the asset growth in the Market Vectors Emerging Markets High Yield Bond ETF (NYSE: HYEM). HYEM, which tracks junk bonds from developing market corporate issuers, debuted in May. After a decent start, the ETF's AUM total was stuck in the $20 million area as recently as late November. That number is now $26.7 million.
SPDR Barclays Short Term High Yield Bond ETF (NYSE: SJNK) There has been talk of a junk bond bubble pertaining to both U.S. and foreign high-yield bonds. There has been talk of the asset class being overvalued and too risky relative to potential future rewards. Predictably, there has also ample chatter about outflows from junk bond ETFs.
Apparently, SJNK did not get the memo on any of those topics because this new ETF has been one of 2012's most impressive gathers of assets regardless of asset class. Following its mid-March debut, SJNK's AUM total soared to $433.1 million by mid-November. By December 4, that number was $518.7 million. The inflows have not stopped. As of December 19, SJNK had almost $597 million in AUM.
For more on ETFs, click here.
View Comments and Join the Discussion!
Posted-In: Long Ideas News Bonds Short Ideas Specialty ETFs New ETFs Emerging Market ETFs Currency ETFs Best of Benzinga