Italian Banks Plummet as Political Crisis Flares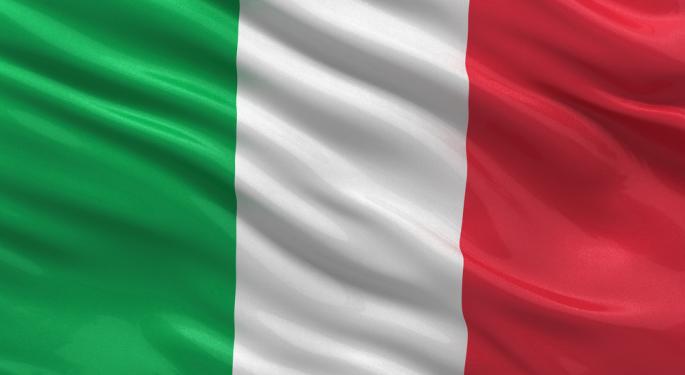 Italian bank shares led major European bourses lower in early Monday trade as the political crisis which has been swirling for the past few months has finally flared to unprecedented levels. Over the weekend, former Prime Minister Silvio Berlusconi announced his intention to run for office once again as current caretaker Prime Minister Mario Monti announced his intention to resign from the position.
The news out of Italy over the weekend is extremely negative for the Italian economy and bank shares there in particular. Monti is credited with pushing through fiscal reforms to raise taxes and cut spending to tackle Italy's debt crisis. Italy's core problem is its sheer debt load; at the end of 2011, it's debt-to-GDP ratio was sky high at 120.11 percent according to the IMF, much higher than crisis nations such as Spain.
However, Italy's advantage as compared to nations such as Spain is its low deficit; in fact, Italy actually is running a structural surplus currently, meaning that excluding interest payments, it is running a budget surplus. Compared to Spain, which is running deficits north of 6 percent of GDP, the numbers do seem better.
Thus, the news that Italy's chief economic reformer is stepping down is terrible news for the future of Italy's finances and the overall health of the economy. Also, it was under Berlusconi's regime that debt levels climbed to exorbitant levels int he first place. Thus, the headlines over the weekend sent government yields higher at the European open Monday and bank shares plummeted. Italian 10-year government bond yields jumped 28.2 basis points to 4.807 percent, the highest level since mid-November.
In addition, 2-year bond yields jumped an astounding 34.2 basis points to 2.316 percent, the highest level in a month. Also, Italian bank stocks, as measured by the FTSE Italia All-Share Banks Index, dropped 5.81 percent in Milan trading as fears that the deteriorating economic and political conditions would spill over to the banking sector reigned.
The weakness in Italian government bonds is notable, as Spanish and other peripheral European bond yields traded higher in tandem. One fear that is resuming is that over the European Central Bank's Outright Monetary Transactions (OMT) program; the ECB has yet to activate the program aimed at purchasing government bonds to cap yields because no nation has yet to make a new, formal request for a bailout.
One of the conditions of the OMT is that a nation receiving bond market support enter a program and show that economic reforms are being made. Knowing this, investors have suddenly become much more fearful that the resignation of Monti and the potential for a return to the high-spending ways of Berlusconi's regime would mean that, even if Italy asked for a formal bailout, they would not adhere to bailout conditions and would thus not qualify for bond support.
Government bond yields have fallen and are still lower than the levels seen over the summer, the last time the crisis flared up as eyes focused on Spain's crumbling banks. However, weakness in Italy now shows that the crisis may now see the spotlight shift away from the Iberian peninsula and towards its Italian counterpart. Currently, Italy is rated A- by Fitch, Baa2 by Moody's, and BBB+ by Standard & Poor's with each agency having the rating on negative watch as well.
Certainly, a return to the high-spending days of the Berlusconi regime would lead to further downgrades, making the crisis that much worse. Thus, the increased threat of downgrades coupled with the decreased likelihood of ECB support has sent government bonds yields higher and sent bank stocks lower.
Investors should watch the upcoming Italian elections closely. Currently, the conservative Democratic Party (PD) is in front in opinion polls and its leader, Pier Luigi Bersani, has already said that if elected, his party would remain committed to reform programs in the economy. Berlusconi's People of Freedom (PdL) Party is currently in third in opinion polls, and so fears over a broad break from reforms may be over exaggerated. However, investors do need to worry about what kinds of concessions the eventual winner will have to make towards the PdL should they want to form a coalition government.
Currently, the PD, along with the third major party the 5 Star Movement (5SM) have enough votes, based on opinion polls, to form a coalition government; but to reach a super-majority of over 60 percent to ensure that all votes can be passed, Bersani would need support of at least some of the PdL MP's.
Italian elections will be held in April, so investors should prepare for lots of headline risk from political leaders, just as there was with the recent Greek elections. Until then, prepare for volatility surrounding any and all comments.
Posted-In: News Bonds Previews Politics Forex Events Global Econ #s Best of Benzinga
View Comments and Join the Discussion!