These ETFs Track Countries With Dreadful Employment Situations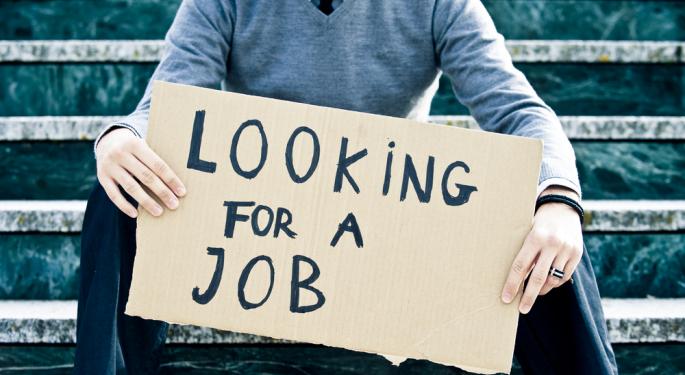 The U.S. unemployment rate stood at 7.9 percent in October, a level that is far from healthy for the world's largest economy. However, compared to some other countries, even some in the developed world, the U.S. employment situation looks decent.
In what amounts to a curious phenomenon, some ETFs that track stocks in nations with alarmingly high unemployment rates have thrived in recent months. Perhaps that is a sign that investors are betting on rapid economic turnarounds. Still, there is no getting around the fact that some countries have joblessness numbers that are downright disturbing, and unless employers in these countries start hiring soon, more pain could come to those holding these ETFs.
iShares MSCI Spain Index Fund (NYSE: EWP) Talk about embracing the controversial. Investors have sent the iShares MSCI Spain Index Fund higher by nearly 15 percent over the past 90 days. EWP is dealing with a modest loss in Friday's session on news that the Eurozone's unemployment rate touched 11.7 percent in October. That is the highest level since the euro started in 1999.
On its own, 11.7 percent is a dour unemployment rate. Spain's is worse. Much worse -- over 25 percent. What appears to be going on with EWP, an ETF that devotes over 42 percent of its weight to Spain's troubled banks, is that investors are overlooking the country's employment outlook to focus more on the fact that Spain has not yet been on the receiving end of an official bailout.
The country has continued to skirt a bailout by raising its own financing, and yields on Spain's sovereign debt have fallen more than 200 basis points since July. Those factors will do little to help the near-term jobs picture, but are enough to keep sentiment toward EWP more bullish than bearish.
Global X FTSE Greece 20 ETF (NYSE: GREK) Greece is another member of the dubious 25 percent unemployment club, but like EWP, the Global X FTSE Greece 20 ETF has defied the odds. In the past three months, GREK has surged 31.4 percent. That rally indicates something else beyond the notion that investors are glossing over a Greek tragedy when it comes to the country's jobless rate.
A case can be made that by sending GREK higher by more than 31 percent in just 90 days, investors are also ignoring the very real possibility that Greece could lose its developed market status. Index providers MSCI (NYSE: MSCI) and FTSE Group have each put Greece on their respective lists for reclassification to emerging markets status.
Emerging markets may be sexy to some, but investing in one that has been demoted from being a developed market could prove risky. Investors could have a chance to find out because Greece could make that ominous switch in the coming months.
Market Vectors Egypt Index ETF (NYSE: EGPT) As Benzinga reported on Monday, things were starting to look ugly for EGPT. That has proven to be the case, as the formerly high-flying ETF has tumbled almost 12 percent this week.
The blame can be placed on Egyptian President Mohammed Morsi, who sparked a firestorm of controversy by essentially granting himself judicial powers, saying in the process that rulings by the nation's judges cannot supersede his own power.
In other words, the international community is once again focused on political strife in the North African nation, not the country's other pressing domestic needs. For example, further interference by the Morsi administration could impact foreign direct investment and plague Egypt's domestically-focused economy, one that is already suffering from rampant poverty and high unemployment.
Speaking of Egyptian unemployment, the official rate is around 12 percent, but that is dangerously double for the country's young people.
For more on ETFs, click here.
Posted-In: Long Ideas News Bonds Short Ideas Specialty ETFs Emerging Market ETFs Events Global Best of Benzinga
View Comments and Join the Discussion!