Benzinga Market Primer, Monday November 26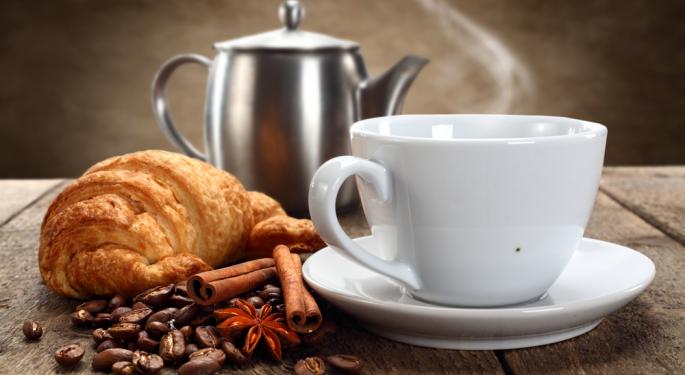 Futures Drop on Greek Uncertainty, Catalan Vote
U.S. equity futures fell in pre-market trading as uncertainty surrounding Greece's disbursement of its latest payment grips markets. Greece has already agreed on the necessary cuts with the Troika to receive the payment, however the current debate is an internal one amongst the Troika parties on how to give Greece more time to pay off its loans.
Top News
In other news around the markets:


The separatist parties in the Catalan region of Spain won a majority in the Catalan Parliament, which could lead to the region seceding and forming its own nation. This movement has gained popularity since the austerity measures of Mariano Rajoy's government in Madrid have hurt growth and sent unemployment sky-rocketting.

The Eurogroup is set to send an additional 35 billion euros to Spain's bank bailout fund, the FROB, to aid recapitalizations in exchange for job cuts at the banks. Troubled Bankia Group is set to lay off an additional 6,000 employees for more funding.

ECB Governing Council Vice President Vítor Manuel Ribeiro Constâncio spoke overnight, stating that he expects Spain to apply for a Troika program and activate the OMT program launched earlier this year by President Mario Draghi.

S&P 500 futures fell 6.3 points to 1,399.00.

The EUR/USD was lower at 1.2960.

Spanish 10-year government bond yields rose to 5.653 percent.

Italian 10-year government bond yields rose to 4.788 percent.

Gold fell 0.25 percent to $1,747.10 per ounce.
Asian Markets
Asian shares were mixed overnight with Japanese shares continuing to rise on increased stimulus hopes and Chinese shares slumping. The Japanese Nikkei Index rose 0.24 percent while the Shanghai Composite Index fell 0.49 percent and the Hang Seng Index fell 0.24 percent in Hong Kong. Also, the Korean Kospi fell 0.15 percent while Australian shares rose 0.25 percent.
European Markets
European shares were lower in early trading as European Finance Ministers met for the third straight week in attempt to reach an agreement on the Greek bailout. The Spanish Ibex Index fell 0.5 percent and the Italian MIB Index fell 0.42 percent while Greek shares dropped 0.22 percent. Meanwhile, the German DAX fell 0.31 percent and the French CAC 40 fell 0.69 percent while the U.K. FTSE 100 Index fell 0.47 percent.
Commodities
Commodities were weaker overnight as risk sentiment faded from the shortened Thanksgiving trading week. WTI Crude futures fell 0.6 percent to $87.75 per barrel and Brent Crude futures fell 0.38 percent to $110.96 per barrel. Copper futures slipped 0.42 percent to $352.40 per pound, following the weakness in Chinese shares. Gold was lower and silver futures fell 0.35 percent to $34.09 per ounce.
Currencies
Currency markets were rather quiet overnight and the only notable mover was the yen. The EUR/USD was slightly lower at 1.2960 and the dollar fell against the yen to 82.02, or 0.47 percent. Overall, the Dollar Index rose a mere 0.02 percent to 80.21, buoyed by strength against the Swedish Krone as oil prices dropped. The EUR/JPY cross fell 0.48 percent to 106.35 and the AUD/JPY cross fell 0.5 percent to 85.66, showing the broad yen strength.
Pre-Market Movers
Stocks moving in the pre-market included:


J.C. Penney (NYSE: JCP) shares rose 1.21 percent in pre-market trading in hopes that Thanksgiving shopping was strong at the retailer.

Yum! Brands (NYSE: YUM) shares fell 0.88 percent pre-market as wage hikes in China are expected to hurt profitability at the company's large Chinese division.

Apple (NASDAQ: AAPL) shares rose 0.26 percent pre-market as Black Friday sales appeared strong, according to Mizuho, and the filed a new lawsuit against Samsung.

eBay (NASDAQ: EBAY) shares rose 0.29 percent on hopes of a strong Black Friday for the company, despite CFO Robert Holmes Swan reporting to have sold 75,856 shares of company stock in the past week.
Earnings
The earnings calendar is rather light Monday. Notable companies expected to report earnings Wednesday include:


Joseph A Bank (NASDAQ: JOSB) is expected to report third quarter EPS of $0.55 vs. $0.54 a year ago.

Teavan Holdings (NYSE: TEA) is expected to report a third quarter loss of $0.01 per share vs. a profit of $0.02 a share a year ago.
Economics
On the economics calendar Monday, the Chicago Fed National Activity Index and the Dallas Fed Manufacturing Index are due out. Also, the Treasury is set to auction 4-week, 3-, and 6-month bills. Overnight, the Fed's Fisher is set to speak, Spain is set to auction 3- and 6-month bills, and revised British third quarter GDP data is due out.
Good luck and good trading.
View Comments and Join the Discussion!
Posted-In: Earnings News Bonds Guidance Futures Commodities Previews Forex Best of Benzinga