Futures Rise on Greek Austerity Vote, China Trade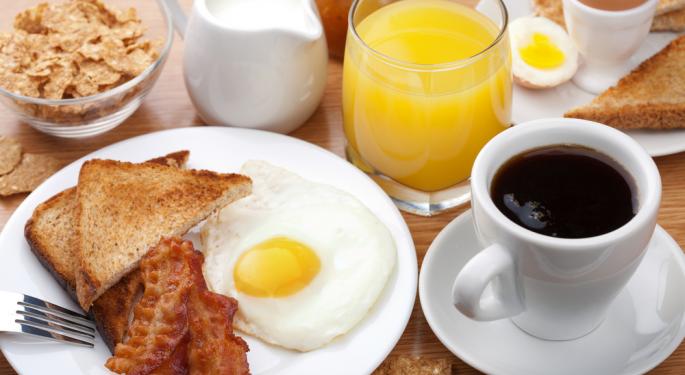 U.S. equity futures rose Monday as bond markets remain closed in observance of Veteran's Day. Over the weekend, Greek lawmakers voted and passed the austerity budget, making way for the Troika to release the next tranche of the bailout payments so that Greece can pay off maturing debt. Also, late Friday night, China reported that its trade balance rose to 32 billion yuan from 27.7 billion yuan the month before, beating expectations of a drop to 26.85 billion yuan.
Top News
In other news around the markets:


Fitch released cautious comments on Spain overnight, warning that the deficit is still a concern and that asking for ESM support would not materially alter ratings.

Italy's Prime Minister Monti released a statement indicating that Italy has no intention to ask for a bailout. Consensus thinking among analysts is that Italy will follow Spain into an ESM program just to place a cap on borrowing costs, not because it needs the money.

The International Energy Agency predicts the U.S. to overtake Saudi Arabia by 2020 in oil production.

S&P 500 futures rose 3.6 points to 1,379.85.

The EUR/USD was flat at 1.2713.

Spanish 10-year government bond yields rose to 5.87 percent.

Italian 10-year government bond yields rose to 5.001 percent.

Gold futures rose 0.3 percent to $1,736.10 per ounce.
Asian Markets
Asian shares were mixed overnight with the strong Chinese trade data boosting risk sentiment but new data from Japan showing the economy shrank on a quarterly basis for the first time in three quarters weighed on sentiment. The Japanese Nikkei Index fell 0.93 percent and the Shanghai Composite Index rose 0.49 percent while the Hang Seng Index rose 0.21 percent in Hong Kong. Meanwhile, the Korean Kospi fell 0.19 percent and Australian shares declined 0.31 percent as a new report from Reuters showed that Australian miners may be running out of cash.
European Markets
European shares were mostly higher in early trading following the Greek vote. However, the Spanish Ibex Index did trade lower by 0.57 percent while the Italian MIB Index rose 0.16 percent and Greek shares rose 0.4 percent. Also, the German DAX rose 0.25 percent and the French CAC 40 Index fell 0.08 percent. Lastly, U.K. shares rose 0.22 percent in London trading.
Commodities
Commodities were mixed overnight with energy futures weighing on commodities. WTI Crude futures fell by 0.2 percent to $85.90 per barrel and Brent Crude futures fell 0.29 percent to $109.08 per barrel. Copper futures rose 0.04 percent to $344.70 per pound, boosted by the stronger than expected Chinese trade data. Gold was higher and silver futures rose 0.29 percent to $32.70 per ounce.
Currencies
Currency markets were tepid overnight with moves restricted to tight ranges save for the Aussie dollar, which showed marginal strength. The EUR/USD was flat at 1.2713 and the dollar fell against the yen to 79.40 as U.S. bond yields continue to tighten. Overall, the Dollar Index was flat overnight with strength seen against the Canadian dollar and the Swiss franc and weakness against the Swedish krone and the yen. Also, the AUD/USD rose 44 pips, or 0.42 percent, to 1.0431 in overnight trade and the Aussie was also stronger against the yen and the euro, with the EUR/AUD pair falling 52 pips or 0.42 percent to 1.2185, the lowest level since mid-August.
Pre-Market Movers
Stocks moving in the pre-market included:


Titanium Metals Crop. (NYSE: TIE) shares rose 41.4 percent in pre-market trading has the company has entered a definitive arrangement to be bought by Precision Castparts (NYSE: PCP).

Coca Cola (NYSE: KO) shares rose 0.72 percent on positive comments on Seeking Alpha and the Motley Fool.

Time Warner (NYSE: TWX) shares rose 0.65 percent as the latest installment of the Bond series, Skyfall, had the greatest opening of any Bond movie in history.

Caterpillar (NYSE: CAT) shares fell 0.68 percent as investors fear that the fiscal cliff will lead to a drop in orders.

Apple (NASDAQ: AAPL) shares continued to climb in pre-market trading, rising 0.54 percent after a 1.73 percent gain on Friday.
Earnings
Notable companies expected to report earnings Monday include:


Beazer Homes (NYSE: BZH) is expected to report a fourth quarter loss of $1.22 vs. a loss of $2.90 a year ago.

Focus Media Holding Ltd. (NASDAQ: FMCN) is expected to report third quarter EPS of $0.70 vs. $0.59 a year ago. The company has been the subject of criticism following negative comments from Muddy Waters Reasearch over a year ago.

Weatherford International (NYSE: WFT) is expected to report third quarter EPS of $0.23 vs. $0.26 a year ago.

Wesco Aircraft Holdings (NYSE: WAIR) is expected to report fourth quarter EPS of $0.24 vs. $0.24 a year ago.
Economics
In honor of the Veteran's Day holiday celebrated Sunday, economic data releases will be delayed until Tuesday in the U.S. Overnight Monday into Tuesday, French Non-Farm Payrolls and the German ZEW Economic Survey are due out.
Good luck and good trading.
Posted-In: Earnings News Short Sellers Bonds Guidance Futures Commodities Previews Best of Benzinga
View Comments and Join the Discussion!