Futures Rise on Obama Re-election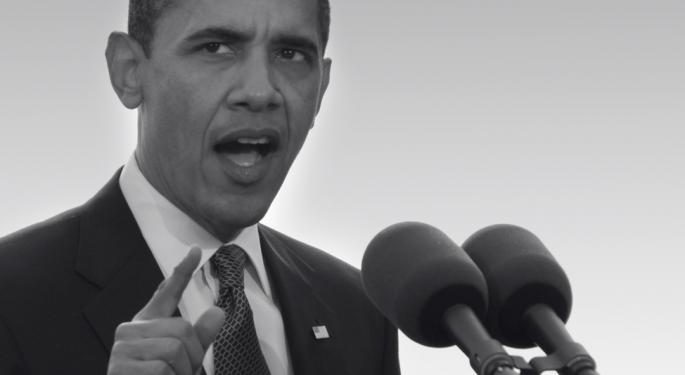 U.S. equity futures rose in early Wednesday trade as investors understood a second term for President Obama means continued easing from the Federal Reserve. President Obama won most of the key swing states including Ohio, all but clinching the election. However, it could be a week or two until the final results are known.
Top News
In other news around the markets:


Spanish industrial production dropped 7.0 percent year-over-year in September, the 13th consecutive month of decline and well below the rate of contraction seen in August of 2.5 percent.

Nouriel Roubini, noted economist with a generally pessimistic view of the global economy, spoke in Milan stating that the euro needs a gradual 20 percent decline to restore competitiveness. He also mentioned that the ECB needs to launch full QE and that the current state of U.S. finances will not be repaired by the broken political system.

The German economic council expects German GDP growth of 0.8 percent in 2012 and the same rate of growth in 2013. They also see a trough in the economy in the fourth quarter of 2012.

S&P 500 futures rose 4.5 points to 1,429.70 after falling more than seven points overnight.

The EUR/USD was higher at 1.2851.

Spanish 10-year government bond yields fell to 5.632 percent.

Italian 10-year government bond yields fell to 4.878 percent.

Gold rose 0.97 percent to $1,731.60 per ounce.
Asian Markets
Asian shares were mixed overnight with weakness in Japan and China off-set by strength in other markets. The Japanese Nikkei Index fell 0.03 percent overnight and the Shanghai Composite Index dropped 0.01 percent. Meanwhile, the Hang Seng Index rose 0.71 percent in Hong Kong trading while the Korean Kospi rose 0.49 percent and Australian shares rose 0.71 percent.
European Markets
European shares were all higher following the reelection of President Obama and ahead of the Greek austerity vote, the results of which are due out after the close today. The Spanish Ibex Index rose 0.8 percent and Italy's MIB Index rose 0.5 percent overnight. Also, the German DAX rose 0.63 percent while the French CAC rose 0.93 percent and U.K. shares rose 0.54 percent.
Commodities
Commodities were mixed overnight as weakness in energy futures was off-set by strength in metals. WTI Crude futures dropped 0.29 percent to $88.45 per barrel and Brent Crude futures fell 0.41 percent to $110.62 per barrel. Copper futures rose 0.34 percent overnight to $351.80 per pound, the second consecutive day of gains following the strong comments from the Royal Bank of Australia two days ago. Gold was higher and silver futures rose 0.78 percent to $32.29 per ounce.
Currencies
Currency markets sold the dollar overnight as the greenback saw broad-based weakness. Traders believe that a second term for the President means that the Fed has more leeway to continue to QE3, which many see as dollar bearish. The EUR/USD was lower and the dollar was flat against the yen overnight. Overall, the Dollar Index fell 0.24 percent on weakness against the euro, the pound, the Canadian dollar, and the Swiss franc.The Aussie dollar was also strong overnight, rising against the greenback, the euro, and the yen, and showing a clear risk-on environment in currencies.
Pre-Market Movers
Stocks moving in the pre-market included:


Zillow (NASDAQ: Z) shares rose 1.56 percent in the pre-market following a more than 18 percent drop Tuesday as the company reported lackluster earnings and cut guidance.

AOL (NYSE: AOL) shares fell 0.11 percent pre-market after rising more than 20 percent Tuesday on strong earnings.

Las Vegas Sands (NYSE: LVS) shares fell 0.13 percent pre-market; the company was the largest corporate contributor to the republican party during the elections.

Earnings
There are several notable companies expected to report earnings Wednesday, including:


CBS Corp. (NYSE: CBS) is expected to report third quarter EPS of $0.61 vs. $0.50 a year ago.

HollyFrontier Corp. (NYSE: HFC) is expected to report third quarter EPS of $2.39 vs. $2.48 a year ago.

Macy's (NYSE: M) is expected to report third quarter EPS of $0.29 vs. $0.32 a year ago.

Monster Beverage (NASDAQ: MNST) is expected to report third quarter EPS of $0.55 vs. $0.44 a year ago.

Qualcomm (NASDAQ: QCOM) is expected to report fourth quarter EPS of $0.82 vs. $0.80 a year ago.

Tenet Healthcare (NYSE: THC) is expected to report third quarter EPS of $0.34 vs. $0.08 a year ago.
Economics
On the economic calendar Wednesday, MBA purchase applications and the EIA petroleum status report mark the calendar. Also, the Treasury is set to auction 10-year bonds. Overnight and early Thursday, the Bank of England and European Central Bank are set to release their respective interest rate decisions.
Good luck and good trading.
Posted-In: Earnings News Bonds Guidance Futures Commodities Previews Politics Best of Benzinga
View Comments and Join the Discussion!