How to Trade the U.S. Presidential Election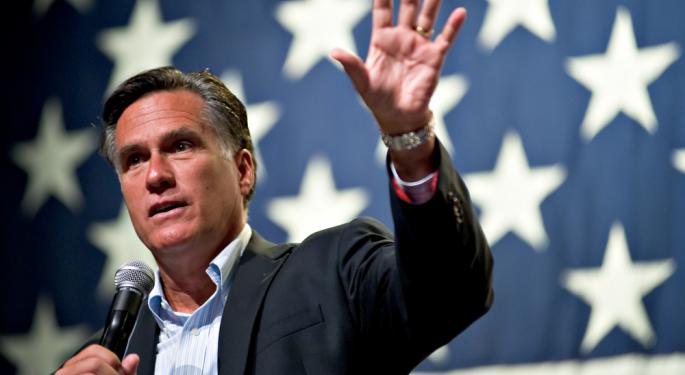 With less than a week to go until the U.S. Presidential election, traders have only a handful of sessions left to align their portfolios.
A Barclays survey of investors indicated that the consensus view is for a Romney victory to be positive for stocks, while an Obama victory would support bonds. Traders may view a Romney presidency as catalyst for a more favorable environment for business, and therefore the equity market. On the other hand, an Obama re-election might mean a worse business environment, and thus funds would flow from equities into fixed-income.
Is this view realistic? Stocks under Obama have done remarkably well, with the S&P 500 more than doubling during Obama's first term. This remarkable performance has continued even in the face of 2012's questionable business environment, confounding bearish investors who cite declining revenues and poor guidance as fundamental reasons for why the market ought to be trading sharply lower.
It might not be the president at all affecting stocks, but rather the Chairman of the Federal Reserve, Ben Bernanke. As the Fed has followed an aggressive monetary policy through multiple rounds of quantitative easing, the stock market has gradually drifted higher.
If Bernanke has been the one sending the market higher, then keeping Obama in place would seem to be a better recipe for market success regardless of the underlying business factors. Although originally appointed by former President George W. Bush in 2006, Bernanke was re-appointed by Obama in 2010. With his term set to expire in 2014, whoever wins the presidential election next week will have the opportunity to nominate the next Federal Reserve Chairman.
According to reports published earlier this month, Bernanke -- even if nominated to continue his term -- will leave the Fed in 2014. Of course, it might be that Obama would be more likely to appoint a more dovish chairman as Bernanke's successor, one more concerned with the employment rate. On the other hand, Romney might appoint a more hawkish chairman concerned with keeping inflation at bay.
More interesting is the possibility that Romney may try to push Bernanke out the door prematurely, maybe even asking for his resignation. That seems unlikely, but could lead to turmoil in the markets.
Turning to individual stocks, investors might look to specific sectors or companies for performance in the face of the election outcome.
For a Romney victory, stocks involving the defense, energy and financial sector might benefit. For Obama, traders may look to insurance, alternative energy and hospitals.
Should the country go over the "fiscal cliff," defense stocks might be battered on expectations of reduced military contracts. Romney, if elected, would not be inaugurated until January 2013 -- after the fiscal cliff cut-off. The fiscal cliff carries a high degree of uncertainty, and it would be foolish to predict exactly how the issue will be resolved, if at all.
If recent actions are any indication of future performance, Congress will manage to find a way to extend the fiscal cliff deadline just a bit longer. That would mean that Romney as president would be able to influence the outcome. In that case, Romney might be more likely to give priority to protecting the defense budget over Obama, thereby limiting the downside to defensive names. Romney's budgets over his term, too, would likely include more spending on the military than Obama's, further boosting defensive names like Lockheed Martin (NYSE: LMT) or Raytheon (NYSE: RTN).
As for financial stocks, the underlying companies could see better profits under Romney as president. Following the financial crisis, Obama signed the Dodd-Frank act into legislature, establishing extensive new rules covering financial regulation. He also pushed for the Volcker Rule -- intended to stop the banks from prop trading.
Romney might not have any chance to abolish these rules, but if elected, his administration may limit the potential for additional regulation -- a win for financials like JP Morgan (NYSE: JPM) and Citigroup (NYSE: C).
As for energy, President Obama has presided over a resurgence in American oil production. That said, Obama has blocked projects like TransCanada's (NYSE: TRP) Keystone XL pipeline. Romney as president may be more favorable to projects like Keystone, and push for expanded use of the nation's natural gas, perhaps even pushing for increased exports of liquefied natural gas. Companies like Cheniere Energy (NYSE: LNG) could benefit in that scenario.
But what if Obama wins?
S&P Capital IQ argued in September that the Obama administration has been supportive of telecommunications thus far, and would continue to do so during his second term. Obama's administration has encouraged broadband expansion and shifted wireless spectrum from television broadcasters to telecom providers. Verizon (NYSE: VZ) and AT&T (NYSE: T) are staple plays in this sector.
Alternative energy has been a favored industry for Obama's administration, and future Obama budgets could include more tax credits and subsidies for companies operating in the sector. Companies like NextEra (NYSE: NEE) and First Solar (NASDAQ: FSLR) might see a notable boost during a possible second Obama term.
Finally, hospital stocks could rally if Obama wins next week.
After being confirmed as constitutionally permissible by the Supreme Court, the only possibility for Obamacare to be abolished would be under a Romney presidency. If Obama wins next week, Obamacare might be legal for the foreseeable future.
Under the provisions of Obamacare, more Americans are expected to be covered by private insurance. As it stands, hospital emergency rooms are legally required to treat people who do not have insurance -- weighing on their bottom line. With less of these emergency room free riders, hospitals might see their profitability increase in coming years. Stocks in this industry include Tenet Healthcare (NYSE: THC) and HCA Holdings (NYSE: HCA).
With only three full U.S. trading sessions left before polls open, traders should act quick if they wish to rebalance their portfolios ahead of the election.
Posted-In: News Bonds Politics Forex Events Economics Markets Trading Ideas Best of Benzinga
View Comments and Join the Discussion!