In 7 Days, an Obama Win Could Send These ETFs Soaring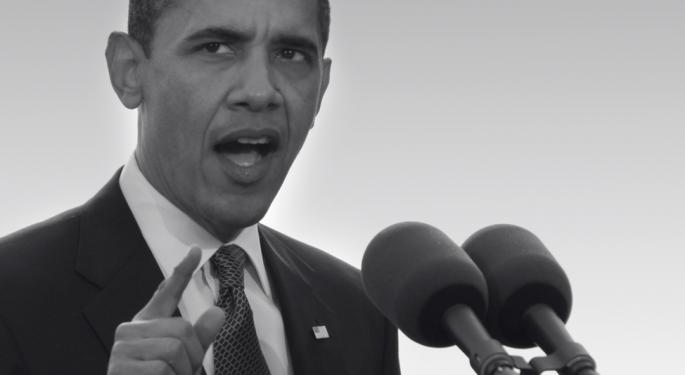 Believe it or not, Election Day is just six days away. With the polls showing the chances of nail-biter are growing, markets and investors are apt to remain pensive until at least next Wednesday. Hopefully, there will not be a repeat of 2000 when a clear winner did not immediately emerge after the polls closed.
Since it became clear that Republican Mitt Romney would be President Barack Obama's challenger, analysts, experts and pundits have been attempting to figure out which sectors and stocks will perform well assuming either outcome.
An array of predictable calls have been made. Buy energy and financial services ETFs if Romney wins, some analysts and traders have said. Bet on health care and telecom funds if President Obama is reelected.
There is always a chance that any reaction by sector ETFs to the election will be short-lived. However, it does pay to be prepared. With that, here is one last run through some sector ETFs that have the potential to rally on the back of an Obama reelection.
iShares Dow Jones US Telecom Index Fund (NYSE: IYZ) A solid performer for most of 2012, the iShares Dow Jones US Telecom Index Fund has fallen on hard times recently, sliding 4.3 percent in the past month. An Obama victory could be just what IYZ and rival telecom funds need to get back on track. S&P Capital IQ explained why in a September research note.
"President Obama has been supportive of broadband expansion, through government subsidies, enticing carriers to build out their networks. In addition, the Federal Communications Commission's chairman has been a proponent of moving wireless spectrum from television broadcasters to telecom carriers. If Governor Romney wins, a new chairman would take over and could scuttle these efforts," the research firm said.
Guggenheim S&P 00 Equal Weight Health Care ETF (NYSE: RYH) How the Guggenheim S&P 500 Equal Weight Health Care ETF reacts to an Obama reelection will be interesting to see. The ETF spreads about 78 percent of its weight between health care services providers, equipment makers and traditional pharmaceuticals names. In other words, this ETF has, to this point, benefited from Obamacare.
RYH's 25.6 allocation to health care equipment and supply firms could be a thorn in the ETF's side, though. Obamacare contains a tax on medical device firms that could lead to the loss of tens of thousands of jobs and billions of dollars of lost economic output.
ProShares UltraShort Financials (NYSE: SKF) When he was running for president in 2008, then Sen. Obama was the toast of Wall Street. At this point in the election cycle in 2008, major financial services firms had donated $14.5 million to Obama. Increased regulation and a Dodd-Frank Act later and Wall Street firms have given just $5.5 million to the President this year, according to the Center for Responsive Politics.
Mitt Romney has raised more than triple that amount of $18.3 million. Price action in the sector arguably shows the candidate banks prefer. Hint: It is not the incumbent.
PowerShares Build America Bond Portfolio (NYSE: BAB) The PowerShares Build America Bond Portfolio, which has over $1 billion in assets under management, does not get much press as a potential winner following an Obama victory. That is odd considering Obama wants to make the Build America Bond program a permanent fixture. The program terminated two years ago.
Created as part of the American Recovery and Reinvestment Act, Build America Bonds are taxable, but the federal government pays issuers subsidy payments equal to 35 percent of their interest costs, according to the Bond Buyer.
As the Bond Buyer notes, Republicans view BABs as a relic of of the Obama stimulus program and that could endanger these bonds under a Romney Administration.
For more on politics and ETFs, click here.
View Comments and Join the Discussion!
Posted-In: Long Ideas News Sector ETFs Bonds Short Ideas Specialty ETFs Politics Events Best of Benzinga