Benzinga Market Primer, Friday, October 26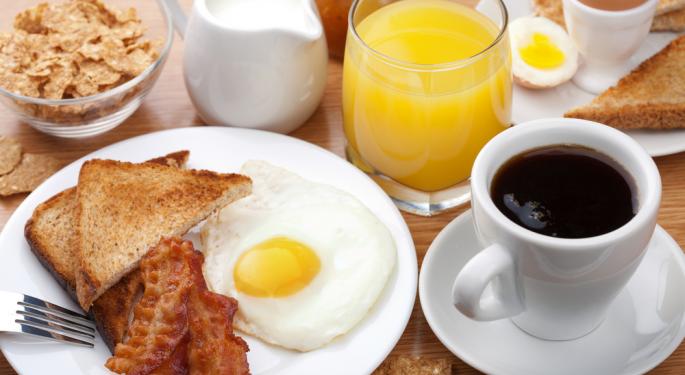 U.S. equity futures fell in early Friday trading as large companies including Apple (NASDAQ: AAPL) and Amazon (NASDAQ: AMZN) reported earnings Thursday that missed analyst estimates. Apple reported sales that beat expectations but earnings missed and Amazon reported its first quarterly loss in years. S&P 500 futures fell below 1,400 on the recent string of weak earnings.
Top News
In other news around the markets:


The Japanese government announced a new round of stimulus measures totaling 422.6 billion yen, or $5.3 billion, as the country looks to boost growth from its decades-long stagnation. Economists are looking for the Bank of Japan to act next week in tandem with the fiscal authorities.

Spain's unemployment rate rose to 25.0 percent in the third quarter, up from 24.6 percent in the third quarter and slightly below economist expectations of 25.1 percent.

The IMF has finally admitted that Greece cannot meet its targets as set under the current bailout agreement and it appears that Greece will get an extra two years to pay back the loans.

ECB Governor Jorg Asmussen spoke overnight, saying that the new OMT program is not inflationary and that the aid request does not automatically trigger bond purchases, rather it is just one condition. Also, on China, he said that some local governments are effectively bankrupt and that the rich-poor divide continues to grow, not shrink.

Standard and Poor's downgraded BNP Paribas to A+ from AA- and lowered its outlook on Credit Agricole and Societe Generale, the other two French mega-banks.

S&P 500 futures fell 10.3 points to 1,397.90.

The EUR/USD was slightly higher at 1.2939.

Spanish 10-year government bond yields rose to 5.672 percent.

Italian 10-year government bond yields rose to 4.907 percent.

Gold fell 0.47 percent to $1,705.00 per ounce.
Asian Markets
Asian shares were weaker overnight despite the new stimulus measures in China, weighed down by weak earnings from U.S. mega-companies such as Apple. The Japanese Nikkei Index fell 1.35 percent and the Shanghai Composite Index fell 1.68 percent. In addition, the Hang Seng Index fell 1.21 percent in Hong Kong and the Korean Kospi fell 1.72 percent as the Korean government announced weak third quarter GDP. Australian shares also fell 0.85 percent.
European Markets
European shares were lower in early Friday trading, weighed down by fears over the finances of Greece and Spain. The Spanish Ibex Index fell 0.85 percent while the Italian MIB Index fell 0.55 percent. Also, the German DAX fell 0.37 percent and the French CAC fell 0.47 percent, weighed down by the bank downgrades. U.K. shares also fell 0.56 percent just one day after the strong GDP report.
Commodities
Commodities were weak overnight on global growth fears. WTI Crude futures fell 0.72 percent to $85.43 per barrel and Brent Crude futures slipped 0.44 percent to $108.10 per barrel. Copper futures also fell on global weakness with futures falling 0.44 percent to $353.50 per pound. Gold was lower and silver futures fell 0.93 percent to $31.78 per ounce.
Currencies
Currency markets did not echo the strong risk-off tone seen in other markets overnight, as the dollar was effectively flat in overnight trading and moves remained tepid. The EUR/USD was slightly higher and the dollar fell against the yen, sending the pair back below 80. Overall, the Dollar Index was flat at 80.04 with the dollar gaining against its Canadian counterpart and the Swedish krona and falling against the euro and the yen. The Aussie dollar was slightly weak against a basket of currencies, the only risk-off sign in currency markets.
Pre-Market Movers
Stocks moving in the pre-market included:


Amazon shares fell 1.4 percent pre-marekt following weak earnings.

Boston Scientific (NYSE: BSX) shares rose 0.78 percent in pre-market trading after positive comments from Seeking Alpha.

Yum! Brands (NYSE: YUM) fell 1.7 percent pre-market as investors fear that one of its strongest units, its Asian arm, is set to see growth rates continue to slow.

Freeport-McMoRan (NYSE: FCX) fell 1.33 percent pre-market as analysts warned on its earnings release.
Earnings
There are several notable companies reporting earnings Friday, including:


Coventry Health (NYSE: CVH) is expected to report third quarter EPS of $0.73 vs. $0.82 a year ago.

Lear Corp (NYSE: LEA) is expected to report third quarter EPS of $1.19 vs. $1.08.

Merck and Co. (NYSE: MRK) is expected to report third quarter EPS of $0.93 vs. $0.94 a year ago.

Weyerhaeuser (NYSE: WY) is expected to report third quarter EPS of $0.18 vs. $0.12 a year ago.
Economics
On the economic calendar Friday, the initial estimate of third quarter GDP for the U.S. is due out as well as consumer sentiment data.
Good luck and good trading.
Posted-In: Earnings News Bonds Guidance Futures Commodities Previews Forex Best of Benzinga
View Comments and Join the Discussion!