Benzinga Market Primer, Tuesday October 16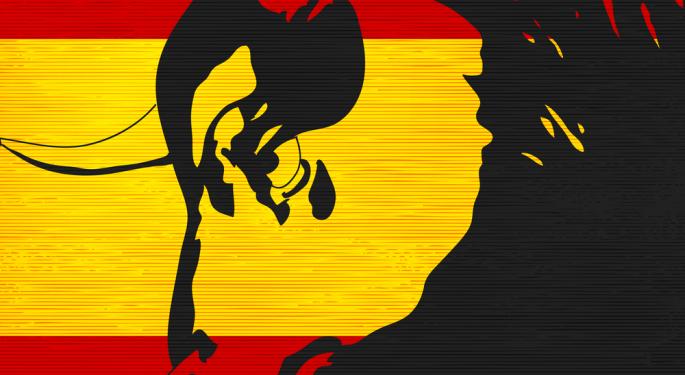 U.S. equity futures rose slightly in early Tuesday trading as reports surfaced indicating that Spain may be closer to submitting to a Troika program in exchange for debt support from the ECB. Recently, it appeared as though Spain was reluctant to ask for a bailout, as the country did not want to seem weak. However, reports indicate that Spain may wait for other nations such as Italy to submit for a program at the same time, removing the stigma on it as being weaker than other nations.
Top News
In other news around the markets:


Standard & Poor's expects to conclude its review of the Spanish banking sector in November following the downgrade of the sovereign credit rating last week. Usually, a downgrade of the sovereign leads to downgrades of financial institutions in the country.

Finnish Prime Minister Jyrki Katainen spoke overnight, stating that Finland, one of the few remaining AAA credits in Europe, will not approve any increase in the size of the bailout programs.

At the next European summit, Spanish officials looks set to present measures that would aid in bringing the European Union closer fiscally. Spain would like a common budget oversight committee, common bill auctions (deemed Eurobills), and then later, issuance of Eurobonds.

A report Monday from the Financial Times made an interesting claim, in that the European Union may grow its membership from within over the next few years, as regions such as Catalonia, Scotland, the Flemish half of Belgium, and now Venice all have seen growing independence movements.

S&P 500 futures rose 0.7 points to 1,436.20.

The EUR/USD was higher at 1.2995 after trading above 1.30 in the overnight session.

Spanish 10-year government bond yields rose to 5.833 percent.

Italian 10-year government bond yields fell to 4.964 percent.

Gold rose 0.07 percent to $1,738.80.
Asian Markets
Asian shares traded higher overnight led by the Japanese Nikkei Index, which rose 1.44 percent as earnings season kicked off in Tokyo. Meanwhile, the Shanghai Composite Index closed flat and the Hang Seng Index rose 0.28 percent. Australian shares rose 0.18 percent despite the release of downbeat minutes from the recent Royal Bank of Australia meeting and the Korean Kospi rose 0.83 percent.
European Markets
European shares were higher in early trading led by Spanish shares. Spain's Ibex Index rose 1.17 percent on hopes that Spain is set to ask for a bailout in the coming months and Italian shares rose 0.16 percent as its trade deficit shrank last month. The German DAX rose 0.58 percent as German investor sentiment continued to improve and the French CAC 40 rose 0.38 percent.
Commodities
Commodities were mixed in early trading with energy futures lagging and metal futures rising. WTI Crude futures fell 0.44 percent to $91.45 per barrel and Brent Crude futures fell 0.43 percent to $115.30 per barrel. Copper futures rose slightly to $370.20 as the RBA minutes indicated that the bank may do more to stimulate the Australian economy. Gold was higher in early trade and silver futures rose 0.02 percent to $32.75 per ounce.
Currencies
Currency markets showed broad dollar weakness and euro strength in early trade. The EUR/USD was higher and the dollar rose against the yen, indicating a slight risk-on bias. Overall, the Dollar Index fell 0.25 percent led lower by weakness against the euro, the pound, and the Canadian dollar. The Aussie dollar had traded with strength overnight however the rally faded into the European trading session. The AUD/USD is well off the overnight highs and the EUR/AUD has climbed over the same period.
Pre-Market Movers
Stocks moving in the pre-market included:


Forest Labs (NYSE: FRX) fell 1.09 percent in pre-market trading ahead of its earnings release later Tuesday.

Goldman Sachs (NYSE: GS) rose 0.88 percent in the pre-market as it prepares to release third quarter earnings Tuesday morning.

Google (NASDAQ: GOOG) fell 0.03 percent pre-market as the European Union regulator ruled that Google's new privacy policy is in violation of EU treaties and must be changed in four months.
Earnings
There are several notable companies reporting earnings Tuesday, including:


Apollo Group (NASDAQ: APOL) is expected to report Q4 EPS of $0.49 vs. $1.02 a year ago.

Coca-Cola (NYSE: KO) is expected to report Q3 EPS of $0.50 vs. $0.52 a year ago.

CSX Corporation (NYSE: CSX) is expected to report Q3 EPS of $0.44 vs. $0.43 a year ago.

Forest Labs (NYSE: FRX) is expected to report Q2 EPS of $0.02 vs. $0.91 a year ago.

Goldman Sachs (NYSE: GS) is expected to announce Q3 EPS of $2.18 vs. a loss of $0.84 a year ago.

Intel (NASDAQ: INTC) is expected to report Q3 EPS of $0.50 vs. $0.65 a year ago.

IBM (NYSE: IBM) is expected to report Q3 EPS of $3.62 vs. $3.28 a year ago.

Johnson and Johnson (NYSE: JNJ) is expected to report Q3 EPS of $1.21 vs. $1.24 a year ago.

UnitedHealth Group (NYSE: UNH) is expected to report Q3 EPS of $1.25 vs. $1.17 a year ago.
Economics
On the economic calendar Tuesday, investors will receive new data on consumer prices in the U.S. as well as the latest report on industrial production. Also, the Treasury is set to release the latest report on TIC flows and the NAHB is set to release its home price index. Lastly, the Redbook will build on Monday's retail sales reports. In addition, Fed Governor Raskin is set to speak on financial regulation in Boston.
Good luck and good trading.
Posted-In: Earnings News Bonds Guidance Futures Commodities Previews Forex Best of Benzinga
View Comments and Join the Discussion!