Dodd-Frank Measures to Take Effect October 12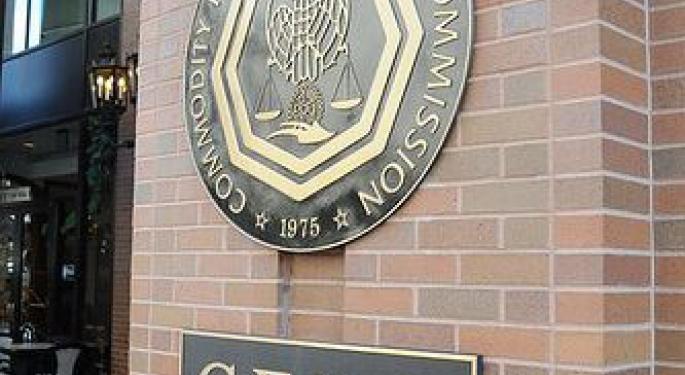 New regulations surrounding the sale and trading of derivatives are set to be in place beginning October 12, and there is still much uncertainty surrounding the fate of these derivatives. Companies from Archer Daniels Midland (NYSE: ADM) to Ford (NYSE: F) are still awaiting the final say from the Commodities Futures Trading Commission (CFTC) as to which derivatives will in fact be affected.
The debate circles around classifying certain institutions as banks or as non-banks. Those classified as banks by the CFTC would be subject to stricter regulation and higher capital and margin requirements than those classified as non-banks. Also, being deemed a swaps dealer rather than a market participant will affect many institutions domestically, with global implications likely as well.
Starting October 12, companies must begin tallying their derivatives trades to determine whether they will be deemed swap dealers and face Dodd-Frank's highest capital, collateral and trading standards, which could erode their profits. Companies whose annual trades exceed $8 billion would have to register as swaps dealers and be subject to these harsh restrictions that could crimp profits. Also, the increased regulation could hurt market liquidity in some of these already illiquid markets, creating more price volatility on continually lower volumes.
One market that has yet to see clarity is the foreign exchange market, specifically in the forwards market. Forwards are the simplest form of foreign exchange derivatives, but could come under the new regulations. This could force some of the large companies that hedge currency risk out of the market and decrease overall volumes. However, it should not affect the spot markets as much as that is dominated more by traders and banks and less by companies.
In April 2011, the Treasury Department proposed an exemption for the foreign-exchange market as it already had adequate levels of price transparency, risk management and electronic trading. Banks that dominate the foreign exchange market including Deutsche Bank (NYSE: DB), Bank of New York Mellon (NYSE: BK), and UBS AG (NYSE: UBS) have all been lobbying for tax restrictions on foreign exchange markets but there yet remains uncertainty surrounding the future of these regulations.
Should the restrictions take place in full, investors could see decreased volumes in markets such as foreign exchange and some of the more liquid credit markets. Also, banks may contract lending as they need to decrease risk in all businesses to offset the loss of profits they may see under the regulation.
Posted-In: News Bonds Futures Commodities Options Forex Events Global Best of Benzinga
View Comments and Join the Discussion!