Junk Bond ETFs Other Than The Big 2 Seeing Inflows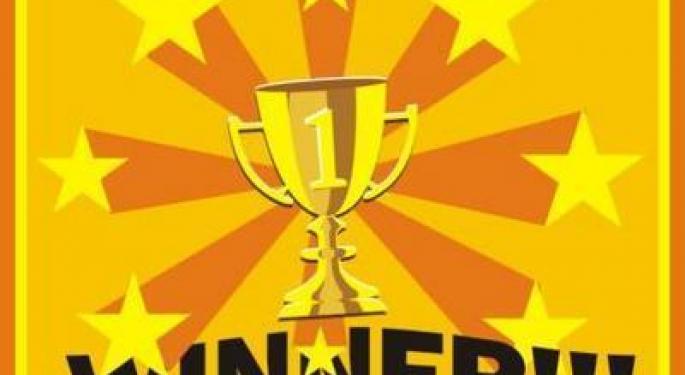 Exchange traded funds tracking high yield bonds continue to be popular with investors. With the Federal Reserve announcing a third round of quantitative easing, risk appetite jumped, triggering a surge in junk bond ETF inflows.
Junk bond funds hauled in $3.63 billion in investor cash for the week that ended September 19, Bloomberg reported, citing EPFR data. ETFs gained 40 percent, or $1.45 billion, of those inflows, according to Bloomberg.
That is a tidy sum and one that implies more than two ETFs are benefiting from increased institutional use of junk bond ETFs and retail investors craving these products as income-generating instruments. Still, the bulk of the junk bond ETF attention goes to the two largest players in the space, the iShares iBoxx $ High Yield Corporate Bond Fund (NYSE: HYG) and the SPDR Barclays Capital High Yield Bond ETF (NYSE: JNK).
The Bloomberg piece notes that for the week that ended September 19, HYG hauled in $402 million in new capital while JNK garnered $163 million in new inflows. That equals $565 million, meaning $885 in junk bond ETF inflows went into ETFs other than HYG and JNK. HYG and JNK have $17.3 billion and $12.8 billion in AUM, respectively, so their dominance in the high-yield bond ETF space is tough to challenge.
That also means there are junk bond ETFs that are flourishing and not drawing much mainstream attention for the effort.
A perfect example of that scenario is the SPDR Barclays Capital Short Term High Yield Bond ETF (NYSE: SJNK). With a modified adjusted duration of less than 2.1 years, SJNK may not be for those investors looking to avoid sensitivity to interest rate increases. So there may be an argument for avoiding SJNK, but there is no denying this one of the most successful new ETFs to launch this year.
In late May, SJNK had $129 million in AUM. At the close of markets on September 21, the ETF had nearly $289 million in AUM. Translation: The ETF's AUM total more than doubled in less than four months.
It is not just U.S.-focused high-yield bond ETFs that are prospering. The iShares Global ex USD High Yield Corporate Bond Fund (BATS: HYXU) and the Market Vectors International High Yield Bond ETF (NYSE: IHY) both debuted in early April and both are off to decent starts. AUM totals of $25.6 million for the iShares fund and $20.6 million for the Market Vectors offering are not jaw-dropping, but those are fine starts for new ETFs and both increased assets by about 10 percent since late May.
One of the more staggering jumps in AUM among junk bond ETFs is also going unnoticed. As of July 3, the PowerShares Senior Loan Portfolio (NYSE: BKLN) had $583 million in assets. That number has surged almost 51 percent to $880 million as of the close of markets on Monday.
It does not say in its name, but the ratings of BKLN's holdings are primarily non-investment grade.
Emerging markets junk bond ETFs are new on the scene in 2012 and there is already a rivalry between two funds – the Market Vectors Emerging Markets High Yield Bond ETF (NYSE: HYEM) and the iShares Emerging Markets High Yield Bond Fund (BATS: EMHY). Both debuted on the same day in May and by the end of that month, HYEM at $10 million in assets and EMHY had $14 million.
Since then, on a percentage basis, the asset growth for the pair has been superb as HYEM has more than doubled while EMHY has tacked on 50 percent. Yet few investors even knew about how well the ETFs highlighted here have been doing in terms of attracting assets...until now.
For more on junk bond ETFs, click here.
View Comments and Join the Discussion!
Posted-In: Long Ideas News Bonds Short Ideas Specialty ETFs New ETFs Emerging Market ETFs Pre-Market Outlook Best of Benzinga