Benzinga Market Primer, Friday September 7: Previewing Non-Farm Payrolls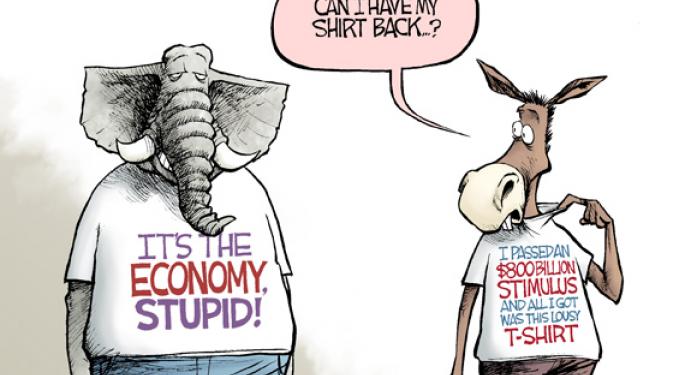 U.S. equity futures rose early Friday morning as investors became hopeful of a strong Non-Farm Payrolls report, which is set to be released at 8:30 am EST. Thursday, the S&P 500 closed at its highest level since January 2008 and the NASDAQ closed at its highest since December 2000 on these hopes. One of the best indicators of the Non-Farm Payrolls report has been the employment sub-index of the ISM Non-Manufacturing Index, which jumped to 53.8 in August from 49.3 in July. TrimTabs' estimate, based on withheld income and employment taxes, is above consensus at 185,000 jobs added. The consensus estimate is 130,000 jobs added, but of the estimates revised after the strong ADP report yesterday, the average was 135,000.
In other news around the markets:


Apple (NASDAQ: AAPL) is expected to announce an internet radio service to compete with Pandora Media (NASDAQ: P).

German legal experts expect the top court to rule the European Stability Mechanism and the Fiscal Pact as constitutional, which would lead the way for ECB President Mario Draghi to buy bonds.

China announced new infrastructure spending ambitions with a new set of spending totaling approximately $126 billion being announced to revamp roadways, subways, and other infrastructure.

S&P 500 futures rose 4.8 points to 1,435.80.

The EUR/USD jumped handedly after the ECB announced its OMT bond buying plan, with the pair now trading near 1.2710.

Spanish 10-year government bond yields fell to 5.749 percent.

Italian 10-year government bond yields fell to 5.131 percent.

Gold fell 0.49 percent to $1,697.30 per ounce.
Overnight, Asian shares were strong on the heels of the ECB bond buying program and the announcement of the Chinese stimulus plan. China's Shanghai Composite Index jumped 3.7 percent and the Australian S&P-ASX Index jumped 0.3 percent on hopes that China can jump start its economy. The Nikkei rose 2.2 percent and the Hang Seng Index rose 3.09 percent. In Europe, Spain's Ibex continued its three-day climb, rising another 0.31 percent. Since September 5, the index has risen more than 6 percent. Italy's MIB Index 2.13 percent and the German DAX rose 0.82 percent. Also, the French CAC rose 1.15 percent and the U.K.'s FTSE 100 Index rose 0.21 percent.
Commodities were mixed in early Friday trading ahead of the jobs report. WTI Crude futures rose 0.25 percent to $95.77 per barrel and Brent Crude futures rose 0.4 percent to $113.94 per barrel. There has been some narrowing of the spread between the two over the past few days, as the premium for Brent neared $20 per barrel recently. Copper futures jumped 1.81 percent on the Chinese news to $358.00 per ounce, gold fell as hopes of QE3 fell and silver followed suit; futures fell 1.13 percent to $32.305.
Currencies showed massive euro strength over the last 24 hours after the ECB announced its new bond buying program, called the OMT. The EUR/USD jumped from just below 1.26 before the ECB's decision release to the current level near 1.2710 in volatile trading. The fact that the bond purchases will be sterilized, or balance sheet neutral, is euro positive rather than full blown QE which would have been euro negative. The Aussie dollar was also stronger against the U.S. dollar on the Chinese news, with the AUD/USD rising to 1.0351. Notable is the EUR/JPY cross rising back above 100 for the first time since July.
In earnings, Navistar (NYSE: NAV) reported earnings that beat expectations due to a tax credit and shares jumped over 15 percent. Notable earnings Friday include Lululemon (NASDAQ: LULU), Comverse Technology (NASDAQ: CMVT), Brady (NYSE: BRC), and Kroger (NYSE: KR).
On the economic calendar, all eyes are on the Non-Farm Payrolls report at 8:30 am. Once again, consensus is for 130,000 jobs with the range being about 100,000 jobs wide. The whisper number, what traders are expecting, seems to be higher after the stronger than expected ADP report yesterday and the employment sub-index of the ISM Non-Manufacutring Index. However, in regards to the ADP report, Bloomberg reported that the report has beaten expectations by 60,000 or more jobs on 11 occasions. Of these 11 times, NFP beat expectations six times and missed five times. Therefore, there is not a large link between the two.
Good luck and good trading.
Posted-In: Earnings News Bonds Guidance Futures Commodities Previews Forex Best of Benzinga
View Comments and Join the Discussion!