Previewing Thursday's ECB Decision: Disappointment Looming?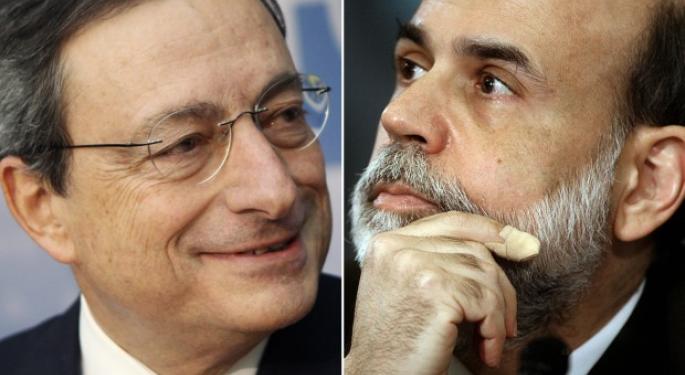 The European Central Bank is expected to launch a new round of sterilized bond purchases aimed at capping yields on peripheral bonds tomorrow. However, there have been few details announced and there remains much for markets to be disappointed despite Wednesday's rumors. Markets anticipate some form of bond buying program, but not any action on benchmark interest rates.
Traditionally, central banks have moved interest rates to conduct monetary policy. ECB President Mario Draghi made a bold statement at the end of 2011 by cutting the benchmark rate by 50 basis points over the course of his first two months in office and again cutting the rate over the summer to ease the European debt crisis. However, interest rate moves have done little except to devalue the euro against other currencies, including the U.S. dollar. Over the course of this time, the EUR/USD has fallen to multi-year lows below 1.21 before retreating to current levels near 1.26.
Economists do not expect another rate cut at this meeting, as the benchmark rate is already at a record low of 0.75 percent. The ECB has used non-traditional monetary policy in fighting the debt crisis, however none of its previous policies have succeeded as long-term solutions. In 2011, at the onset of the crisis, the ECB launched the Securities Market Program, which allowed the bank to purchase bonds to cap yields. However, this plan failed at keeping yields low over the long term. The bank next tried two rounds of Longer-Term Refinancing Operations, loans to the financial sector, that injected over 1 trillion euros of liquidity into the financial system as it showed signs of freezing in Europe. However, these effects have faded and new crisis-fighting measures have failed to cap yields.
Now, markets are anticipating that the ECB will launch a new round of bond purchases, however it is expected to now buy peripheral bonds and sell holdings of core bonds, keeping the level of its balance sheet constant. As of the end of the 2011, the ECB held over 22 billion euros of bonds, of which some are peripheral nations and some are core nations. Thus, only some of these bonds are eligible for sale and places a cap on the end size of such a program. A program that is not large enough or has lots of conditionality could prompt investors to be disappointed and sell risky assets and pile into safe assets such as U.S. Treasury Bonds or U.K. Gilts.
It will also be seen whether or not Draghi comments on upcoming key decisions that will determine the future of the Eurozone. The German Constitutional Court is set to rule on the constitutionality of the permanent bailout fund on September 14 and should it be approved, it could pave the way for Spain and Italy to submit for full bailouts. Also, it will be interesting to see if Draghi comments on Federal Reserve policy, as investors are patiently (or not) waiting for Ben Bernanke to launch another round of quantitative easing at the September meeting of the Fed.
In sum, expect the ECB to launch some sort of bond buying program at its meeting Thursday, however read carefully into the "but..." statements made by Draghi and the specific conditions for bond purchases. Also, it will be interesting to watch the response of ECB Governor and Bundesbank President Jens Weidmann, for he is reportedly the only dissenter on the governing body when it comes to bond purchases. His predecessor, Juergen Stark, resigned from his post in the wake of the SMP purchasing bonds in 2011 and he could very well threaten to resign as well. Also, dissension from Germany could lead to (what Jim O'Neil of Goldman Sachs described as) the more likely break-up scenario: Germany leaving the Eurozone.
Posted-In: News Bonds Previews Forex Events Global Econ #s Economics Best of Benzinga
View Comments and Join the Discussion!