What Caterpillar, Joy Global Are Saying About Risk-On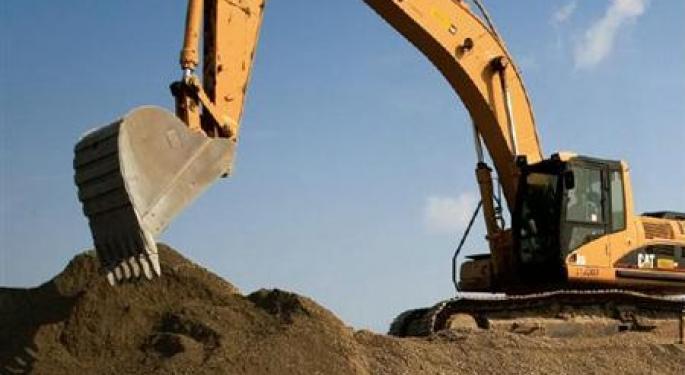 Shares of mining equipment maker Joy Global (NYSE: JOY) jumped 2.6 percent on Wednesday on volume that was more than five times the daily average. An impressive move in a lethargic market beset by dwindling volume and the performance is all the more surprising given that the Wisconsin-based company lowered its full-year earnings and revenue forecasts.
Joy Global now expects to earn $7.05 to $7.20 a share on revenue of $5.45 billion to $5.55 billion. That is well below previous guidance of EPS of $7.15 to $7.45 on sales of $5.5 billion to $5.7 billion. Despite the fact that Joy Global shares finished the day higher, the company's guidance numbers and the recent performance of rival Caterpillar (NYSE: CAT) sound cautionary tales about the state of the risk-on trade.
As high beta stocks, Caterpillar and Joy Global need a thriving global economy and sanguine market environment to march higher. Beta is the measure of a stock's volatility or systematic risk relative to the broader market. Or the second-grade definition is stocks such as Caterpillar and Joy Global should rise more than the S&P 500 in a bull market and fall more than the benchmark index in a down market.
Joy Global has a beta of 2.13 while Caterpillar's is 1.85, according to Finviz data. By comparison, the SPDR S&P 500 (NYSE: SPY) has a beta of 0.99 while the SPDR Dow Jones Industrial Average (NYSE: DIA) sports a beta of 0.89.
All China, All The Time It is not surprising that China is the prime culprit behind the decimation Joy Global shareholders have recently endured. Year-to-date, the shares have plunged 28.4 percent as investors have fretted about an economic hard landing in the world's second-largest economy. Rumors of a Chinese stimulus package have helped lift Joy Global over the past month, but the headlines have not been a panacea for beleaguered shareholders.
"The deceleration of China demand has deteriorated international markets more quickly and severely than previously expected," Joy Global CEO Mike Sutherlin said in a statement.
China also looms large for Caterpillar, the world's largest maker of construction and mining equipment. The People's Bank of China has done almost everything in its power to cool China's real estate prices, prompting decay on Caterpillar's top line. In other words, if the PBOC lowers interest rates, Caterpillar might be a "buy." Until then, investors appear content to stay on the sidelines.
Shares of the Dow component have lost almost 25 percent in the past six months. In March, Caterpillar was flirting with $115 a share. The stock closed just over $86 on Wednesday. Caterpillar swung and missed on its bet China would pare rates in the first half of this year. That led to overestimating demand for construction equipment, which led to excess inventory in China and then a lower stock price.
Worth The Risk? It has been argued that the first thing any investor should do before buying a stock is to assess risk, then the probability of the stock generating alpha. More often than not, investors work that equation in reverse order, but that could prove foolhardy with Caterpillar and Joy Global.
Indeed, the stocks appear inexpensive. Caterpillar trades for just over eight times forward earnings. Joy Global goes for about 7.2 times forward earnings. Caterpillar's price-to-sales is below one and Joy Global's is just over that same figure.
On the other hand, it must be noted investors will not be compensated much using a buy-and-hold strategy on either name. Even after its breathtaking decline, Joy Global yields just 1.3 percent. Caterpillar is good by comparison at 2.4 percent, but given the high-beta nature of these stocks, neither yield is worth the risk. With little risk, investors can have a trailing 12-month yield of almost four percent on the iShares iBoxx $ Investment Grade Corporate Bond Fund (NYSE: LQD).
In addition to China, there is at least one anecdote that underscores the notion Caterpillar and Joy Global should be handled with kid gloves in the near-term. Last week, BHP Billiton (NYSE: BHP), the world's largest mining company and the type of company that buys equipment from Caterpillar and Joy Global, said it will delay approvals on $68 billion worth of projects.
With those type of headwinds and paltry yields, high-beta mining equipment stocks are not encouraging investors to incur risk. It is that simple.
Posted-In: Earnings Long Ideas News Bonds Broad U.S. Equity ETFs Guidance Short Ideas Dividends Best of Benzinga
View Comments and Join the Discussion!