Benzinga Market Primer, Wednesday August 29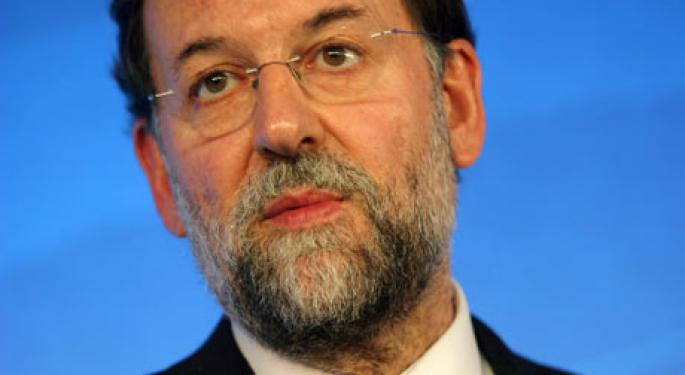 U.S. equity futures fell early Wednesday as Spain pushed forward with plans to create a bad bank and the ECB reiterated its stance to do whatever it can within its mandate to protect the euro and aid the economy. Spain is pushing through an earlier plan to create a bad bank to collect toxic assets that will hopefully ease stresses on the financial sector and help the nation escape recession.
In other news around the markets:


ECB President Mario Draghi defended his stance to do what is necessary in an interview with German newspaper De Zeit, citing that the bank will remain independent, will do what is necessary, and that exceptional times call for exceptional measures.

The G7 stands ready to release oil reserves in case prices spike too high to due the production shutdown in the Gulf of Mexico caused by hurricane Isaac. The storm has made landfall west of New Orleans as of early Wednesday and continues to dump massive amounts of rain across the Gulf coast.

A new paper released by the Dallas Fed has outlined the negative effects of Quantitative Easing and shows that the program could in fact be deflationary. The report comes as investors await Chairman Bernanke's speech at Jackson Hole this weekend in hopes of him outlining further Fed easing.

S&P 500 futures fell 0.3 points to 1,407.50.

EUR/USD weaker at 1.2536.

Spanish 10-year government bond yields rose to 6.507 percent.

Italian 10-year government bond yields fell to 5.797 percent.

Gold fell 0.22 percent to $1,666.00 per ounce.
Asian shares were mixed overnight as South Korea's Finance Minister cited that global central bank easing is inevitable at this point. The Japanese Nikkei rose 0.4 percent in Tokyo and the Shanghai Composite Index fell 0.96 percent. Australian shares followed their Chinese counterparts lower, falling 0.07 percent and the Korean Kospi rose 0.64 percent. In Europe, shares were weak across the continent. Spain's Ibex Index fell 0.48 percent and Italy's MIB Index fell 0.41 percent as fears that Draghi's master plan may not come to fruition and Spain will face further trouble financing its budget. Germany's DAX Index fell 0.49 percent and France's CAC 40 fell 0.58 percent.
Commodities were mixed as energy prices slipped on fears that authorities would release oil reserves to cap prices as Hurricane Isaac has shut down production and crimped supply. WTI Crude prices fell 0.73 percent to $95.63 per barrel and Brent Crude prices fell 0.56 percent to $111.95 per barrel. Agricultural commodities were higher in early trading, as corn, wheat, and soybean futures all rose. Copper futures fell 0.89 percent to $343.80 per pound and silver futures slipped 0.54 percent to $30.795 per ounce.
The dollar was stronger in early Wednesday trade as the Dollar Index rose 0.19 percent on euro weakness. The EUR/USD fell 0.22 percent to 1.2536 and the dollar was also stronger against the yen, the Canadian dollar, and the nordic currencies as oil prices slipped. The Aussie dollar was stronger against its U.S. counterpart and the EUR/AUD fell back near 1.21.
L'Oreal reported earnings that missed analyst estimates overnight and shares fell nearly 5 percent, citing weakness in the global consumer base. Notable companies reporting earnings Wednesday include:


Joy Global (NYSE: JOY) is expected to report Q2 EPS of $1.89.

Brown-Forman (NYSE: BF-B) is expected to report Q2 EPS of $0.63.

Tivo (NASDAQ: TIVO) is expected to report a Q2 loss of $0.24 per share.

Pandora Media (NASDAQ: P) is expected to report a Q2 loss of $0.03 per share.
The economic calendar is rather full Wednesday, as data on corporate profits is due out at 8:30 am EST. Also at the time, the U.S. will release its latest estimate of Q2 GDP growth, with economists expecting the U.S. economy to have grown 1.7 percent in the quarter. Pending home sales and the Beige Book wrap up the busy calendar.
Good luck and good trading.
Posted-In: Earnings News Bonds Guidance Futures Commodities Previews Forex Best of Benzinga
View Comments and Join the Discussion!