Italian Yields Continue to Fall at Strong Auction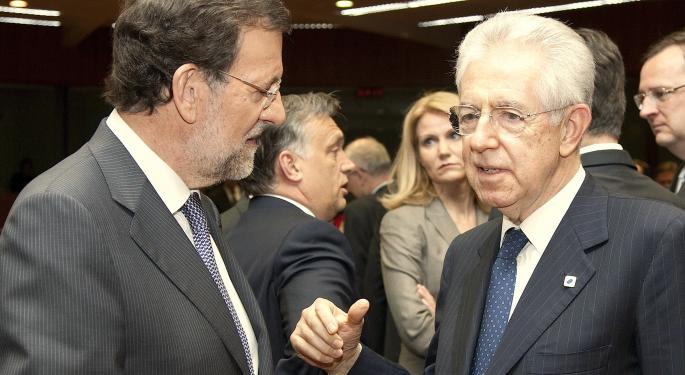 Italy had its first auction of new debt Monday since ECB President Mario Draghi hinted that the bank is set to support sovereign bond markets. Yields, even though modestly lower from the previous auction, fell markedly from post-LTRO highs early last week seen in the secondary market.
Italy sold 5.479 billion euros of 2015, 2017 and 2022 bonds, effectively at the top of the 3-5.5 billion euro targeted range. The strong demand was a good sign that the ECB may be restoring confidence in the finances of peripheral nations of the currency union.
Italy auctioned 2.44 billion euros of 5-year bonds to yield 5.29 percent, well below the 5.84 percent witnessed at the June 28 auction. Italy also sold 2.485 billion euros of 10-year bonds to yield 5.96 percent, lower than the 6.19 percent at the June 28 auction. Lastly, Italy sold a mere 750 million euros of 3-year bonds yielding 4.49 percent.
Yields have fallen on Spanish and Italian bonds over the last few trading sessions in anticipation of support in the sovereign bond markets from the ECB and from the European Financial Stability Facility (EFSF), the temporary bailout fund. The rumor is that the ECB would support the secondary markets (where investors trade already issued bonds) and that the EFSF would buy bonds directly in the primary market (at auction). The combination of plans is targeted at supporting banks, who own a lot of the debt, by keeping yields low and prices up. Also, the EFSF contribution is aimed at keeping borrowing costs low for indebted nations.
So long as borrowing costs stay down, Italy should escape the crisis largely unscathed. The same cannot be said for Spain, whose problems are different than those of Italy. Italy's problem is simply that it has a lot of debt; however it has a structural budget surplus. This means that before interest expenses, the government is spending less than it takes in as tax revenues.
Thus, as long as borrowing costs stay low, Italy should be able to refinance and maintain itself. However, Spain has a problem of runaway deficits. With deficits expected to reach more than 6 percent of GDP this year and debt-to-GDP expected to increase near 100 percent by 2015, Spain's problems will play out over the next few years.
Posted-In: News Bonds Financing Offerings Forex Global Econ #s Economics Best of Benzinga
View Comments and Join the Discussion!