Spain Denies Need of a Bailout Amidst Reports That Discussions Have Taken Place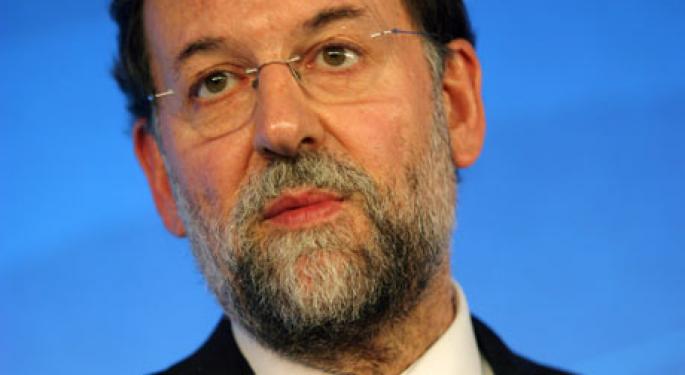 Reports have been circulating recently indicating that Spain may be nearer to a full sovereign bailout than ever before. Even as Spain's deputy Prime Minister denies claims that Spain needs a full bailout, reports have been swirling that as recently as last week discussions were held over a $350 billion bailout.
Earlier Friday, Reuters reported that last week German leaders held a conference call with their Spanish counterparts to discuss terms of a bailout. Reportedly, Spain requested a bailout to German leaders on this call to which Germany refused to give the bailout. Germany said it would not discuss any further bailouts until the European Stability Mechanism, the permanent bailout fund, becomes active later this year.
Spain's finances have worsened dramatically in the last few weeks as the plan to save its regional governments and the plan to recapitalize its banking sector have added new debt to the books. Spain agreed to receive $125 billion to recapitalize its banking sector in the form of a loan which will be invested into the banks as an equity investment. Also, Spain created a plan last Friday to effectively nationalize the debts of its ailing regions. These new debts were responsible for the fear that drove investors to sell Spanish bonds and send yields to record highs.
On Tuesday, Benzinga discussed what a Spanish bailout would like like, and estimated that Spain would need upwards of $565 billion in a full bailout, so the $350 billion that was reportedly discussed would not be enough. However, the real question to be answered is would a full sovereign bailout fix Spain? The short answer may just be no...
Spain's problem is spiraling deficits. Unlike Italy, its debt-to-GDP ratio is manageable so long as it can curb deficits now. In this case, Spain is more similar to the U.S. than Italy. A bailout would come in the form of a loan from the EFSF/ESM joint bailout funds and would be added debt on Spain's books. This could be the proverbial straw that breaks the camel's back, as it would surely send bond yields higher. The rise in deficits can be attributed to a lack of spending cuts as well as high unemployment rates that hurt tax revenues and increased payouts for unemployment benefits. A true program to fix Spain would be targeted at easing some of these burdens, not just throwing bad money over worse.
Ireland is the exception to the rule in case of bailouts, as the bailout of the troubled banking sector spilled over to the government when Ireland nationalized its banks' debts. Spain may look more like Portugal than Greece or Ireland in terms of its problems and may go down the same path. Portugal is stuck in a period of stagnant economics and rising unemployment and a full bailout could do the same to Spain. A targeted program aimed at curbing deficits either with Eurobonds or yield targeting on bonds would help Spain reduce interest expenses, and thus reduce its deficits.
Posted-In: News Bonds Forex Global Econ #s Economics Hot Intraday Update Best of Benzinga
View Comments and Join the Discussion!