EU's Barroso, Greek PM Samaras Speak After Meeting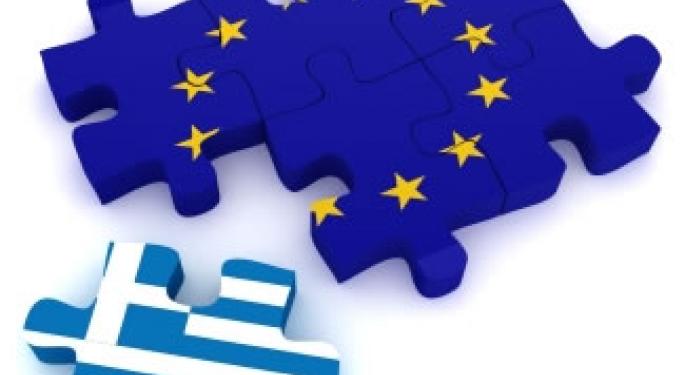 The Greek Prime Minister Antonis Samaras and Jose Manuel Barroso, the President of European Commission spoke after meeting in Athens today and acknowledged that Greece remains committed to staying in the euro, despite reports that Greece is on the verge of leaving the currency union. Wednesday, Citigroup strategists released a report predicting a 90 percent probability that Greece will leave the currency union by the end of 2013.
While these odds seem high (Intrade has the probability at 59.8 percent -- up from 50 percent last week), the European leaders remain confident that Greece will maintain its membership in the Eurozone. This follows comments over the last few months that no contingency plans for a Greek exit are being made while the IMF is conducting its review of the situation in Greece as per the bailout conditions.
Prime Minister Samaras said after the meeting that Greece will aim for more pro-growth measures and will accelerate state asset sales. Samaras, of the conservative New Democracy Party in Greece, is committed to "drastic" spending cuts and bringing the bailout program requirements back on track. He did note that some politicians in Greece are undermining efforts to reach an agreement with the Troika and that there must be a coordinated southern European strategy.
Barroso spoke after and furthered Samaras' remarks, noting that the coalition government is committed to the reforms outlined in the agreement, even as he acknowledged the plight of the Greek people in these times. He noted that the best hope for Greeks would be to stay in the euro and the alternative has unimaginable consequences for the citizens of Greece. Lastly, he said that the EU plans to keep Greece in the euro so long as it commits to, and delivers on, its pledges.
The comments are further good news for everything Europe related, following the comments from ECB President Mario Draghi earlier this morning. The comments ease fears that an imminent Greek exit is coming, however the ongoing discussions over the budget remain a risk. Should Greece and the Troika reach an impasse in these talks, Greece could run out of money by not receiving the next bailout payment. This would be a negative for the euro against any and all currencies.
View Comments and Join the Discussion!
Posted-In: News Bonds Forex Global Econ #s Economics Hot Intraday Update Best of Benzinga