ECB's Draghi Gives Life Back to Markets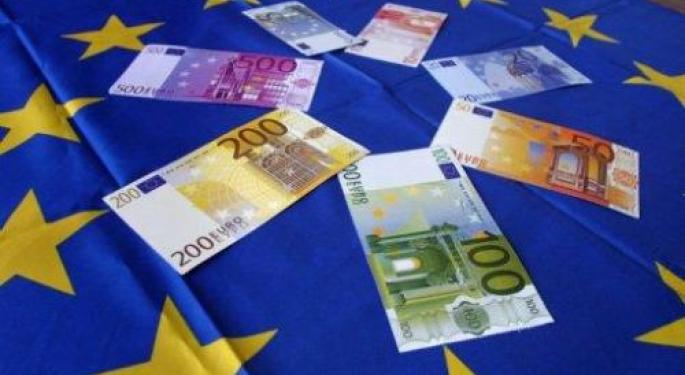 Those who arose early Thursday woke up to futures lower, a weak euro and European markets trading lower. ECB President Mario Draghi began speaking and his comments reversed these losses as investors regained confidence that the ECB is willing to act further to keep the euro together.
Mr. Draghi hinted that further easing policies were to be released imminently in his speech, as the European Debt Crisis engulfs Spain and Italy and fears of a Greek exit renew. Also, talk of renewed central bank activity relieves fears that the ECB would be inept and would not act decisively to protect the currency union. The comment that really moved markets early Thursday from Mr. Draghi was: "Within our mandate, the is ECB ready to do whatever it takes to preserve the euro."
Investors took this quote to mean that further rate cuts and potentially further LTRO's are on the way. Further rate cuts are likely, as many economists predicted correctly the cut of the lending rate at the ECB's previous meeting. These same economists expect the ECB to cut rates shortly once again to continue to spur the economy. Further, should credit conditions worsen, another round of LTRO's could be launched.
Importantly, spreads in Europe and the euro bounced on the news. Spanish bond yields have retreated for the second consecutive day after reaching new record highs early Wednesday. Bond analysts at Credit Suisse believe that the Spanish 10-year yield could fall as far as 6.35 percent until the next round of bad news comes. After trading as high as 7.45 percent early Thursday, Spanish 10-year yields fell to 7.1 percent on Mr. Draghi's comments.
Italian and other peripheral bond yields fell in sympathy on the news, with the Irish 2-year bond falling below 4 percent for the first time since the country received a bailout in 2008. However, there is a grain of salt in the news. Investors bid up these assets on the news that the ECB is ready to do whatever it takes. Many of them missed the part where he said within the ECB's mandate. This is key: the ECB only has a price-stability mandate, as compared to the Fed which has a dual mandate. Should inflation creep higher due to higher food prices (look at corn) or a surge in energy prices, the ECB may have its hands tied.
Inflation expectations have been falling globally as the world economy slows. However, the increase in commodity prices will eventually spill over to consumers globally. Central bankers want to do more to stimulate the global economy, however QE2 had "adverse effects," according to Chairman Ben Bernanke. By that he meant that the Fed may have been responsible for driving up commodity prices which put more pain on consumers. Look for any further action to only occur should these inflation expectations fall further.
Select comments from Mr. Draghi this morning include:


We think euro is irreversible.

Within our mandate, the ECB is ready to do whatever it takes to preserve the euro and believe me, it will be enough.

"Sharing national sovereignty" on EU level to come.

ECB wants to break the link between banks, national governments.

Not ECB's job to act instead of governments.
Posted-In: News Bonds Previews Forex Global Econ #s Economics Hot Best of Benzinga
View Comments and Join the Discussion!