Spanish 10-Year Yields Rise to Record High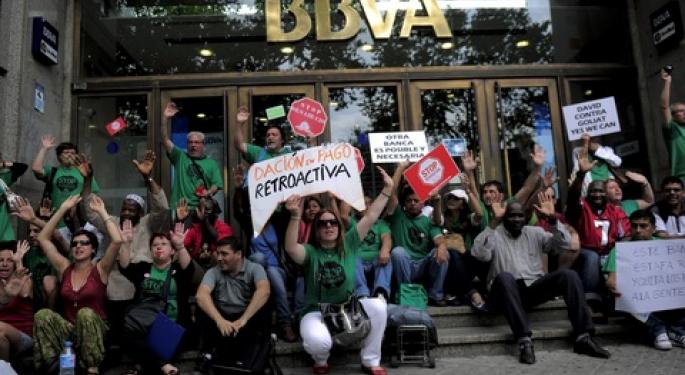 Spanish 10-year bond yields rose to euro-era record highs Monday on fears that Spain would need a full sovereign bailout, not just the bank bailout that it has agreed to with the Troika. Spain would be the latest in the line of European nations to need a bailout including Greece, Portugal and Ireland.
Benchmark 10-year yields in Spain rose as high as 7.565 percent early Monday, a euro era high. As Jim Cramer said on CNBC Monday morning, "to come up with any positives about Europe is just a fantasy." Economic indicators have been bad in Spain, as unemployment continues to approach 25 percent and youth unemployment climbs above 50 percent. The Spanish banking sector resembles the U.S. banking sector in 2007-2008 and the lack of capital will continue to be a problem until the bailout payments are made.
The driver behind the latest move higher in bond yields can be attributed to the news that Spain will begin nationalizing all of the regional debts. Spain's debt-to-GDP, compared to other crisis nations such as Italy, does not appear that high at first glance. At the end of 2011, Spain's debt-to-GDP ratio was near 65 percent, well below Italy's approximately 120 percent. However, the extra debt that is being added due to the new liabilities of the bank bailout, backstopping government-guaranteed bank bonds, and regional debts all balloon Spain's real debt-to-GDP ratio.
As investors begin to process the implications of these extra debts, yields could continue to climb higher. The 7 percent threshold on sovereign debt has been the level at which Greece, Portugal and Ireland all needed bailouts. Spain has once again broken above this level and could now be in need of a bailout.
Should Spain require a bailout, it could be the proverbial straw that breaks the camel's back. Spain is much bigger than Greece, Ireland or Portugal. In fact, those three nations all had GDPs below $300 billion in 2011. Spain's was $1.49 trillion. Should the Spanish government require a full-bailout, it could bankrupt the entire bailout system that has been set up and put pressure on German and other core nations' credits.
The only good news is that the rise in yields may spur authorities to enact further crisis-fighting measures. The European Central Bank and the European politicians have consistently waited until the crisis reached a breaking point to act and could do so once again. In June for example, they waited until the banking sector in Spain was on the verge of collapse to agree on a bank bailout. It now appears that the government may be on the verge of breaking, which could signal a policy response from the ECB.
Investors who think that the ECB could act might be inclined buy gold priced in euros rather than dollars. It is common knowledge in today's market that central bank action leads to higher gold prices and a weaker currency. Thus, such a trade takes advantage of both price movements.
Posted-In: CNBC Long Ideas News Bonds Jim Cramer Forex Global Econ #s Best of Benzinga
View Comments and Join the Discussion!