Benzinga Market Roundup: Spanish Hope Fades Into a Sea of Red
In the morning primer, I wrote "Stock futures and other risk assets are up overnight as the Eurogroup agreed to a bailout package of the Spanish banks overnight and Chinese data was not as bad as expected following the surprise rate cuts last week." Well, that was a premature reaction.
What we learned today is that the half-life of a Spanish bank bailout is about twelve hours, because by the time US markets opened, most of the gains in Europe had been wiped out. The Spanish IBEX 35 had a 6+% intraday move, closing at the absolute lows of the day (see chart below). The Euro gaped up almost 150 pips at the Asian open but is now lower than Friday's New York close.
Here is what happened:


Lingering concerns over a Greek exit hurt risk sentiment.

Concerns over the solvency, not liquidity, of Spain and other crisis nations also hurt risk sentiment.

Contagion fears roared back and investors started to fear all crisis nations.
All in all, it is hard to pinpoint one headline as the sole cause of the sell-off, but as the market digested the details of the Spanish bailout, or lack thereof, risk sentiment clearly faded. There also wasn't a lot of economic data to create any volatility, and traders seemingly disappeared when the France vs. England soccer match started. The only other major event was the Apple Worldwide Developers Conference.
US stock markets closed at their absolute lows, with the S&P 500 closing down almost 17 points at 1309 after briefly touching 1335 this morning, a 2% intraday swing. The NASDAQ had a bigger move, closing at 2810, down 49 points, which was a 2.6% drop from the high this morning of 2883. The dollar index was no exception to these intraday moves, with the index seeing a 1% intraday swing to close at 82.59. All in all, markets opened at the highs and closed at the lows.
The moves in bonds may have been even more interesting today, with Spanish and Italian paper seeing violent swings. Spanish ten year bonds initially fell below 6% before rising above 6.5% and closing at 6.47%, which is incredible action. Italian bond yields closed over 6%, the highest level since January.
Gold closed up 0.5% and was the notable out-performer in the commodities complex, which furthers the thesis that the market is already pricing in global, synchronized QE. WTI crude futures fell a whopping 3% to close at $81.50, and Nat Gas futures fell 4% to close at $2.207. Copper did rally .88% today, most likely on the Chinese data that was released over the weekend. But all in all, just an ugly picture out there.
Stock chart: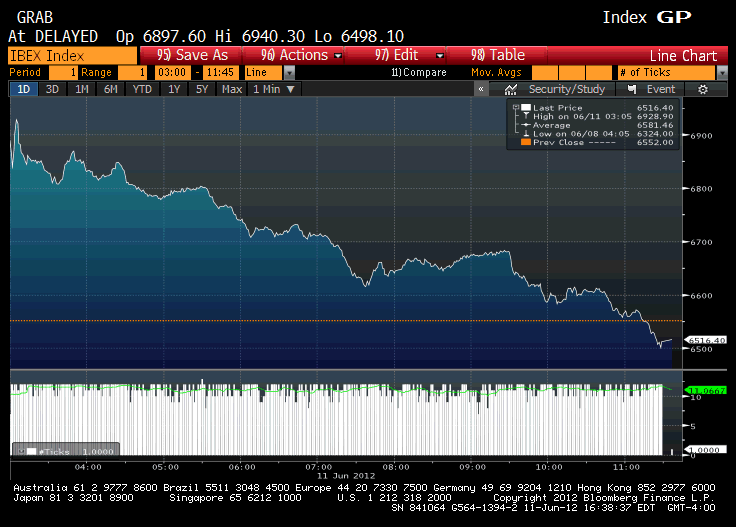 View Comments and Join the Discussion!
Posted-In: News Bonds Futures Commodities Forex Events Global Econ #s Best of Benzinga