Calling All Crisis Resolutions: Central Bank Watch
This week, five central banks are set to report their interest rate decisions and Chairman Ben Bernanke is set to testify on his economic outlook. This a full calendar, and with traders, investors, and analysts alike clamoring for some form of added liquidity, it is interesting to see what moves where.
The fun starts tonight, at 12:30 am, when the Royal Bank of Australia is set to announce its interest rate decision. After cutting rates 50 bps last month, the RBA is likely in a wait-and-see mode, however the market is still predicting a rate cut of at least 25 bps, as Chinese growth has continued to slow. Miners (NYSE: MXI) and gold (NYSE: GLD) will definitely be impacted by this move.
Tomorrow's central bank voices continue with the Fed's Bullard, Fischer, and Evans speaking throughout the day. Also, the Bank of Canada is set to announce its interest rate decision at 9 am. The market is expecting the BoC to keep rates at 1%, where they have been since last August, but the market may be more interested to see if Governor Mark Carney turns less hawkish than earlier this year. Watch energy (NYSE: XLE) and mining stocks on any change in policy.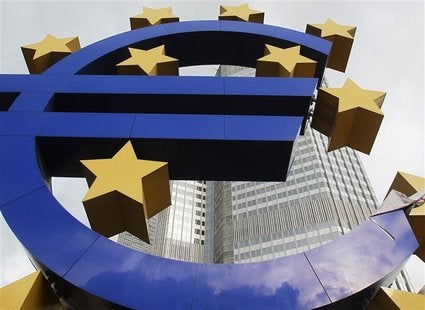 Wednesday is the big day, with the ECB rate decision at 7:45 am, and more importantly the press conference at 8:30 am, set to take place. Investors would be wise to get up early on Wednesday to be able to position themselves appropriately for this decision, as hopes are rising that European Central Bank President Mario Draghi is set to act to further ease the European debt crisis. The consensus is for no rate cut, but the short-term future markets are indicating a small chance that the ECB does cut rates. All markets will be very reactive to every word out of Mr. Draghi's mouth.
Just before the ECB, the National Bank of Poland is set to announce their interest rate decision, and this is a good number for investors to watch, because Poland (NYSE: PLND) is considered a levered play on German growth. Thus, comments from the Bank could move sentiment around German growth and the overall state of the European Debt Crisis.
On Thursday, the Bank of England is set to announce its interest rate decision at 7 am, and investors will closely watch for the BoE to increase its QE. The street expects interest rates to remain flat at .5%. Bernanke testifies at 10 am, and everyone and their mother will want to hear any indication of some new liquidity measures at the meeting later this month.
All in all, this is an eventful weak full of lots of speeches, hopes, and hype. Be ready to trade any and every headline, because the market is sure to be moving.
Posted-In: News Sector ETFs Bonds Broad U.S. Equity ETFs Specialty ETFs Emerging Market ETFs Futures Commodities Best of Benzinga
View Comments and Join the Discussion!