Does Lackluster Data Mean QE3? Not Yet...
After the dismal Non-Farm Payrolls Report and the lackluster ISM release, it is hard to see where the growth is coming from. In this light, what are the chances of QE3? How low can rates go? These are all valid questions in this environment, so let us discuss.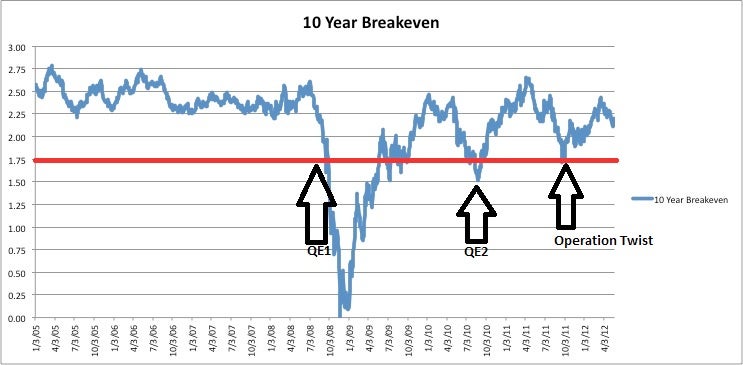 The chances for QE3 are higher now than they were in the first quarter of the year, that is for sure, but, as 4-year old children love to ask, are we there yet? In my opinion: not quite. The Fed needs to see a deterioration not only in the employment situation but also in inflation expectations. Market expectations of inflation, as measured by the 10-year breakeven rate, are still above 2%. The Fed has only printed when this rate has reached 1.75%, so at a current level of 2.063%, there is still much more room to go before the Fed is prompted to act.
In terms of the Non-Farm Payroll release, look at the chart at the bottom of the page, which shows both the total level of non-farm employment both seasonally adjusted and non-seasonally adjusted. As you can see, in the absence of Fed or ECB liquidity operations, when the non-seasonally adjusted NFP crosses above the seasonally adjusted NFP, it marks an imminent top in equity markets. The two false signals were seen when the Fed was printing for QE2, which drove the market higher regardless of NFP, and just after the ECB had announced the LTRO's, once again letting traders ignore the NFP.
All in all, the odds of QE3 are higher now, but don't hold your breath. We need a further deterioration in credit conditions (NYSE: HYG), further contraction in the economy, and further deterioration in financial markets (NYSE: SPY) (NYSE: QQQ) to warrant more action. There are rumors circulating of a global, coordinated rate cut this weekend, but I doubt it with the ECB meeting next week. We are now in a wait-and-see situation, and traders should tread these waters very carefully. As Dennis Gartman loves to say, "In times like these, dry powder trades at a premium."
Stock chart: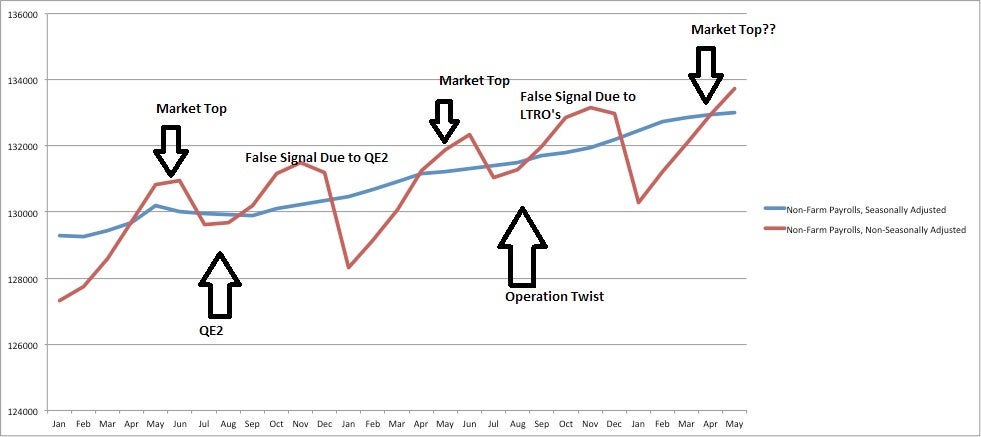 Posted-In: News Sector ETFs Bonds Broad U.S. Equity ETFs Futures Commodities Currency ETFs Forex Best of Benzinga
View Comments and Join the Discussion!