UK Office for National Statistics Releases Tradeable Reports
The Office for National Statistics will release multiple scheduled news reports for the UK on Tuesday, February 14, at 4:30 AM ET. Included are:
Consumer Price Index
Producer Price Index Input
Retail Price Index
Core Consumer Price Index
House Price Index
Producer Price Index Output
All of the above have to do with pricing, which affects inflation and the economy in various ways. When there is consistent reaction and movement, like there is for these events, trade strategies can be planned.
This news can be traded the evening before, or at least entered, as early as 11:30 p.m. ET for 7:00 a.m. ET expirations using Nadex GBP/USD spreads. One spread can be bought with the ceiling where the market is trading at the time, and one spread can be sold with the floor where the market is trading at the time. Each spread should have a profit potential of $17 or more for a combined profit potential of $35 or more for the trade.
To easily find the right spreads for the trade, use the spread scanner. You can use filters to bring up the right expiration times for the right market spreads, then simply look down the risk/reward columns for the correct profit potential. Once identified, verify the ceiling and floor parameters and the trade can be entered. For a glimpse of the spread scanner, see below.
To view larger image click HERE.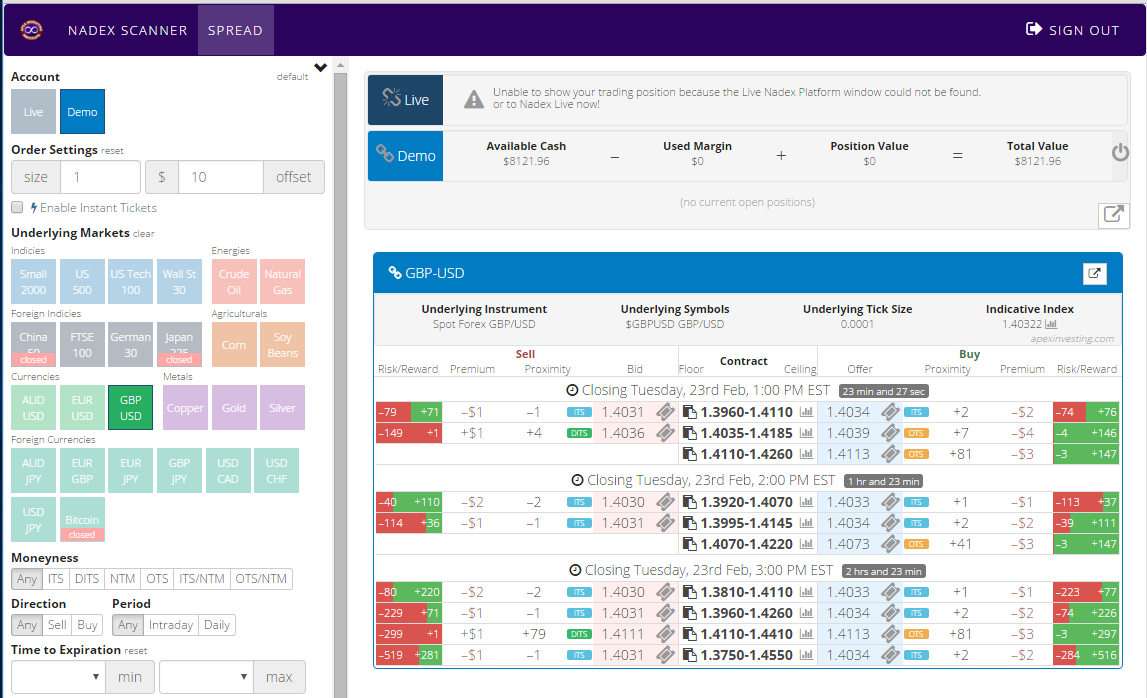 Stops can be placed at the 1:1 risk reward ratio points in the event the market takes off. Those points for this trade are 70 pips above and below from where the market was at entry. When the market settles anywhere in between the breakeven points of 35 pips above and below from where the market was at entry, then profit is made. Maximum profit is made when the market settles between the two spreads. For this event, the market tends to make a reactionary move and then pull back, making the Iron Condor strategy a high probability strategy.
For free access to the spread scanner and free day trading education, see www.apexinvesting.com.
Posted-In: Binary Options News Education Eurozone Futures Commodities Options Forex