Spread Scanner Makes News Trading Simple For Nighttime Entry
On Tuesday, January 10, at 11:00 PM ET, there is a trade entry opportunity for UK news coming out at 4:30 AM ET. Multiple news reports are scheduled to be released, including reports on Construction Output, Goods Trade Balance as well as Manufacturing and Industrial Production. Of the four reports, Manufacturing and the Goods Trade Balance have the most impact. The first gives insight on economic health based on how Manufacturing is reacting to the economy, and the second is linked to currency demand, as foreigners need domestic currency to pay for exports.
To trade the event and enter the evening before, Nadex GBP/USD spreads can be used trading an Iron Condor strategy. Simply enter one spread below the market with its ceiling where the market is trading at the time and sell one spread above the market with its floor where the market is trading at the time. For this trade, each spread should have a profit potential of around $17 or more for a combined minimum profit potential of at least $35 for the trade. The minimum is based on the average move the market has made in reaction to this past news over a 12 - 24 month period.
Spreads can be easily found and traded using the spread scanner tool. It's a browser-based scanner with an intuitive filter interface to easily narrow down the spreads needed. For beginner traders and convenience for advanced, the current risk reward is shown in a proportionally sized color bar and number amount. The scanner allows for viewing of multiple markets on the same screen. In addition, for trades that require premium and proximity information, that is listed, too. For a glimpse of the spread scanner, see below.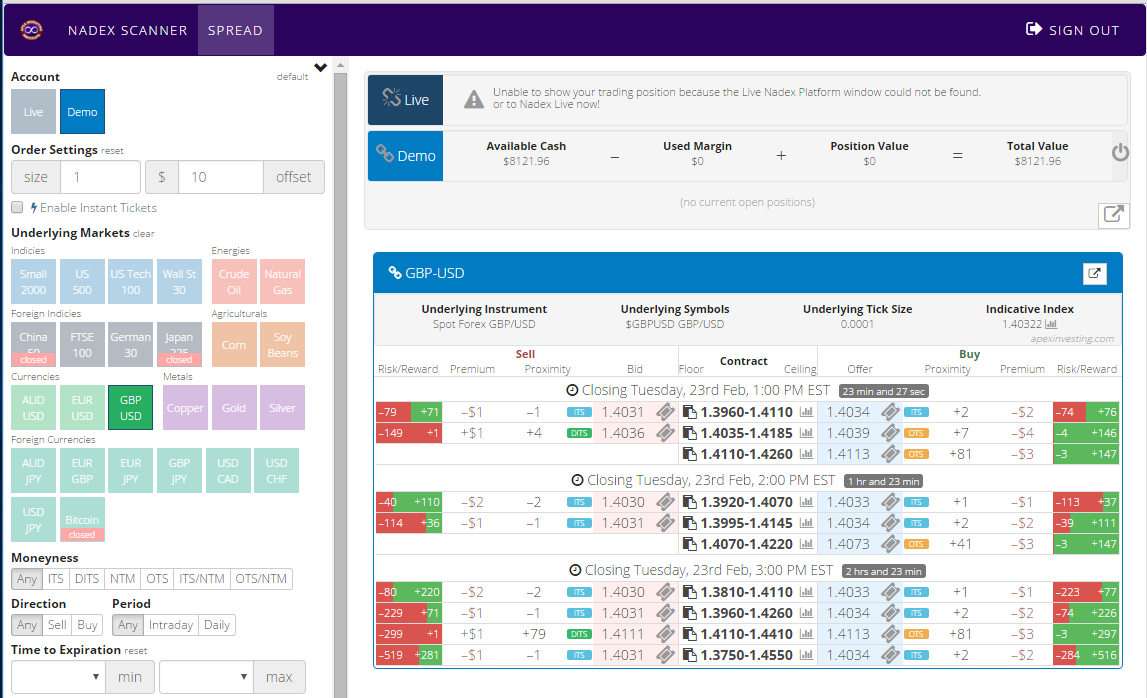 To quickly find the right spreads for this trade, use the filters to narrow the spread choices to GBP/USD spreads expiring at 7:00 AM ET. Again, the trade can be entered as early as 11:00 PM ET. It is possible to find spreads with the right reward potential and then click the ticket icon to open the order tickets. Quickly view the ceiling floor parameters and reward potential to verify the minimum potential is there and enter the trade.
Stops can be set after entering the trade. The risk reward 1:1 ratio points for this trade, are where the market would hit 70 pips above and below from where the market was at entry. The trade will profit when the market settles anywhere between the breakeven points of 35 pips above and below. Max risk is when the market is between the two spreads at settlement.
For free access to the spread scanner, free day trading education and a free news calendar for trading visit Apex Investing.
Posted-In: Binary Options Education Eurozone Futures Commodities Options Forex Markets