Choosing High Probability Strategies For News Trades
Canadian Wholesale Sales News will be released at 8:30 AM ET on Tuesday, December 20. This news event can be traded with Nadex spreads. Trading the news can be challenging. It is always an unknown how the markets will react and which direction they will go. However, it's not impossible to plan high probability trade strategies for trading scheduled news events.
It's important to know the typical kind of move and the average distance of the moves. Consistency is what to look for in past market reactions to news releases. For this event, typically the market reacts and then retraces or pulls back. On average, the typical move is around 30 pips looking over a 12-24 month release.
The Iron Condor strategy can work well for this display of movement in the market. With Nadex Spreads, it is possible to buy a spread below, and sell a spread above where the market is currently trading. Spreads have floors and ceilings marking the range of a market that is being traded. There is no profit or loss past those points. The trade can only be closed by the trader or at settlement, even if the market passes the floor or ceiling.
The bought spread's ceiling should meet the sold spread's floor around where the market is trading at the time. With this setup, the market can move three different ways. It can stay right where it is and not move at all. As time expires, the Iron Condor will collect time premium and profit the closer to expiration it gets. The market could also move slightly, staying between the breakeven points. If, at settlement, the market is anywhere between the breakeven points, the trade will profit. The third way is that the market will move, then retrace and pull back to center between the two spreads and the breakeven points.
With the news being released at 8:30 AM ET, the trade can be entered trading Nadex USD/CAD spreads at 8:00 AM ET for 10:00 AM ET expiration. Each spread could have a profit potential of around $15 for a $30 combined profit potential. The right spreads for the trade can be found easily and quickly on the spread scanner designed by traders for trading Nadex spreads. Filters are used to bring up a list of pertinent spreads. Then visual colored bars and numbers show the max risk and reward for each spread whether selling or buying it. For a glimpse of the scanner, see the below image.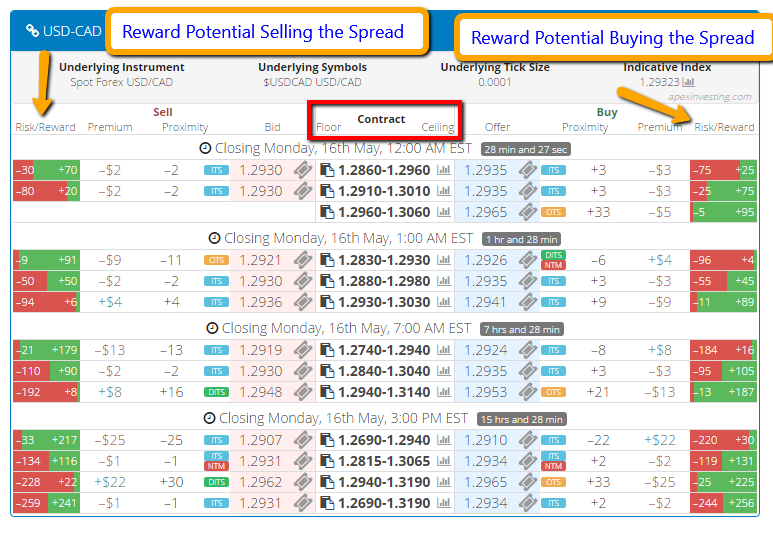 Stops could be placed at the 1:1 risk reward ratio points, which for this trade would be 60 pips above and below where the market is at entry. The breakeven points are 30 pips above and below where the market is at entry.
Access to the free spread scanner and free day trading education can be found at Apex Investing
Posted-In: Binary Options Education Eurozone Futures Commodities Options Forex Markets