Trade Setup For Market Reaction To Durable Goods News
The U.S. Census Bureau will release news on Durable Goods Thursday at 8:30 a.m. ET. There are two reports out. The first one includes the value of new purchase orders for all durable goods. Items with a life expectancy of three years or more that are considered hard, like computers, appliances, airplanes, autos, etc. The second is Core Durable Goods, which excludes transportation items for the numbers. The currency pair EUR/USD can react to this news, make a move, then a pull back. A good strategy to trade a move like that is the Iron Condor using Nadex EUR/USD spreads.
An Iron Condor involves buying a spread below the market with the ceiling where the market is trading at the time, and also selling a spread above the market with the floor where the market is trading at the time. For this trade based on previous market moves of approximately 30 pips, each spread should have a profit potential of $15 or more, for a combined profit potential of around $30.
Since the news will be released at 8:30, one could enter Nadex EUR/USD two hour spreads as early as 8:00 AM ET, when they list for trading, which expire at 10:00 AM ET. Right after entering, the trade stops should be entered as well. An easy way to determine where to place stops for an Iron Condor, is simply to double the total profit potential of the trade. For this trade, the combined profit potential is $30, then doubled that would mean stops should be placed 60 pips above and below.
Once the news is released, the market typically will move after that, and then pull back. Maximum profit is made when the market pulls back and settles between the two spreads. For quick and easy entry, use the spread scanner where spreads can be quickly identified by their risk/reward potential. To view a glimpse of the spread scanner, see below.
To view a larger image click HERE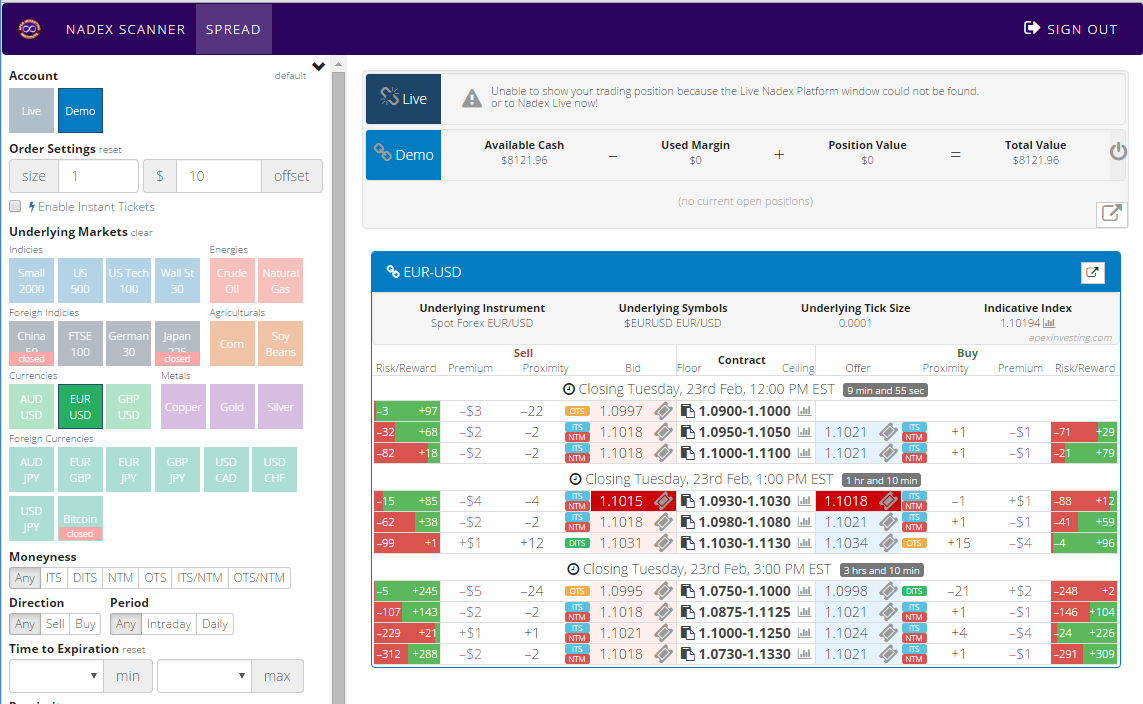 The market settling anywhere between the two breakeven points, 30 pips above and below, will bring some profit. More contracts can be traded as long as there are the same number on each side of the trade.
Free day trading education and the spread scanner can be accessed free at Apex Investing.
Posted-In: Binary Options News Education Eurozone Futures Commodities Options Forex