Monday Morning Iron Condor For USD/CAD On Wholesale News
A leading indicator for Canadian consumer spending is being released Monday, August 22, at 8:30 AM ET. Wholesale sales are the change in total value of sales at the wholesale level. When expectations are high for consumer sales to increase, retailers tend to place orders for more merchandise from wholesalers. Typically, this news event can move the USD/CAD market about 30 pips, and then the market tends to pull back, making the event prime for an Iron Condor strategy.
This Iron Condor strategy uses Nadex USD/CAD spreads, which have capped risk based on the floor and ceiling of the spreads, delineating the range of the market that can be traded long or short. Nadex is a US based exchange regulated by the CFTC. The trade can be set up and entered as early as 8:00 AM ET, for the two-hour 10:00 AM ET expiration, for a combined profit potential of $30 or more.
The Apex spread scanner is the tool for traders to easily learn to trade spreads, and for quickly identifying the right spreads for a strategy. Use filters to bring up the USD/CAD 10:00 AM ET expirations, and then looking down the risk/reward column, find the spreads with $15 or more profit potential. Open the order tickets, verify the ceiling, floor and reward information once again, and then place the order. Below is a screenshot showing the layout of the spread scanner displaying USD/CAD spreads.
To view a larger image click HERE.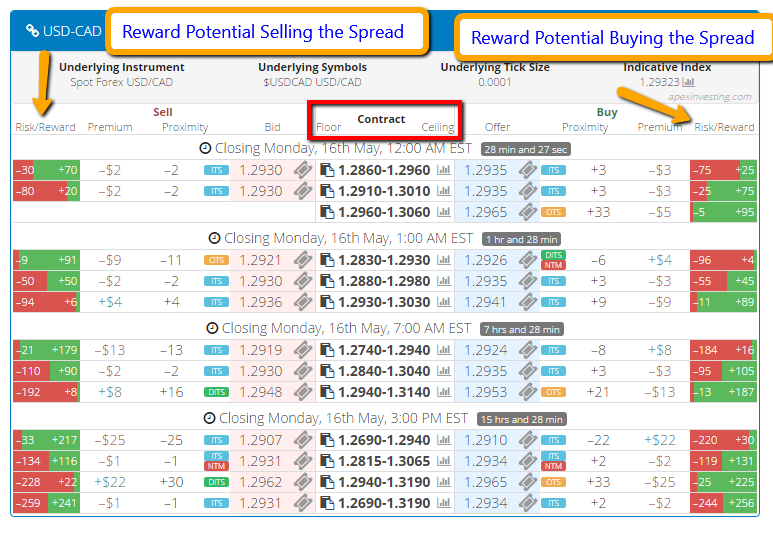 For free access to the spread scanner, day trading education and market movement deviation levels for Ninja charts, visit Apex Investing.
Posted-In: Binary Options News Education Eurozone Futures Commodities Options Forex