Trading Active and Dead Zones with Binaries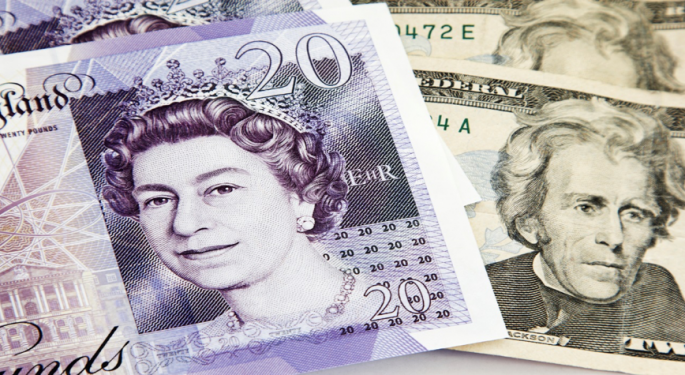 This post is sponsored by Cam White - Trading Pub
If you trade currencies, you may have noticed that many currencies can be quite active during the morning hours, and very quiet in the afternoon
Forex traders love trading in the morning because that's where pips are collected or lost. With the GBP/USD, it's quite common for the market to move over 100 pips during the morning hours. Forex educator Joshua Martinez calls the period between 2am-12pm EDT the "Active Zone".
The Active Zone starts at 2am, when the European financial markets open. The London Exchange opens at 3am, and New York opens at 8am. Huge volumes of financial transactions are processed during these hours. Martinez also comments that the daily low or the high often occurs between 2am-5am after the opening of the European and London Markets.
The "Dead Zone" starts at 12pm EDT. The London Exchange closes at noon and New York is at lunch. The sheer volume of transactions falls off, and the markets start trading flat. If you're a Forex trader, there's not much to do after 12pm, but there are opportunities for binaries if you are on the right side of the market.
The 15-minute Nadex chart below shows the movement of the GBP/USD during Active Zone and Dead Zone.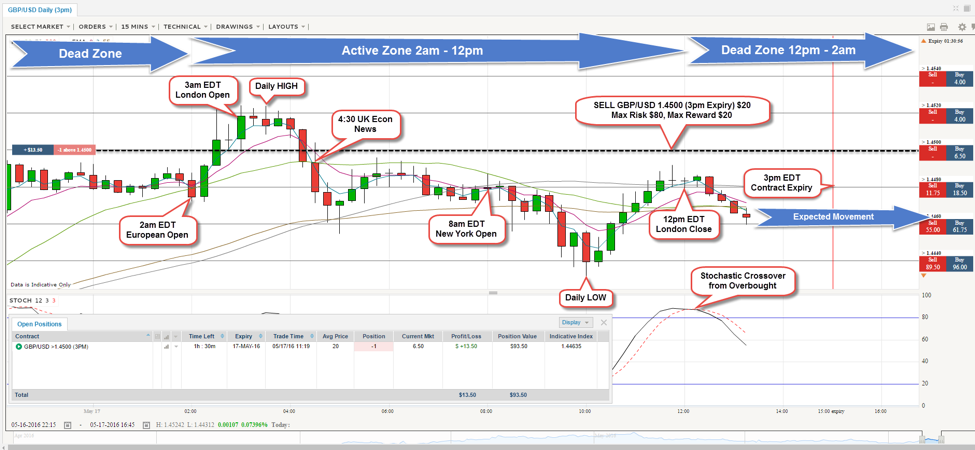 During the Active Zone, the GBP/USD traveled downward just over 80 pips from the London open at 3am until 10am. This would have been a nice trade if you were a seller, and if you were up early enough to capitalize on the move.
After the 10am daily low, the market moved back up to the 61.8% Fibonacci retracement level, which was drawn from the Daily High to the Daily Low.
As the GBP/USD bounced off the 61.8% Fibonacci retracement level, and headed back down, the decision was made to SELL the GBP/USD from the >1.4500 strike price. Since the market was already in the money, the risk premium was a maximum of $80, for a maximum $20 reward.
As the market headed downward going into the Dead Zone, the trade was never threatened, and the trade settled in the money at 3pm for the maximum $20 reward, for a 25% return on capital risked (exchange fees not included).
When you trade high probability trades, your risk premium will always be greater, because your probability of a successful outcome is also greater. With the right trading plan, these trades can be relatively stress-free.
Futures, options and swaps trading involve risk and may not be appropriate for all investors. Past performance is not necessarily indicative of future results.
Find out more about Sponsored Posts.
Posted-In: BZ SponsoredBinary Options Markets