Wholesale Sales To Come Out For Canada: Iron Condor Time With Nadex USD/CAD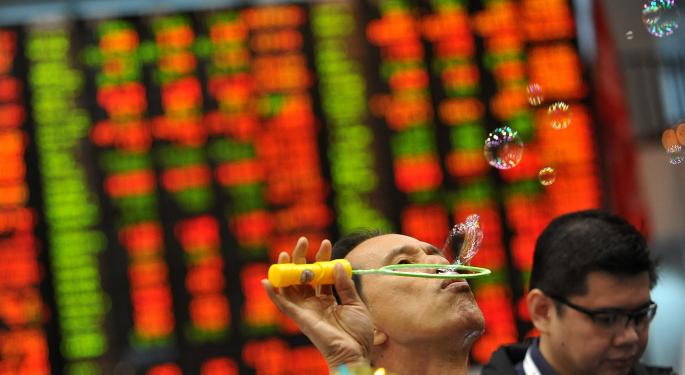 An important indicator for the state of an economy is consumer spending. There are scheduled reports that come out, which also give insight into consumer spending, like Wholesale Sales. Thursday at 8:30 a.m. ET, Statistics Canada will report on Wholesale Sales in Canada. The number is a percentage in the total value of sales at a wholesale level. Retailers, when they believe consumer sales will increase, will order more from their wholesalers at that time, thereby increasing wholesale sales.
At the release of this report, the USD/CAD market can tend to react and then pull back based on 12 - 24 past months of market reaction. With the event scheduled and the past movement of the market, an Iron Condor neutral strategy using Nadex USD/CAD spreads is recommended. With the spread scanner, you can easily find the right spreads with your desired floor, ceiling and reward potential.
Reward Potential Can Easily Be Seen In The Risk/Reward Column
The Iron Condor trade can be entered as early as 8:00 a.m. ET for 10:00 a.m. ET expirations. You want to buy a lower range Nadex USD/CAD spread with the ceiling where the market is trading at the time and you want to sell an upper range Nadex USD/CAD spread with the floor where the market is trading at the time. The reward potential you need is $30 or more for this trade setup. You will see the risk/reward listed to the far left for selling a spread and to the far right for buying a spread. Be sure each spread has around $12 - $17 reward so combined your trade has a $30 or more profit potential. If you can't find spreads with those parameters, don't take the trade or wait for the conditions to apply and then enter. Below is an example image of the spread scanner showing Nadex USD/CAD spreads.
To view larger image, click HERE.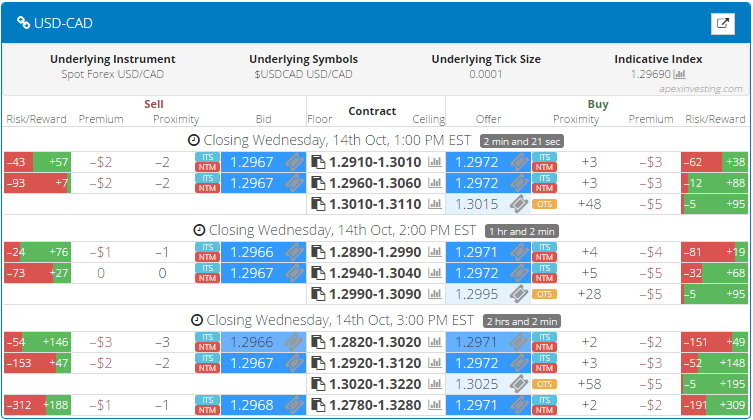 Once the report is released, the market tends to move, react and then pull back. For the Iron Condor this is ideal movement. The market can move enough that one side of your trade profits. When the market pulls back, the other side may profit as well. Conversely, if the market pulls back and then remains in a range right around where your ceiling and floor met the market when you entered, you will also profit. The break even point for this trade is when the market moves approximately 30 pips up or down depending on your exact entries. The 1:1 ratio point is when the market moves 60 pips up or down. Based on those numbers and your risk tolerance, you can set up stop limit orders.
For easy access to the spread scanner go to www.apexinvesting.com where free education is also available on how to trade Nadex binaries, spreads as well as futures, forex and CFDs. Nadex is a US based exchange, regulated by the CFTC and can be traded from 49 different countries.
Posted-In: Binary Options Education Eurozone Futures Commodities Options Forex Markets