Retail Sales Reports Create Trade Opportunity With Nadex Spreads
On Thursday, February 12, 2015, the Census Bureau will release the Core Retail Sales and Retail Sales reports.
Aren't they the same?
Actually, no.
The Core Retail Sales report is the change in the total value of retail sales excluding automobile sales. Apparently automobile sales tend to be very volatile; so the sales data on autos is kept out of the core report, but is included in the Retail Sales report.
Both reports are released monthly about 13 days after the month ends. These reports offer the earliest and broadest look at consumer spending which for the United States accounts for the majority of economic activity.
To trade these reports that come out on Thursday at 8:30 AM EST, it is recommended to use Nadex Spreads and set up an Iron Condor. Apex Investing analyzes 24 months of market moves after specific scheduled news releases looking for consistency in the number of pips moved after the news release.
For this scheduled news event you can trade the EUR/USD using Nadex Spreads buying a lower spread and selling an upper spread. You want to enter as early as 8:00 AM EST with an expiration of 10:00 AM EST for a minimum profit potential of $30. You can use the Nadex Spread Scanner on the Apex Investing website to easily find your spreads and determine the profit potential.
To view larger image click HERE.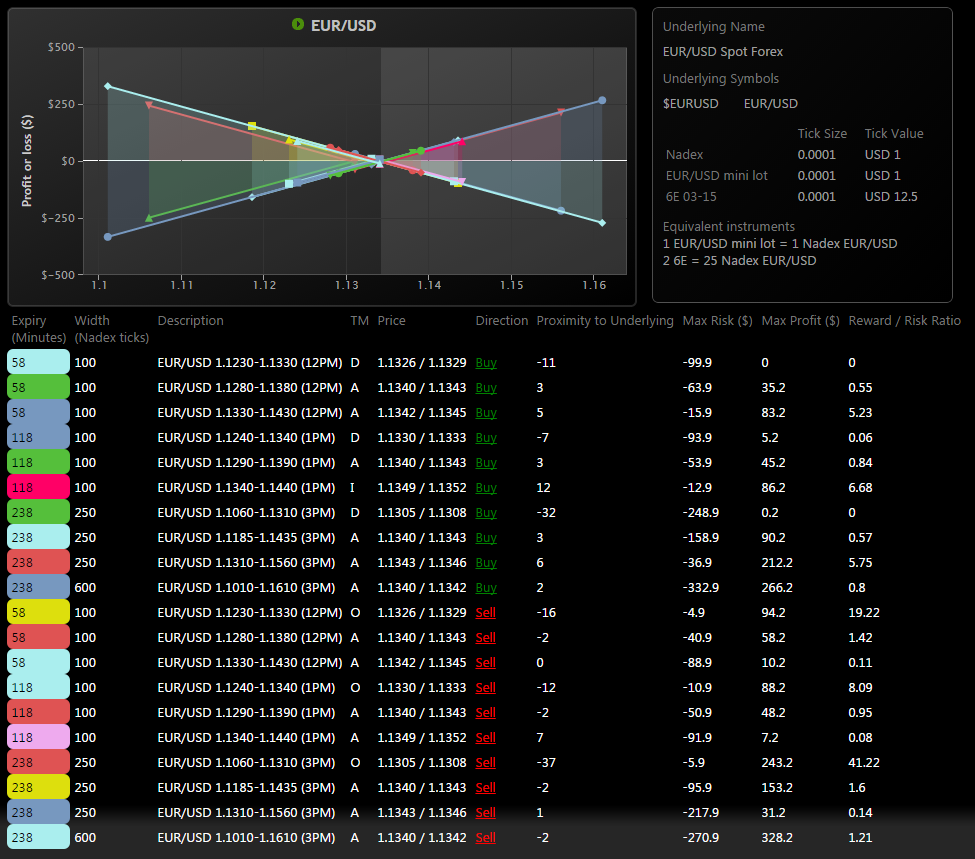 The lower spread you buy should have its ceiling at the then underlying market price, and the upper spread you sell should have its floor at the then underlying market price. Once the reports are released the market will move and then settle.
If it comes back to the center of your Iron Condor, that is where you will make the most profit. Many news trades spark a quick move in the market, followed by a tendency to pull back or return to approximately where they were before the news was released, making a great opportunity for a neutral trade strategy, i.e., the Iron Condor.
A complete monthly news plan is available at Apex, to trade a variety of markets based on numerous news events. If you would like to learn more on how to trade Iron Condors or trade other news events, go to www.apexinvesting.com. Apex Investing Institute offers free education and free access to the Nadex Binary and Spread Scanner Analyzers. Member traders are invited to trade in the rooms, take advantage of trade signal services, have key indicators and access the Apex Forum. The forum content is updated daily and includes over 10,000 members. In a supportive learning community of seasoned as well as up and coming traders, traders of all levels learn how to trade Nadex binaries and spreads in depth, as well as futures, forex, stock and options, and gain an edge for successful trading overall.
The following article is from one of our external contributors. It does not represent the opinion of Benzinga and has not been edited.
Posted-In: apexinvesting binary binary charts binary options binary scanner binary signals darrell martinBinary Options