An Excellent Setup For Risk Management Paid Off Trading The AUD Rate Drop News
There are some opportunities that arise to trade news trades based on opinion that can pay off and pay off big!
When they do arise the key is to manage them correctly and set them up the right way with excellent risk management.
Monday evening the AUD Rate Drop presented just such an opportunity, and Darrell Martin took advantage of it making a nice $2921.00 profit.
When doing an opinion-based news trade it's wise to keep the risk small, less than 2.5% of account size.
In this case the opinion came from Barclays Bank, February 1, 2015, as they recommended selling the AUD/USD. Barclays expected a 25 basis point rate reduction by the Reserve Bank of Australia (RBA) during its announcement on February 2, 2015, and further combined that with the expectations of lower Consumer Price Index (CPI) numbers due to the collapse in oil prices as well as a weaker outcome for Q3 Gross Domestic Product (GDP) numbers.
Support also came from the technical side at Barclays saying a break below support in the .7700 area would increase their technical team's bearish conviction.
The trade setup was as follows: About an hour before the Reserve Bank of Australia was scheduled to announce the interest rate and its findings, Martin sold 50 Nadex Binaries AUD/USD >.7700 with an 11 PM EST expiration.
He then hedged them by buying 5 Nadex Binaries AUD/USD > .7900 with an 11 PM EST expiration. With the expectation of the market dropping, Martin would buy back and close out 10 sold binaries to remove original risk but leave on the remaining 40 to profit.
Should the market go straight up, Martin had the 5 bought binary contracts to hedge the original 50 Binaries sold. The 5 bought binaries could run up in price. Max profit on those would be $452.50, easily enough to cover his risk of $375.00 on the original 50 sold binaries. Also, he could leave either set of binaries open after taking profit on the other set in case the market later turned.
As scheduled at 10:30 PM EST, the RBA came out with a rate at 2.25 percent down from 2.50 percent. Based on a five minute chart, the AUD/USD went slightly up at 10:30 PM EST and then at 10:35 PM EST, it dropped to below .7700 down to .7665 by 10:40 PM EST before it went sideways to wind itself out. Below you can see how the numbers played out for Martin's successful trade.
To view larger image click HERE.

Below you can see the different orders made for each part of the trade setup.
To view larger image click HERE.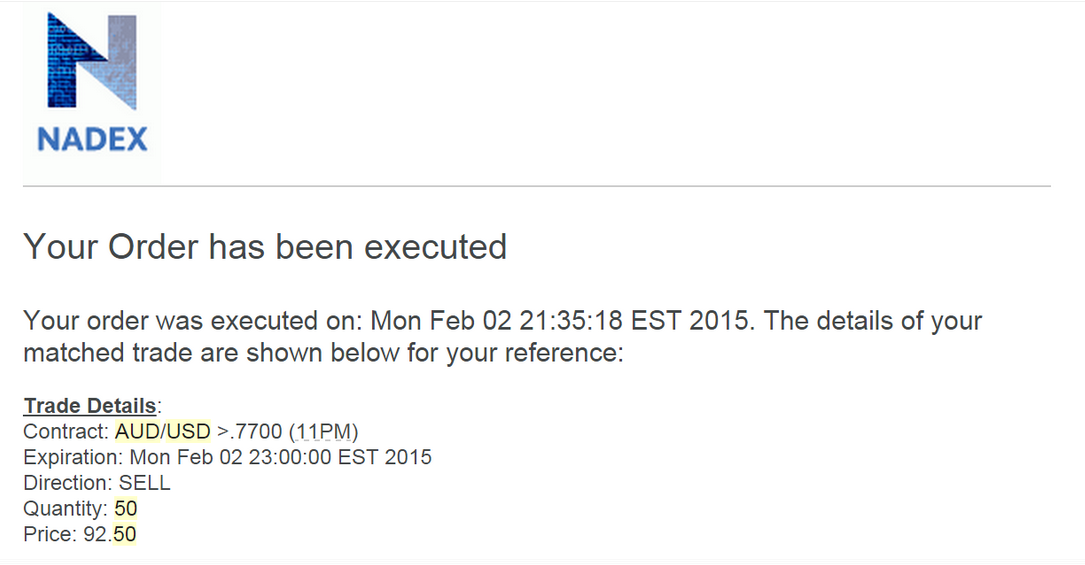 To view larger image click HERE.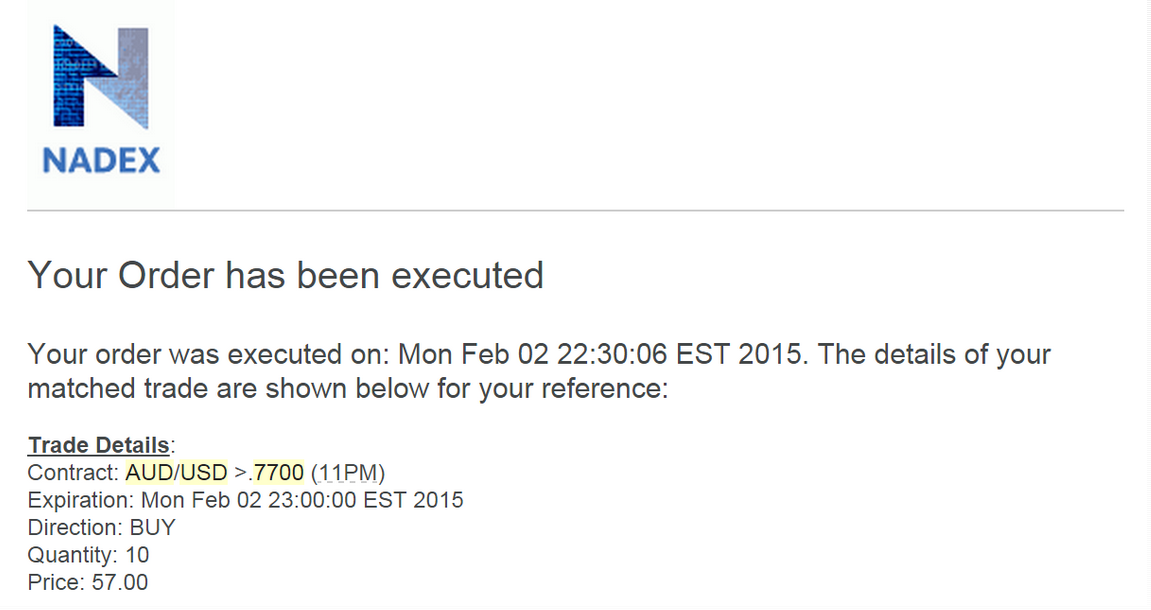 To view larger image click HERE.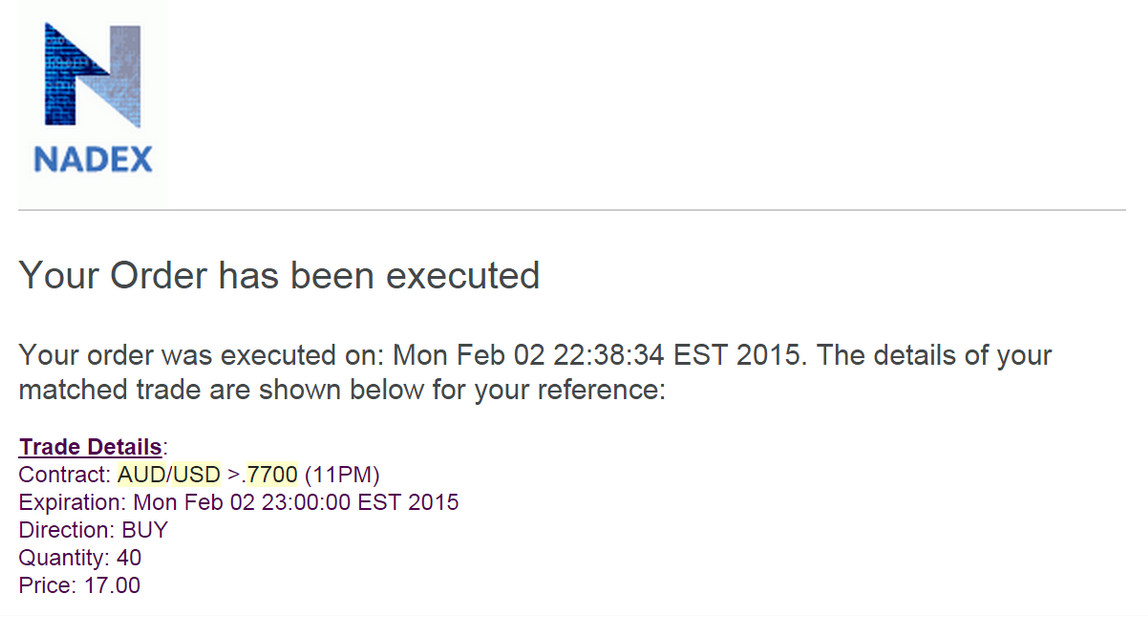 This screenshot shows the order for the hedge.
To view larger image click HERE.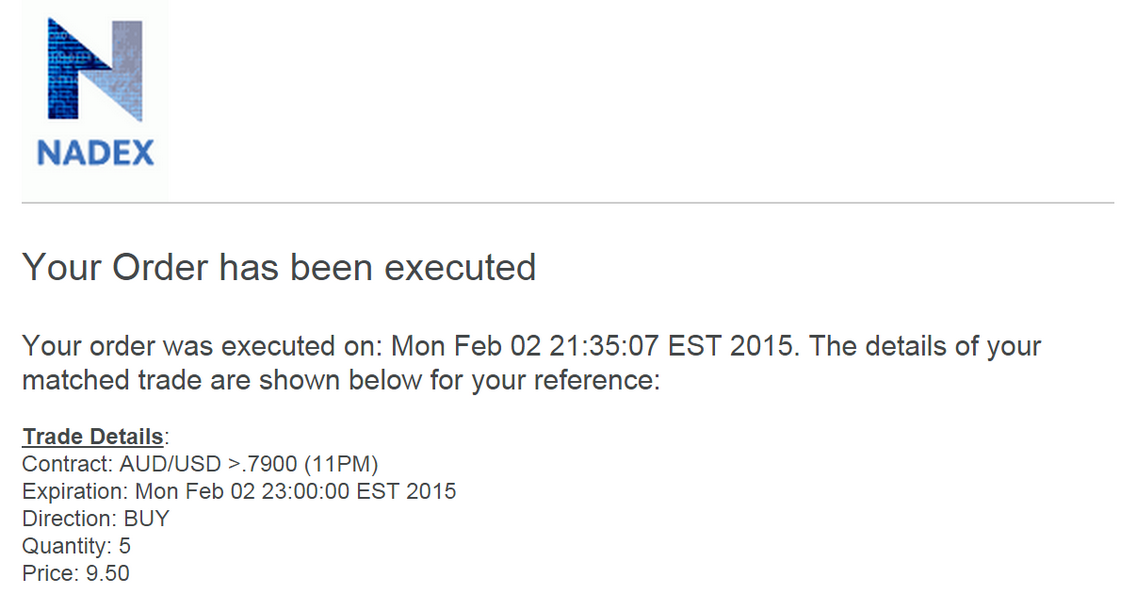 Past performance is not indicative of future performance and this does not reflect all trades held by the trader. This specific trade was placed before the AUD announcement with the expectation it would go down as it was expected the interest rate would be lowered based on recent CPI numbers.
A complete monthly news plan is available at Apex, to trade a variety of markets based on numerous news events. If you would like to learn more on how to trade Iron Condors or trade other news events, go to www.apexinvesting.com. Apex Investing Institute offers free education and free access to the Nadex Binary and Spread Scanner Analyzers. Member traders are invited to trade in the rooms, take advantage of trade signal services, have key indicators and access the Apex Forum. The forum content is updated daily and includes over 10,000 members. In a supportive learning community of seasoned as well as up and coming traders, traders of all levels learn how to trade Nadex binaries and spreads in depth, as well as futures, forex, stock and options, and gain an edge for successful trading overall.
The following article is from one of our external contributors. It does not represent the opinion of Benzinga and has not been edited.
Posted-In: apexinvesting binary binary charts binary options binary scanner binary signals darrell martinBinary Options