Is The Greek Crisis Causing A Wild Market?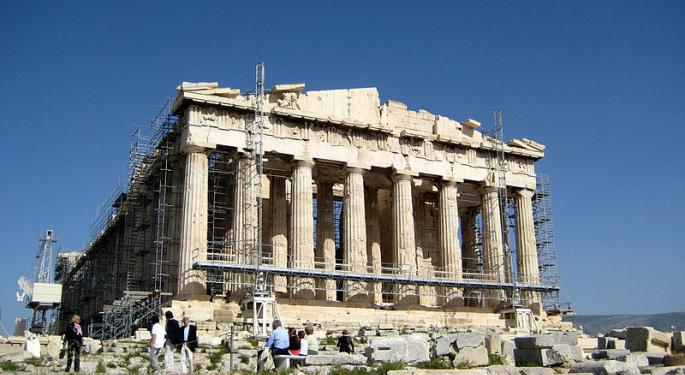 As the market closed on Friday, January 2, 2015, the EUR/USD had been trading as high as 1.2069, when it dropped to 1.1998 at closing. As the market opened Sunday evening, it gapped down and within minutes flew even further down to 1.1864, staying well below the famed 1.2000 level. This pair is trading at the lowest levels since 2010, all because of news regarding the return of the Greek Crisis. Whatever happens because of the things occurring in Europe, it is definitely causing volatility in the markets.
Because of all this volatility, some have said that the Euro found itself "bidless," meaning that if you were long on a contract, there was no one willing to buy back your sell in order for you to close your trade.
If that is the situation you find yourself in, you may not have made it past the morning margin calls.
The following image shows the drop in price from closing on Friday to opening on Sunday.
To view larger image click HERE.

How do you trade the wild volatility with limited risk on the EUR/USD? Wouldn't it be nice if you could trade all this volatility and not worry about Margin Calls? What if there was a way to have capped risk?
If such a thing were possible, you could trade this market and have the potential of profiting from the fall and the bounce back.
Sometimes as traders, it is not really important which way the market moves, as long as it moves. This is the case with a wildly volatile market.
Let's look at a chart and some possibilities for trades.
To view larger chart, click HERE.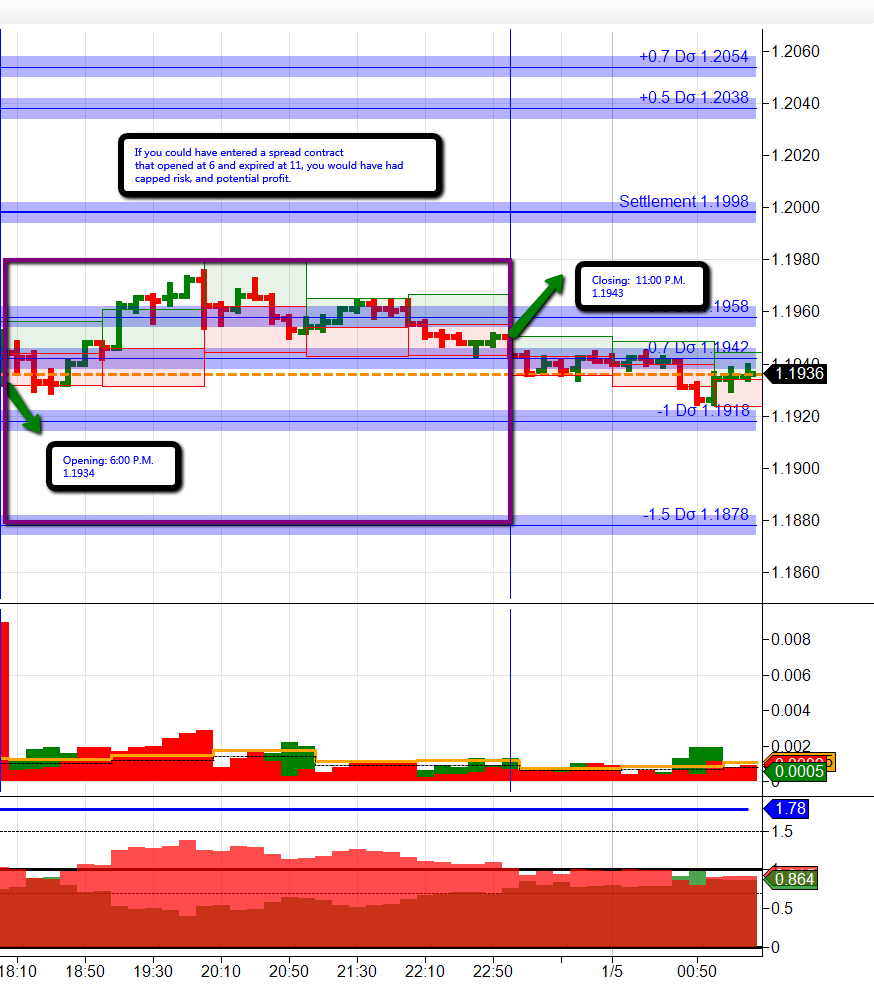 Suppose you had been paying attention to world news and bought a spread shortly after the market opened Sunday evening.
You chose the EUR/USD 1.1825-1.2075 and bought it for 1.1944.
Your risk is capped.
The most you can lose, without putting in any stop loss, is $119; the difference between your bought price of 1.1944 and the floor of your spread which is 1.1825. Each tick is worth $1.
The only margin you have is the amount you put up to enter the trade, which would be $119, not including fees.
The market goes down and up. You have your own trading strategy. Maybe you got out at the top of the trend when the market hit 1.1976 and you made $32.
It's possible that you held it to expiration and it closed at 1.1943. You would have lost $1, but your risk was capped and no one is going to be calling you to ask for more money to be put into your margin account.
This is how to trade a volatile market with less worry. You can trade Nadex spreads, which have no margin call.
They always have capped risk.
You know your risk when you enter the trade.
If you would like more information on how to trade Nadex spreads or to sign up for courses to help you in your trading, go to www.apexinvesting.com. Apex Investing Institute offers free education, and free access to the Nadex Binary and Spread Scanner Analyzers. Member traders are invited to trade in the chat rooms, take advantage of trade signal services, use key indicators and access the Apex Forum. The forum content is updated daily and includes over 9000 members. In a supportive learning community of seasoned as well as up and coming traders, traders of all levels learn how to trade Nadex binaries and spreads in depth, as well as futures, forex, stock and options, and gain an edge for successful trading overall.
Image credit: RyansWorld, Flickr
Posted-In: apexinvesting binary binary charts binary options binary scannerBinary Options Markets Trading Ideas Best of Benzinga