1 Way To Trade When Consumer Confidence Is Reported
Every month, the Conference Board (CB) for the United States surveys approximately 5000 households in order to come up with a Consumer Confidence rating. The results are announced, and when they are, it provides a potential trading opportunity for Nadex spreads.
On Tuesday, December 30 at 10:00 AM, the report will be released. Therefore, an Iron Condor strategy can be setup as early as 9:00 AM on the EUR/USD with an expiration of 11:00 AM.
Traders look to Consumer Confidence, a level of a composite index, as a leading indicator of consumer spending, which accounts for a majority of overall economic activity in the United States. It is released the last Tuesday of the month.
The survey asks respondents to rate the level of current and future economic conditions, including availability of labor, business conditions and the overall economic situation. The last report for this year, 2014, will be December 30.
Below, one can see Consumer Confidence for the entire year and how it fluctuated. If the actual rating comes out and is greater than what was forecast, it is good for the currency.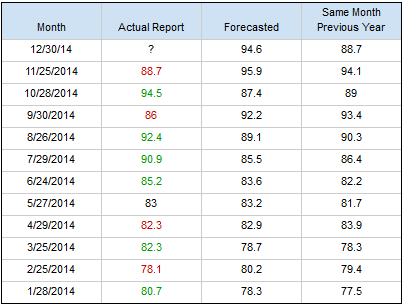 A complete monthly news plan is available at Apex, to trade a variety of markets based on numerous news events. If you would like to learn more on how to trade Iron Condors or trade other news events, go to www.apexinvesting.com, a service provided by Darrell Martin. Apex Investing Institute offers free education, and free access to the Nadex Binary and Spread Scanner Analyzers. Member traders are invited to trade in the rooms, take advantage of trade signal services, have key indicators and access the Apex Forum. The forum content is updated daily and includes over 9000 members. In a supportive learning community of seasoned as well as up and coming traders, traders of all levels learn how to trade Nadex binaries and spreads in depth, as well as futures, forex, stock and options, and gain an edge for successful trading overall.
Posted-In: Binary Options Long Ideas Education Eurozone Futures Commodities Options Markets