Way of the SPX 500 111009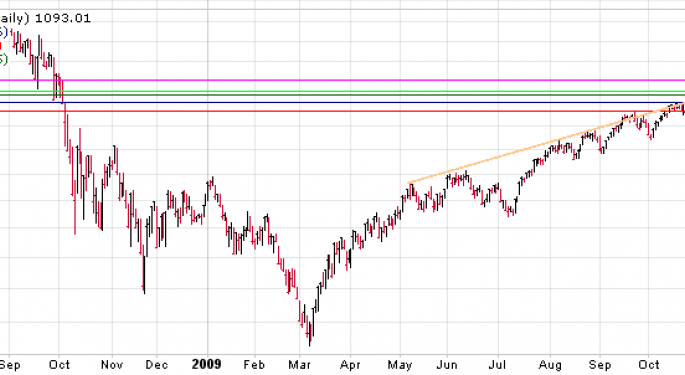 Call it a breather although the Index only pulled back a total of 5.68 points when it reached the intraday low of 1087.40 . With the close at 1093.01, depending on how you see it, either a Spinning Top or Doji candlestick was formed on the Daily Chart in a bearish Harami position. That does not guarantee that there will be a reversal in the next session. There will need to be follow thru to the downside for confirmation. If there is any reversal it will most likely be short and sweet with maximum downside limited to 1080 or perhaps 1071 with the Middle Bollinger Band at 1072.56 .
The Index has cleared the Middle Bollinger Band [ MBB ] at 1072.56 and, in theory, will carry on to the Upper Bollinger Band [ UBB ] that is presently at 1113.23 . As suggested above, if there is any correction it will probably be limited to the MBB.
Assuming that in the next session, there will be further RIP, the levels of Resistance of importance are :
-- 1101.36 ---- 1118.35 ---- 1128.86 ---- 1156.12
Based on the chart and Fibonacci values I'd say that the Index will RIP to a level between 1118.35 and 1128.86 .
The DR1 for the next session is 1097.15 followed by DR2 at 1101.30 .
To the downside DS1 is at 1088.13 and DS2 is at 1083.26.
Updated calculated Resistance and Support levels are given below.
RESISTANCE
WR4- 1183.02
WR3- 1140.92
DR4- 1119.34
DR3- 1110.32
DR2- 1101.30
WR2- 1098.82
DR1- 1097.15
MR1-1085.05
WR1- 1084.06
SUPPORT
DS1- 1088.13
DS2- 1083.26
DS3- 1074.24
DS4- 1065.22
WS1- 1041.96
WS2-1014.62
MS1- 1003.64
WS3- 972.52
WS4- 930.42
DEFINITIONS
DR-WR-MR

Daily Resistance- Weekly Resistance- Monthly Resistance Levels

DS-WS-MS

Daily Support- Weekly Support- Monthly Support Levels
Posted-In: Intraday Update Markets Analyst Ratings
View Comments and Join the Discussion!