3 Investor Takeaways From E3 2018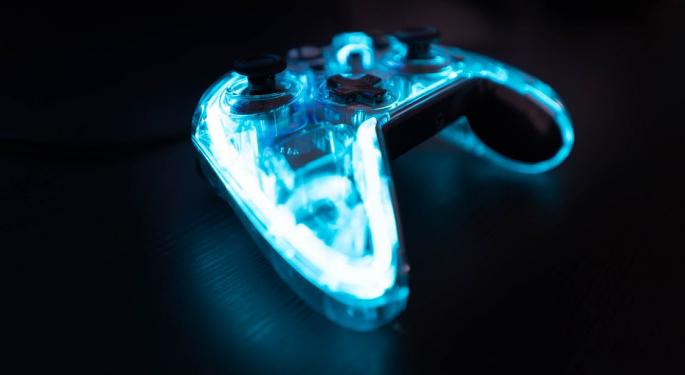 The year's largest gaming event, The Electronic Entertainment Expo, known as E3, wrapped up recently in Los Angeles. The event showcased 3,250 products from more than 200 exhibitors. Over the years since E3 started in 1995, the video game industry has grown into the largest component of the entertainment industry with $100 billion-plus sales worldwide, according to industry tracking firm Newzoo.
As the premiere video game industry trade event, the expo is widely followed by analysts and investors looking to stay on top of the latest trends in gaming. These were some of the takeaways and highlights for investors from E3 2018.
Microsoft Goes on a Buying Spree
New console launches have always been a primary focus at previous conferences, however, with no new consoles unveiled this year, companies were emphasizing new games and software.
At its Xbox E3 press conference, Microsoft Corporation (NASDAQ: MSFT) announced it was acquiring four gaming studios that will add to its game lineup: Ninja Theory, Playground Games, Undead Labs and Compulsion Games. Microsoft also announced it would be creating a new in-house game studio called The Initiative that would produce new games for Windows PC and Xbox.
The acquisitions and new game studio come as Microsoft continues to expand Xbox Game Pass, which allows users to download and play more than 100 games via a subscription service, as opposed to purchasing individual titles.
Game Streaming Becomes a Reality
Up until recently, game streaming, similar to how Netflix, Inc. (NASDAQ: NFLX) and Amazon.com, Inc. (NASDAQ: AMZN) Prime operate for video, wasn't a possibility. The reason is that unlike video streaming where a movie or TV show is being played from start to finish, video game players are providing inputs via controllers and reacting to the game. The environment needs to constantly adapt to their movements, as well as everybody else in multiplayer games.
Improvements in internet speeds and the pace at which cloud servers can process information have gotten to the point where streaming technology can keep up with rapidly changing gameplay. At E3 2018, Electronic Arts Inc. (NASDAQ: EA) was demonstrating its version of what it calls "cloud gaming", a game streaming service still in development that allows users to play on pretty much any device.
Microsoft's executive president of gaming, Phil Spencer, also announced at E3 that Microsoft was working on a game-streaming service that would allow users to play games on any device.
Instead of needing a console like Microsoft's Xbox or Sony Corp. (ADR) (NYSE: SNE) Playstation, gamers just need a device that they can connect to a controller and the internet, whether it's a smart TV, tablet, laptop or phone. All the processing takes place via a cloud platforms like Amazon Web Services or Microsoft Azure.
In an interview with Variety before E3, Ubisoft Entertainment (OTCMKTS:UBSFF) founder and CEO Yves Guillemot said he believes game streaming will eventually make consoles obsolete. EA's Chief Technology Officer Ken Moss and Microsoft's Phil Spencer, on the other hand, have said they don't envision consoles being killed off by growth in streaming.
The Big Business of Gaming Accessories
While games and new consoles draw a lot of the attention at E3, gaming accessories are another big part of the show. Newzoo estimates the global gaming accessories market will reach $3.12 billion in sales in 2018, with $2 billion of that generated from headsets.
Headsets have become a key component of gaming, providing players with an immersive experience as they coordinate with teams and trash talk competitors relentlessly. At E3, Turtle Beach Corp (NASDAQ: HEAR) announced two new headsets, adding to its sizable lineup of gaming-dedicated headsets.
Turtle Beach's stock has climbed rapidly in 2018 and is up 1132 percent year to date, so you might want to tread cautiously if you've been considering investing. In its most recent earnings report, net revenue was up 185 percent year over year to $40.9 million. Management has attributed its recent sales results to strength in the console gaming market, which it says has been driven by the success of Fortnite and PlayerUnknown's Battlegrounds, both produced by game studios that Tencent Holding (ADR) (OCTMKTS:TECHY) owns stakes in.
What's Next?
The video game industry has evolved a lot over the years and it doesn't look like it's slowing down anytime soon.
Watching live streams of other people gaming via platforms like Amazon's Twitch, Alphabet Inc. (NASDAQ: GOOGL)(NASDAQ: GOOG) YouTube Gaming, and Microsoft Mixer has started to become as popular as playing the games themselves.
Free-to-play games, such as Fortnite and PlayerUnknown's Battlegrounds, both of which generate hundreds of millions a month from in-game purchases according to digital game sales tracker SuperData Research, have shown that there are multiple models that can be successful within the industry.
And esports are still in their infancy, but everyone from Activision Blizzard, Inc. (NASDAQ: ATVI) to professional sports leagues are getting involved. The International Olympic Committee has even been evaluating them to see if they might have a place at the Olympics in the future.
Information from TDA is not intended to be investment advice or construed as a recommendation or endorsement of any particular investment or investment strategy, and is for illustrative purposes only. Be sure to understand all risks involved with each strategy, including commission costs, before attempting to place any trade.
View Comments and Join the Discussion!
Posted-In: TD AmeritradeMarkets Tech