Buffett Hasn't Embraced Tech Stocks - He Has Embraced Massive Share Repurchase Programs
For decades Warren Buffett told us that he wasn't smart enough to invest in technology stocks, that technology stocks were beyond his circle of competence.
Now look at him. Mr. Buffett is closing in on 90 years old and what is he buying? Technology stocks of course.
Take a look at the largest Berkshire Hathaway stock holdings as listed in the recently released annual letter: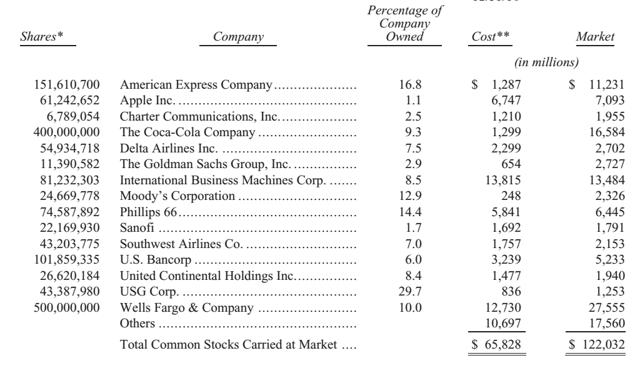 Focus in on the cost column, which details the amount Berkshire has invested in each company. The company with the most cash invested (original cost) into it is International Business Machines Corp. (NYSE: IBM) with $13.8 billion. That is weird.
IBM would be thought of as a technology company. It get weider when you notice the $6.7 billion that Berkshire has invested in Apple Inc. (NASDAQ: AAPL)
as of December 31, 2016.
Then in an interview with CNBC following the release of the annual shareholder letter Buffett made these comments about the size of Berkshire's Apple investment:
"But we would have, one of the fellows in the office has about 10 million shares, and I have for Berkshire's account about 123 million. So, we got about 133 million shares."
Since the end of 2016 Berkshire's Apple position has grown from 61 million shares to 133 million shares, which as I write this would be worth $18.6 billion. We can't tell for certain what the actual purchase price paid for Apple was subsequent to year-end, but it looks like the two biggest equity investments that Berkshire has are in IBM and Apple.
I bet you could have gotten pretty good odds 10 years ago that you would never live to see that!
What Is Going On Here?
In the previously linked CNBC article Buffett was asked why he now was willing to risk so much money on technology companies when he was so legendary for avoiding them. Here was his answer:
I mean, obviously [Apple is] very, very, very tech-involved, but it's a consumer product to a great extent too. And I mean, it has consumer aspects to it. And one of the great books on investing, which I've touted before, is one that Phil Fisher wrote back around 1960 or thereabouts, called 'Common Stocks and Uncommon Profits.' It had an effect on me.
I went out to meet Phil Fisher after reading the book, I found him in this little office in San Francisco. And I recommend any investor read that book. And it's still in print. And he talks about something called the scuttlebutt method, which made a big impression on me at the time.
But I used it a lot, which is essentially going out and finding out as much as you can about how people feel about the products that they...it's just asking questions, basically. And Apple strikes me as having quite a sticky product and enormously useful product that people would use, and not that I do.... And I don't know what goes on inside their research labs or anything of the sort. I do know what goes on in their customers' minds because I spend a lot of time talking to 'em.
If I'm understanding him right, it seems that Buffett feels that Apple's consumer brand is strong enough to withstand technological challenges from competition. He admits that he has no insight into what goes on in Apple's research labs, which isn't surprising. He simply believes that consumers will stay loyal to Apple even if competition is able to develop somewhat better products. He does also admit that the company is still very, very tech involved though.
I Think There Is More To The Story Here
OK, I can appreciate how much consumers love the Apple products. However, I think that the real key thing behind both the IBM purchase and the Apple purchase is what these companies are doing with their capital allocation policies. They are both buying back boatloads of shares every year. I don't think it is a coincidence that they are both doing this and that Buffett owns both companies.
First let's take a look at Apple. I went to the company's SEC filings and dug out the amount of shares repurchased in dollar terms over the past few years. Here is what I found:
2016 Apple Dollar Amount Of Share Repurchases - $30 billion
2015 Apple Dollar Amount Of Share Repurchases - $35 billion
2014 Apple Dollar Amount Of Share Repurchases - $45 billion
Wow, that is a lot of money. Here is what those repurchases have done to Apple's share count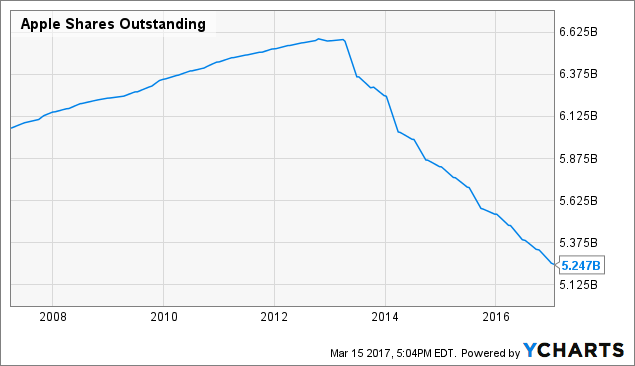 \
AAPL Shares Outstanding data by YCharts
The share count is plummeting.
Now IBM. I also went to IBM's SEC filings and dug out the share repurchase information:
2016 IBM Dollar Amount Of Share Repurchases - $3.5 billion
2015 IBM Dollar Amount Of Share Repurchases - $4.6 billion
2014 IBM Dollar Amount Of Share Repurchases - $13.7 billion
2013 IBM Dollar Amount Of Share Repurchases - $13.9 billion
2012 IBM Dollar Amount Of Share Repurchases - $12.0 billion
2011 IBM Dollar Amount Of Share Repurchases - $15.0 billion
2010 IBM Dollar Amount Of Share Repurchases - $15.4 billion
I went back further on IBM because that provides the picture that Buffett was looking at when he was buying IBM shares. I think we all would agree at this point that the IBM investment has gone quite the way he expected, but I think this provides some insight into what he was attracted to at the time of purchase. Here is the IBM share count over time: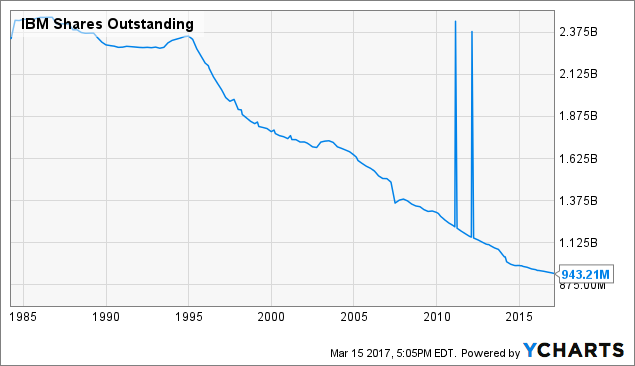 IBM Shares Outstanding data by YCharts
I'm not sure what the blips in the graph are, but clearly IBM has massively reduced its share count over time.
Buffett needs to invest in very large companies. It is very hard to find large companies that can offer much in terms of growth, but companies like Apple and IBM that are shrinking their share count can give a boost to growth per share.
I believe that the shrinking share count of these two companies is a big reason for why Buffett bought so much of them. The number of companies large enough for Buffett to invest in is small. It makes sense that he would make some concessions on his technology dislike for the earnings boost that these share repurchases provide.
Posted-In: contributorMarkets
View Comments and Join the Discussion!