Markets Go Up, Crash and Then What? FOMC Notes Will Dictate
And then they tumbled. Tuesday's market meltdown looked a bit like déjà vu all over again. After a strong rally Monday, a wave of red swept over the markets Tuesday, wiping out much of the previous day's gains and then some. What's on tap for today?
More of the same, or so it seems, according to the early going. The major benchmarks are trending lower as Fed phobia settles in ahead of this afternoon's closely watched minutes of the Federal Open Market Committee's last meeting when members left rates unchanged.
What happened Tuesday? Inflation did. It was a sharp jump in the Consumer Price Index, up a seasonally adjusted 0.4% last month to mark the biggest leap since February 2013. It doesn't point to the out-of-control inflation that handcuffs consumers, but it's the type of data that confirms "that fears of recession and deflation were overblown earlier this year," says economist Diane Swonk, founder of DS Economics. "Inflation has firmed but is not flaring," she adds. "More importantly, deflation is not the risk many once thought it could be."
That brings in the Federal Reserve, which has been looking for signs of inflation as a trigger for raising interest rates. And, according to a handful of analysts and market pundits yesterday, it was the fear of the Fed and a June interest-rate hike that spooked the markets, which started off lower, sank deeper as the day proceeded, but managed to move off intraday lows before the session ended. That had the markets alternating between higher and lower for eight straight days, with 27 of the Dow 30 stocks tracking lower on the day.
Here's how it unraveled. The CPI came out early, two Fed presidents spoke, together, at a luncheon in Washington, D.C., and then news emerged that Chair Janet Yellen is on tap to make a speech to the World Affairs Council in Philadelphia on June 6. That's a move some analysts and economists deem a precursor to a rate increase at its June 15 meeting. Typically, the Fed goes silent the week ahead of a meeting, so some analysts speculated that Yellen's speech might be the last words from the Fed and may send a signal about a rate hike that the markets, so far, are discounting
San Francisco President John Williams and Atlanta Fed President Dennis Lockhart, in their joint appearance, praised the economy and noted, repeatedly, that a June hike is still "live," as the Fed likes to put it. "I think the incoming data have actually been quite good and reassuring in terms of policy decisions, so, in my view, June is a live meeting," Williams said, according to published reports. He added that more economic data will be coming out ahead of the meeting to offer a clearer picture.
Lockhart said June "certainly could be a meeting at which action could be taken," adding that markets "may be more pessimistic than certainly I am at this stage."
That's a refrain that Fed hawks have been singing fairly consistently in recent weeks and they appear to be right about the market's opinion. The CME Group's FedWatch, an interest-rate futures tool that measures the market's bet on hikes, stood at 19% Tuesday afternoon, up from only 5% the day before. But that probability slipped to 15% by the time the session ended. Was that a market signal to ignore any Fed comments? It's at 19% this morning.
Notably, also, the measure inched above the halfway mark—at 53%—for a September move. Last week, the probability of more than a 50% likelihood of a rate rise wasn't present until November. And the odds on a December hike jumped to 71% from 58% only a day before.
When all was said and done, the Dow Jones Industrials (DJIA) gave back 180 points to end at 17,529 while the Nasdaq (COMP) teetered into bear territory, off 10% from recent highs, erasing 59.73 points to 4715.73.
Meanwhile, the S&P 500 (SPX) took a tough fall and looks like it may be still stuck in a range-bound trading quagmire. After offering some hope with Monday's rally that reaching 2,100 could be around the corner, Tuesday's moves put the kibosh on that. SPX ended the session at 2,047.71, off 19.45, again below the 2050 level. If you're looking for a silver lining, it might be that Tuesday's pullback didn't totally quash Monday's gain. There was still 0.06% of Monday left in the index, though that may change today.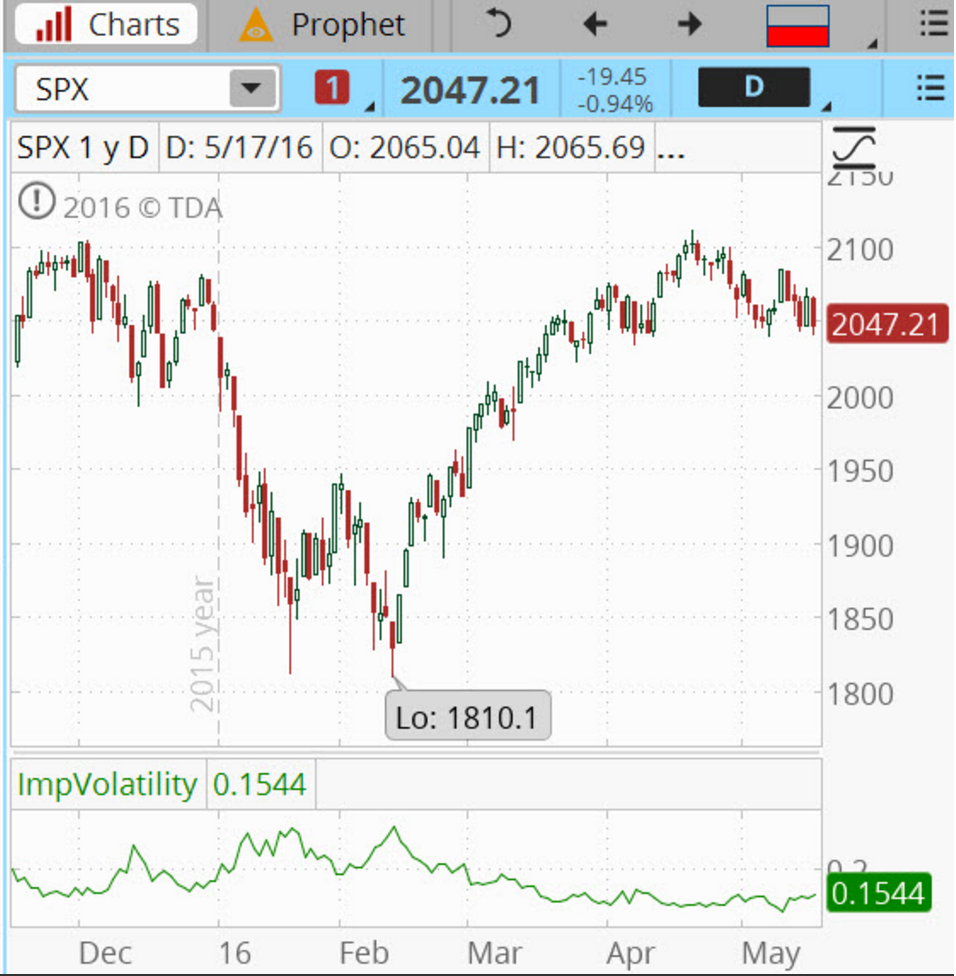 How Much for That Oil? West Texas Intermediate (/CLM6) crude oil prices, which were testing the $48 level in late trading Monday, broke through it on Tuesday to finish the session at $48.32 a barrel, up 1.24% and at a six-month high. That got tongues wagging about whether the $50 level wasn't too far off. Some analysts say that the disruptions still continuing, and even growing, in Canada, Nicaragua and Venezuela, will drive up prices further during the high-demand summer-driving season. Others aren't so sure, thinking that these higher prices are event driven. Time will tell.
Home Mortgage Rates Fall. Mortgage rates mostly retreated in the last week but it's doing little to lift mortgage applications, according to recent reports. Bankrate said late Tuesday, that the 15-year fixed rate and the 5/1 adjustable rate mortgage (ARM) edged lower on a week-over-week basis while the 30-year rate inched up 1 basis point to 3.59%. That puts the 30-year monthly payments at about $454 in principle and interest on every $100,000 borrowed. You will pay more monthly on the 15-year but it fell 1 basis point to 2.69%, with monthly payments of about $676, according to Bankrate. The 5/1 ARM, which fell 13 basis points to 2.81%, would carry average monthly payments of about $411 for the first five years.
But Are People Buying Homes? Not so much, according to the Mortgage Bankers Association. Despite those low rates, close to the bottom in more than a year, total mortgage applications fell 1.6% last week. Volume is up 18.4% on a year-over-year basis, but led by refinancing. Applications to buy a new home sunk 6%, which the MBA notes were tied mostly jumbo loans, or those $417,000 and higher, as the market softens for high-end homes. "The seasonally adjusted purchase index decreased to the lowest level since February, led by declines in applications for larger home purchase amounts," said Joel Kan, MBA associate vice president of industry surveys and forecasting. Some analysts speculate that the home-buying issue isn't as much about the rates as it might be about credit availability, which has been relatively tight.
Inclusion of specific security names in this commentary does not constitute a recommendation from TD Ameritrade to buy, sell, or hold.
Market volatility, volume, and system availability may delay account access and trade executions.
Past performance of a security or strategy does not guarantee future results or success.
Options are not suitable for all investors as the special risks inherent to options trading may expose investors to potentially rapid and substantial losses. Options trading subject to TD Ameritrade review and approval. Please read Characteristics and Risks of Standardized Options before investing in options.
Supporting documentation for any claims, comparisons, statistics, or other technical data will be supplied upon request.
The information is not intended to be investment advice or construed as a recommendation or endorsement of any particular investment or investment strategy, and is for illustrative purposes only. Be sure to understand all risks involved with each strategy, including commission costs, before attempting to place any trade. Clients must consider all relevant risk factors, including their own personal financial situations, before trading.
TD Ameritrade, Inc., member FINRA/SIPC. TD Ameritrade is a trademark jointly owned by TD Ameritrade IP Company, Inc. and The Toronto-Dominion Bank. © 2016 TD Ameritrade IP Company, Inc. All rights reserved. Used with permission.
Posted-In: Markets
View Comments and Join the Discussion!