November Highlights From TD Ameritrade's Investor Movement Index
The TD Ameritrade Investor Movement Index (IMX) declined in November even as equity markets continued to rise.
According to the firm, "The IMX declined for a second month in a row for the first time since early 2013. Last month client portfolios were less volatile relative to the S&P 500 than in previous periods, and the lower sensitivity levels carried over into the November IMX reading. However, buying activity picked up as the month progressed. Although the decline marks the IMX at its lowest point since September 2013, the IMX remains moderately high relative to its history, settling at 5.11 for the month of November."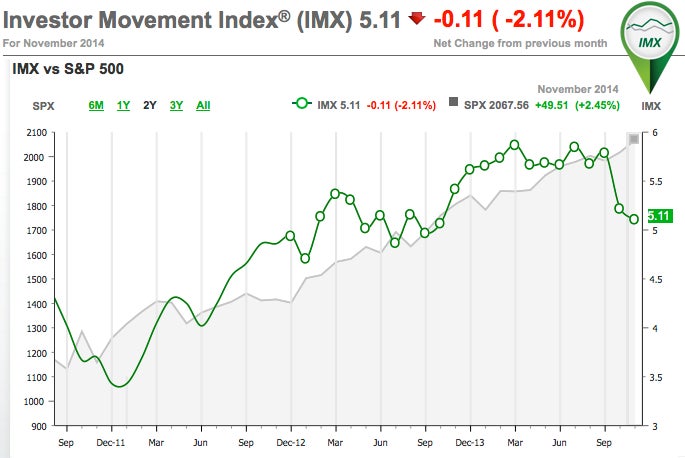 Source: TD Ameritade
During the month of November, "TD Ameritrade clients bought shares of oil-producing companies that saw their valuations follow the drop in oil prices," including Transocean Ltd (NYSE: RIG), BP plc (ADR) (NYSE: BP), and Haliburton Company (NYSE: HAL).
The firm noted that "falling stock prices and buying interest were not limited to the energy sector: In the technology sector Twitter saw its price dip and was a net buy, and Gilead Sciences in the healthcare sector saw a dip as well."
As for stocks that clients sold, Whole Foods Market, Inc. (NASDAQ: WFM) "was a popular buy when the stock price gapped lower last Spring, and clients appeared to take profits in November when the company reported favorable earnings and the stock had climbed back to the levels seen prior to the Spring drop. American Airlines Group was a popular sell; the stock made a sharp recovery from the October low and then jumped higher on news of lower fuel costs. The trend continued in the technology sector," with Cisco (NASDAQ: CSCO) and Yahoo! Inc. (NASDAQ: YHOO) and in the financial sector, with Citigroup (NYSE: C) and Bank of America (NYSE: BAC).
Posted-In: TD Ameritrade TD Ameritrade Investor Movement IndexMarkets General
View Comments and Join the Discussion!