5 Smaller Beverage Companies Gunning For The Big Boys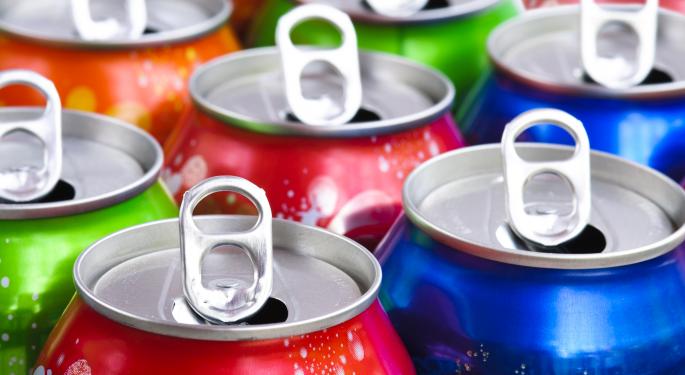 In the past decade or so the alternative beverage industry has caught fire. Major beverage companies such as Coca-Cola and Pepsi have suddenly found themselves fighting for market share against formerly unknown competitors. Part of the reason for the situation has to do with changing customer tastes. But it is also possible that many of the smaller beverage companies caught the giants sleeping by developing newer offerings, such as the now ubiquitous energy drink. The smaller companies have also been far more prone to experiment with new tastes and formulations which the giants are too afraid to try. While the beverage giants certainly still have a firm grip on the overall industry, their recent disappointing earnings may show the first major cracks in the beverage status quo.
National Beverage (NASDAQ: FIZZ)
National Beverage Corp is a flavored drink manufacturer based in Fort Lauderdale, Florida. The company was originally founded in the 1980s and grew to include such recognizable brands as Shasta sodas, Everfresh fruit juices, and Rip It energy drinks. Though National Beverage Corp is considered a "second tier" beverage manufacturer, the company is among the top ten flavored beverage manufacturers in the country. As an example of the company's explosive growth, the company's stock opened at $13.80 on March 12, 2013 – and closed at $21.26 one year later on March 11, 2014 for a 54 percent gain.
High Performance Beverages (OTCQB: TBEV)
High Performance Beverages caters to the younger crowd and mostly targets fans of popular combat sport mixed martial arts (MMA.) The company's flagship product is Dethrone beverage, which is said to be a unique drink which offers athletes benefits combining those found in both energy drinks and nutritional supplement beverages. In March 2013 the company announced a partnership with Mussetter Distributing, which has major operations in the state of California, but the company is still in the process of securing the venture capital needed to take its product offerings to the masses.
Monster (NASDAQ: MNST)
Monster Energy Drink company was founded in 2002, and has grown to national prominence through an effective strategy of extreme sports sponsorships - which eventually expanded to include sponsorships of music artists and other cultural icons. The company, which began with just one drink formulation, now has over 30 drink formulations in production, with virtually all being some variation on the caffeinated energy drink motif. Though the company is not owned outright by Coca-Cola, Monster did announce in 2012 that it would use Coca-Cola's distribution channels in a partnership with the company. Monster is up big time after the announcement, and has gained 57 percent over the past 12 months.
Reed's, Inc.(NYSE: REED)
The story goes that Reed's beverage company got its beginning when Chris Reed found a 100 year old beverage recipe in the UCLA library, and decided to brew it as an experiment. The company sold its first beverages to the public in 1989, which included a Caribbean style "homebrewed" ginger soda. The line has since grown to include various ginger beverages, root beer, and even ice creams and even candies. The company's products are currently sold at over 14,000 stores in the United States. The past 12 months has seen phenomenal stock price appreciation for the company, which is now trading up 75 percent above where it was just one year ago.
Konared Corp(OTCQB: KRED)
Konared's mission is to reintroduce the world to coffee. Unlike many other start-ups which focus on providing yet another way to enjoy traditional coffee, which is made from toasted and pulverized coffee beans, Konared actually makes use of the coffee berry in order to produce its beverage. On its website the company explains that the berry which surrounds the coffee bean is removed, processed, and blended into a unique coffee treat which tastes quite different from traditional coffee. Though Konared's stock is still firmly in penny stock territory, its return for the past 12 months is sitting firmly at 25 percent.
Posted-In: beverage stocks Coca-cola energy drinks Pepsi SODAMarkets Best of Benzinga
View Comments and Join the Discussion!