Sotheby's vs. eBay - Which Would You Rather Bid On?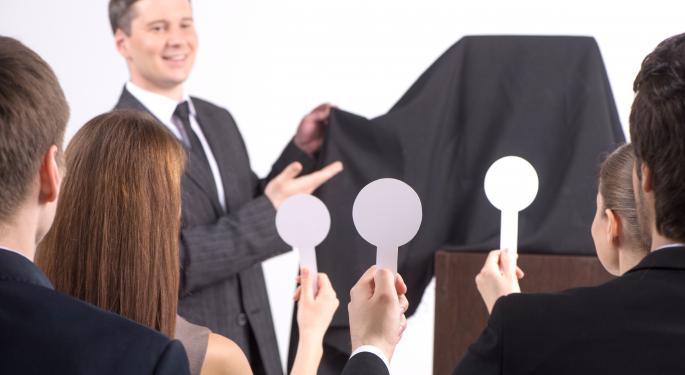 Auctions have a long and storied history, having been recorded to have taken place at least since 500 B.C. In fact, the term "auction" means "I increase" and "I augment" in ancient Latin. It is no wonder that purchasing an item at an auction continues to be one of the most exciting ways to buy the necessary, the weird, and the wonderful.
Two of the world's prominent auction companies – Sotheby's (NYSE: BID) and eBay (NASDAQ: EBAY) – make the majority of their profits from auction activity, but in very different ways. While Sotheby's focuses on live auctions, eBay does most of its business on the web. Let's take a look at how these companies compared in their 2013 stock performance.
Sotheby's stock has been on a wild ride over the past three years. The company has seen many ups and downs, while vacillating in the general $25 to $50 price range. On January 2, 2013, a share of Sotheby's stock cost about $31.20. The stock did not really get its legs under it until May, but from that point on it was all uphill until the fall.
Sotheby's stock created one new yearly-high after another until late October, when it stopped for a breather and even retreated a little. It was back to its winning ways by the end of the year, closing at $48.60 – near a yearly-high. For investors who held the stock the entire year Sotheby's gained an astounding 56 percent.
Related: Apple vs. Tesla Motors - Which Would You Rather Invest In?
When considering the pre-2013 section of eBay's three-year stock values chart, it would have seemed that the company was set to have a terrific year ahead. Going into January 2013, eBay was trading at about $52.00, but that situation would not last.
In a year marked by price volatility within the $48 - $58 price range, eBay stock never ventured too far down, but never sustained any upward movement either. By the end of the year eBay was trading for just $54.86, or less than $3 ahead of where it began the year. In other words, in a year when investors were earning 26 percent or more in the Dow and S&P, those who invested in eBay for the year barely eeked out a five percent return.
From the buyer's side, people like to participate in an auction because everyone likes a good bargain. From the side of the seller, auctions tend to help establish the real value of an item by allowing people to offer what they are willing to pay for it.
As can be seen by comparing Sotheby's and eBay with respect to their 2013 stock returns, all auction businesses are not the same in process or effect. While Sotheby's was able to nearly double the S&P's return for the year, an investor in eBay could have quadrupled his or her return and still not have equaled the S&P.
Posted-In: Markets Best of Benzinga
View Comments and Join the Discussion!