Whole Foods vs. Kroger - Which Would You Rather Take A Bite Out Of?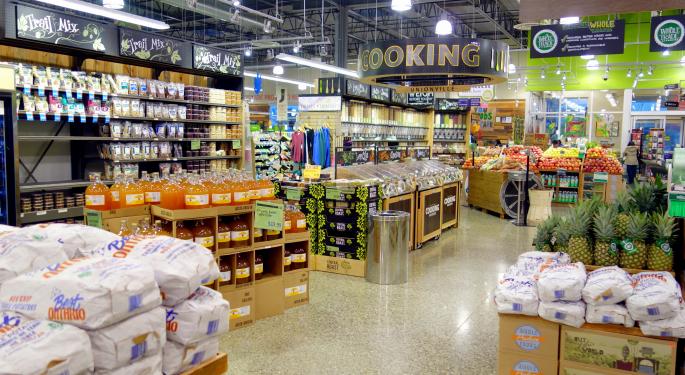 The past 30 years has seen an explosion of health consciousness in the United States. All kinds of companies have sprung up to cash in on Americans' desire to take better care of their bodies, including exercise chains and diet pill manufacturers. One of the most prominent moves in the personal fitness and well-being market has been the rise of the boutique supermarket.
Offering specialty alternatives to the foods carried by the more traditional supermarket chains, the boutique market -- such as Whole Foods (NASDAQ: WFM) and Harris Teeter, which was acquired by Kroger (NYSE: KR) on January 28, 2014 -- has become an indispensable part of life for millions of Americans who look to live a healthier lifestyle. Let's take a look at how these two companies fared in 2013 and beyond.
Whole Foods announced a stock split in May 2013, which doubled the number of outstanding shares. When adjusted for the stock split, Whole Foods entered 2013 trading at $45 per share. The split seemed to catalyze interest in the stock, as the early part of the year saw very little in the way of upward or downward moves for the company.
Investors were obviously drawn in by the split, as the stock went on a tear thereafter – climbing steadily to over $65 per share in October. However, after its yearly high of $65.59, the stock lost much of its momentum, and skidded to a year-end closing value of $57.83. Whole Foods continued its fall into 2014, trading under $53.00 by Valentine's Day.
Related: Chipotle vs. Panera Bread - Which Will Stuff Your Wallet?
Kroger had an amazing 2013, though the year-end saw a distinct slow down. Beginning the year just slightly above $26.00, Kroger climbed steadily and gave investors a chance to cash out at $43.85 when it reached its yearly high on October 28. Those who held the stock from the beginning of the year and sold at the top saw nearly a 68 percent return at that point. Those who did not sell at the top surely wish that they had.
After the stock's yearly high in October, Kroger began to lose value quickly, falling to close the year at $39.53. This was, however, a 51 percent gain for the year. Though Kroger's 2013 return was not as impressive as it might have been had it not stalled in late October, it still exceeded both the S&P and the Dow by a wide margin. However, as of mid-February 2014, the stock is trading below its 2013 year-end closing price.
It is telling that both Whole Foods and Kroger went into the summer 2013 on fire, then started to hit the skids in late October. Additionally, both stocks seemed to struggle into the new year, with neither being able to mount sustained upward momentum into mid-February.
View Comments and Join the Discussion!
Posted-In: Harris Teeter Kroger Whole FoodsMarkets Best of Benzinga