Proprietary Trading of Financials Could Ring in the New Year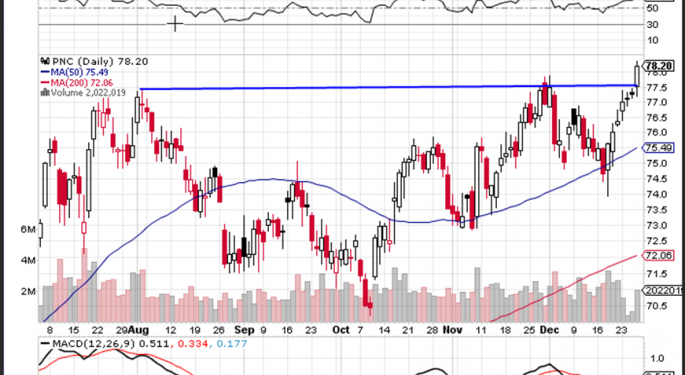 With interest rates moving higher in 2014 investors will need to find companies that will benefit from higher rates or potentially a steepening yield curve. If the 10-year yield moves higher relative to the 2-year yield, the curve is said to be steepening, this could benefit financial institutions that borrow from the Federal Reserve at short term rates and lend to consumers at long term rates. PNC (NYSE: PNC) financial is poised to benefit from this scenario and is potentially set to rally further moving into the New Year.
The short end is tied to Fed Funds which will remain low until unemployment moves well below 6.5% and inflation climbs above 2%. In recent news, PNC agreed to pay the U.S. $35 million to settle claims that minorities were charged more for home loans than similarly qualified white borrowers.
The 52-week range of PNC is $ 57.20 – $77.93, and the stock hit a 52-week high in early December. The quarter over quarter earnings per share was up 10%, while the three year growth rate of earnings up 5%. Sales were up down 5% quarter over quarter and the three-year growth rate of sales was down 1%. The company has a reasonable price to earnings ratio of 11 and profit margins of 25.5%.
Recent insider buying makes the stock look attractive. James Rohr purchased slightly more than 170 thousand shares on December 20, 2013 for a total value of nearly 13 million dollars. He also purchased nearly 31 thousand shared on December 16, 2013 for a total value of slightly more than 2 million dollars.
The technical outlook is positive as the stock climbs above the recent highs near $78. Momentum is strong as the MACD (moving average convergence divergence) index generates a buy signal. This occurs as the spread (the 12-day moving average minus the 26-day moving average) crosses above the 9-day moving average of the spread. The index moved from negative to positive territory confirming the buy signal.
The preceding article is from one of our external contributors. It does not represent the opinion of Benzinga and has not been edited.
Posted-In: Markets
View Comments and Join the Discussion!