Facebook App Looks Promising for FB Stock: Is it Enough to Get Investors Excited?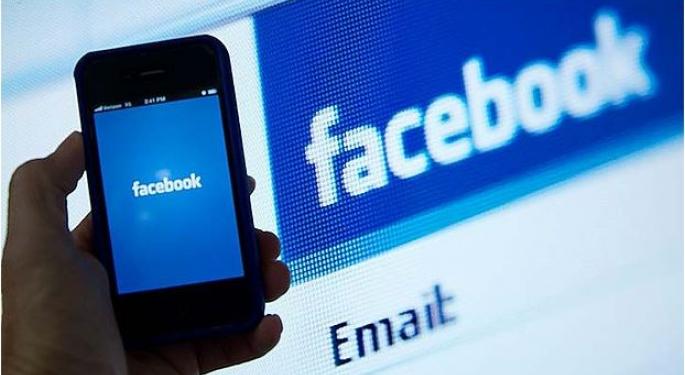 A recent survey from Consumer Intelligence Research Partners revealed that Facebook (NASDAQ: FB) is dominating the mobile arena.
It is notable enough to mention that the Facebook app defeated even the search engine giant, Google (NASDAQ: GOOG), along with other high-profile brands like Twitter (NYSE: TWTR), LinkedIn (NYSE: LKND) and Pandora (NYSE: P). FB's app won 45% nods from respondents in the survey when asked what was the most frequently used apps.
Facebook app juices up FB stock?
While findings from the survey look somewhat attractive, it may not be able to save an ailing FB stock - since October, the shares have slid over 12%, causing investors to sit up and pay closer attention to the social networking mogul's activities.
Even so, declining shares does not warrant the same time kind of panic seen during FB's IPO in May 2011. One of the reasons why this happened can be attributed to the then-subpar FB app. As a result, the stock plunged but the situation gradually improved as its founder quickly re-strategized and focused his efforts on mobile, which net him considerable pay-off and reassured investors' interest.
Things truly started to pick up during Q3 as FB's revenue spiked at 60% to $2.02 billion, surpassing initial estimates of $1.91 billion. This was mainly due to the popularity and viability of the FB app which propelled the company further into mobile superstardom, netting profits amounting to 49% of overall advertising revenues from mobile sources, a commendable improvement over Q2's 41%.

Trouble in the horizon
With such upward trends, investors are sure to get excited over FB stock (NASDAQ: FB), right? Not really. Investors are said to get jittery over David Ebersman's (the company's CFO) statement, saying that the ads that can be placed in the mobile app is limited. This is due to the limitation of real estate on mobile devices, which is apparent when compared to ads that can be placed on the website when viewed from a PC, for example.
On top of that, interest in FB's app from teens may be dwindling especially since most youths are now jumping ship to other apps like SnapChat. It was reported that one of the major reasons behind this surge of enthusiasm is that teenagers were not very happy about Facebook's privacy issues, and instead prefer the semi-privacy and spontaneousness of SnapChat (the app allows uses to send messages that delete itself upon few seconds after reading).
Things weren't all rosy and sweet-smelling for Facebook on the app front. The Poke Facebook app didn't catch on and died a premature death, at least as far as its popularity is concerned. It all started when SnapChat was introduced to the masses last July, which quickly rose to the top of the App Store chart. Coincidentally (or not so), Facebook released its Poke app which mirrors most of what SnapChat does. It competed with SnapChat for a while, but popularity died quickly after people realized it could be a blatant clone of SnapChat. Things got worse when news sources leaked that the Poke app was only built in 12 days.

Is Facebook's Mark Zuckerberg stretching himself too thin?
After acquiring Instagram, Facebook reportedly offered SnapChat founders a massive $3 billion in cold hard cash in exchange for the company, but 23-year-old Eric Spiegel, its co-founder, refused the bid as he believes he can yet tap a bigger potential from his brand.
Then, too long later, Facebook representatives met with Blackberry to discuss a potential bid. The Canadian-based Blackberry executives flew themselves to California for the meeting which allows them to judge just how interested is Facebook in acquiring the ailing smartphone manufacturer. Besides Facebook, Google and Microsoft are said to have cast their eyes towards Blackberry's potential. As of today, there are no confirmations as to whether the deal will materialize. Facebook is still juggling the viability of buying over Blackberry, much like the way hoteliers judge the profitability of turning a new 20 foot container into a hotel room.
With news like this, investors wonder if Facebook is stretching itself too thin in its bid to grow faster than light speed.
Recently, sources revealed that David Ebersman unloaded $43 million worth of his shares, which constitutes 9% of his Facebook holdings. He profited handsomely, receiving $47 per share. This stock sale is thought to be the largest one yet by a CFO for the past ten years. Was it a coincidence, or could there be something more to this that we do not yet realize? This isn't necessarily a bearish sign but Facebook investors may want to take note and take the next step, be it based on gut feelings or insider tips.
The preceding article is from one of our external contributors. It does not represent the opinion of Benzinga and has not been edited.
Posted-In: Markets Movers Trading Ideas
View Comments and Join the Discussion!