After Twitter's IPO: What's Next for the Company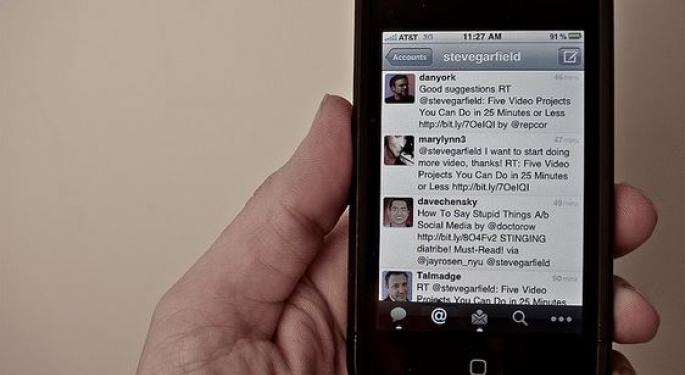 Did you watch the big Twitter IPO? If not, you're missing out. The shares opened at $45.93 on Friday, went up a little bit, and then they went down. They closed on Friday, November 8, 2013 at $41.65 per share. This is down, but not down a scary amount. Still, many investors are wondering whether Twitter (NASDAQ:TWTR) stock is really worth taking a risk right now.
After the Twitter IPO
In an article at Forbes, they point out that the share prices dropped almost 8% on Friday, saying that investors are getting a bit squeamish about the social media company that is losing money each and every quarter. While the company was valued quite high, the truth is that they're spending more than they bring in each and every month.
Then again, the stock was offered at $26 a share at the IPO. Soon after, the number skyrocketed as people gobbled up as many shares as they could. This allowed Twitter to bring in a whopping $1.8 Billion. This was after many feared they would have the same problems that plagued Facebook (NYSE: FB) after their IPO.
Shares of Twitter stock actually went as high as $50.09 a share, but they were not able to maintain that price. Analysts and "experts" have been ranging anywhere from neutral to sell when it comes to their opinion. Not many people are betting that they'll hit over $40 a share - or at least not be able to sustain it.
Too Much Twitter Stock?
Actually, some have wished they could buy even more shares of Twitter. In fact, this is why some people search online for a Best Buy promo code or an Overstock promo code. The money they save that way could, theoretically, be used to buy even more Twitter stock. And for some people, this is a very good thing.
How much Twitter (NASDAQ: TWTR) stock is too much? That all depends on how much money you have lying around to invest with and how much faith you put in the company's future. That and who you ask whether to buy or sell. The thing is that Twitter has the potential for becoming a powerhouse, but at this point and time they're not making money.
And when a company is not making money and growing quickly - like Facebook (NYSE: FB) - it can really hamper performance on the stock market. Whether this happens to Twitter or they are able to pull through and suddenly increase revenue (through mobile maybe) remains to be seen, but you can be sure many eyes are going to be glued to this new social media stock.
While they have millions of users and a very strong brand, the truth is that Twitter lost $133.9 million in the first three quarters of 2013 - and that's quite a bit of money. Then again, they have a lot of smart people working for them and very strong mobile numbers, so many they will be able to do more with less and breakthrough to be able to actually create some revenue.
The following article is from one of our external contributors. It does not represent the opinion of Benzinga and has not been edited.
Posted-In: Markets Tech Trading Ideas
View Comments and Join the Discussion!